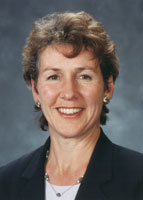 It is my pleasure to present the Service Plan for the Ministry of Management Services. This Service Plan reports on the Ministry's progress and sets milestones for the next three years.
The Ministry of Management Services is dedicated to continuously improving how government services and information are delivered to citizens, businesses and the public sector. Whether we are providing service to a member of the public or to a government employee, our goal is the same — anticipating needs and responding with a customer-focused approach.
This Service Plan outlines how the Ministry will lead the transformation of service delivery across government in support of building a strong and vibrant provincial economy; and ensuring safe, healthy communities and a sustainable environment. This Plan also reports on the Ministry's progress in meeting government's New Era commitments and objectives.
The Ministry has introduced innovative business practices and processes and better approaches to service delivery, but work remains. Clear goals, objectives and meaningful performance measures, such as those included in this Plan, guide our actions in improving service delivery. We will continue to refine these measures to ensure that they are even more results-oriented.
Since its creation in June 2001, the Ministry of Management Services has undergone significant change. Initially, the Ministry's mandate was to establish a shared services organization. By introducing this leading-edge approach to reducing the cost of services such as payroll and information technology, ministries and public sector clients can focus on their core priorities. In February 2003, the Ministry's role was significantly expanded to include the Chief Information Office, Government Agents and the Enterprise Portal. The Ministry was also given responsibility for exploring alternative service delivery options.
With the addition of these key functions, the Ministry of Management Services now has the tools it needs to champion the transformation of service delivery across government. In the coming year we will focus on providing or expanding high-speed Internet access to communities; enhancing service delivery to the Heartlands; introducing innovative and cost-effective alternative service delivery models; and providing leadership for the government's electronic service delivery strategic plan. Technology, leadership, teamwork, flexibility and ingenuity are imperative to improving government's approach to service delivery. When we deliver high quality service, we ensure that customers and clients have confidence in government.
I am certain that the dedication and expertise Ministry staff have demonstrated will remain the cornerstone of our success as we transform service delivery to British Columbians.
Honourable Joyce Murray
Minister of Management Services
February 4, 2004