2002/03 Annual Service Plan Report
Ministry of Sustainable Resource Management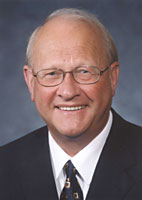 The creation of the Ministry of Sustainable Resource Management is one of the many steps our government has taken to hasten the revitalization of British Columbia. I am pleased to say, two years later, that we have taken large strides to encourage economic development and ensure the sustainability of natural resources while protecting and promoting a healthy environment.
As the main provincial agency responsible for land-use planning, we have been entrusted to strike a balance between growth and environmental integrity while ensuring British Columbia gets the maximum value from its publicly held natural resources.
We are working towards five steps to certainty to build access to the land base, First Nations consultation and accommodation, tenure certainty, an improved business climate and access to markets and investment.
There needs to be ready access to Crown lands with no major land-use conflicts. The Land and Resource Management Plans we have in place and are working on will bring certainty in this area, as will the Working Forest initiative.
Consultation and accommodation of First Nations is also a vital component and we are working hard to engage the First Nations groups of this province in dialogue. We already have numerous planning agreements and economic measures in place with First Nations.
We're also working to ensure market security for British Columbia products. Investors want to know they can access markets financially while meeting environmental stewardship standards.
And security of tenure is also a must if we are to attract investment dollars to British Columbia. We are working to ensure that investors are given timely responses to Crown land and water applications and we're taking measures to avoid conflicts.
These steps, tied in with other initiatives such as deregulation, tax relief, revenue sharing and more rapid service response times are critical if we are to be successful in encouraging investment, achieving sustainability and making British Columbia a world-class performer.
I am pleased and proud to present my ministry's second annual report, which sets out the progress we have made in finding a balance between development and conservation to help deliver investment and jobs while preserving key environmental values in this great province of British Columbia.
Many residents of this province I meet while I travel are excited about the prospect of managing our vast resources in a manner that assures a vibrant provincial economy that will sustain the social and environmental values we all hold so dear. I share their enthusiasm and look forward to continuing with the plans we have for a sustainable future.
Honourable Stan Hagen
Minister of Sustainable Resource Management