2002/03 Annual Service Plan Report
Ministry of Provincial Revenue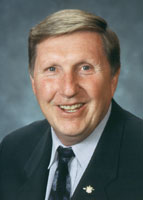 As the Ministry of Provincial Revenue approaches its third year of operation, I am pleased to report that we have exceeded our primary goal of increasing revenue collection on behalf of the province. The ministry was created with a single focus on effective and efficient collection of revenue owed to government — through taxes, stumpage, overdue payments for various fees and loans, and oil, gas and minerals royalties.
Revenue collection is necessary to fund the many services British Columbians rely on, including those in priority areas such as health care and education. Fair, equitable and efficient revenue collection continues to be a key priority of this ministry.
Prior to the ministry's creation, government's overdue accounts receivable were increasing dramatically. This year we began focusing on an innovative long-term strategy aimed at reversing that trend through the establishment of centralized collections and payment systems. We are also increasing our enforcement efforts, and improving taxpayer education in order to encourage voluntary compliance.
While I am pleased with our accomplishments to date, I am committed to continually improving our performance. To that end, over the past year we have implemented a number of technological advances to streamline the ministry's processes and procedures.
The success we have had in meeting our objectives this year is due to the hard work of our many dedicated and talented employees. I would like to take this opportunity to thank all ministry staff for their continuing efforts and to congratulate them on their achievements on behalf of the government of British Columbia.
Honourable Bill Barisoff
Minister