2002/03 Annual Service Plan Report
Ministry of Finance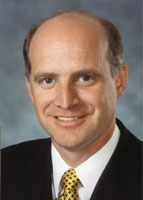 The fiscal year 2002/03 — the first complete year in the government's mandate — was a significant one in terms of challenges, goals and achievements. The Ministry of Finance, and the government as a whole, introduced important changes to how government does business, and, perhaps more importantly, how government is held accountable to the people of British Columbia.
Guided by first-ever three-year service plans for all ministries and Crown corporations, the government confirmed its commitment to restoring sound fiscal management and balancing the budget beginning in 2004/05, while protecting priorities such as health care and education.
The key highlight for the year is that the fiscal plan is on track and ahead of schedule. We are meeting our New Era commitments to revitalize the economy, increase public accountability and transparency, direct taxpayers' dollars to where they are needed most, and balance the provincial budget as planned.
The ministry also introduced legislation that puts British Columbia at the forefront for public accountability in the country. The Balanced Budget and Ministerial Accountability Act ties Cabinet ministers' salaries directly to budget and performance targets, bringing an unprecedented level of accountability to top-level government decision making. All ministers, ministers of state and the Premier himself now begin the year with 20 per cent of their Cabinet salaries held back, and must earn back that portion by meeting individual and overall budget targets. I am proud to say that all ministries closed the fiscal year with their operating budgets on or under budget. At the same time, we did not need to use the $750 million forecast allowance and accessed about half of the contingencies vote because of unforeseen circumstances or opportunities to advance service plan priorities.
An update to the Auditor General Act modernized that legislation, confirming the independence of the auditor general and providing the mechanisms required to effectively carry out these responsibilities. The new Business Corporations Act creates more flexibility and cuts red tape for businesses, to help attract new incorporations to the province. The capital asset management framework and Partnerships British Columbia, also launched this year, will help guide government to deliver innovative, effective, efficient public infrastructure and services to British Columbians, especially through public-private partnerships.
These are only a few of the highlights. Much work remains to be done. However, throughout the year, small businesses, investors, economic forecasters, ratings agencies, municipal leaders and citizens repeatedly said to us, "Stay the course." After the first full year of the government's phased approach to setting B.C.'s fiscal house in order, one thing is clear: our plan is working.
I would like to acknowledge the dedication and hard work of all Ministry of Finance employees, borne out in the year's substantial achievements. We will continue to work responsibly to restore sound fiscal management and open, accountable financial reporting for the long-term economic good of all British Columbians.
Honourable Gary Collins
Minister of Finance
June 16, 2003