2003/04 – 2005/06 SERVICE PLAN
Ministry of Provincial Revenue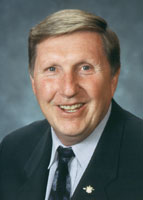 I have the honour of submitting the Service Plan for the Ministry of Provincial Revenue for the period April 1, 2003, to March 31, 2006. This report is presented in accordance with section 13 of the Budget Transparency and Accountability Act.
The Ministry of Provincial Revenue is the province's central administrator and collector of various taxes — including income, consumption, resource and property taxes — as well as Medical Services Plan premiums, certain fees, and outstanding debts and receivables. Readers will find that this document, as a rolling three-year plan, charts the ministry's progress in centralizing and streamlining these activities.
Generally speaking, the ministry has made significant strides to integrate major sources of revenue, maximize fair and equitable revenue collection, and increase the availability of electronic information and transactions for its many clients. Some specific examples include:
Completing the ministry's first transition of an accounts receivable program from another ministry, and progressing with the ministries of Health Services, Health Planning and Forests on impending transitions.
Reorganizing the tax administration and collection program area to improve the timeliness and quality of service to ministry clients.
Establishing a project to develop an integrated, single window through which ministry clients will see their revenue and receivable responsibilities managed.
Increasing consultation between senior ministry staff, myself and businesspeople in communities across the province, plus expanding the Revenue Programs Advisory Committee to include representatives of a more diverse spectrum of B.C. industries.
More broadly, this Service Plan illustrates the ministry's role in achieving government's overall vision, principles and values through 2005-06.
The ultimate goal of my ministry is to make it easier for British Columbians to find information on applying revenue-related statutes, and to save them time and effort in meeting their obligations under those statutes. Using this plan as an ongoing, overarching guide, we will continue to secure, in accordance with the principles of fairness and equity, the revenues necessary to sustain the valuable public services upon which British Columbians depend.
Hon. Bill Barisoff
Minister of Provincial Revenue