Message from the Minister and
Accountability Statement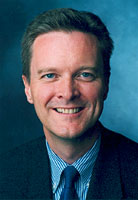 Over the past year, B.C.'s economy continued to grow, the unemployment rate continued to fall (to 4.4 per cent as of March 2006 — the lowest unemployment rate on record), new construction increased and the presence of B.C. – Canada Place at the Torino 2006 Olympic and Paralympic Winter Games attracted world-wide attention and over 100,000 visitors. The Ministry of Economic Development fulfilled its objectives in its 2005/06 Service Plan with a view to capitalizing on our successes, and to address the unique set of challenges that come with a rapidly growing economy.
The Ministry of Economic Development focused on pursuing all of Government's Five Great Goals, but specifically on the goals of making B.C. the best educated, most literate jurisdiction on the continent, and on creating more jobs per capita than anywhere else in Canada.
Our Ministry moved forward on initiatives designed to ensure B.C. takes full advantage of our status as the gateway to the Asia-Pacific, and as the host of the 2010 Olympic and Paralympic Winter Games.
We sought to increase the number of businesses in our province by assisting immigrants who wish to invest here, by establishing development trusts to bolster regional economic development, and by fostering a climate that is conducive to investment and entrepreneurship. The Ministry also took steps to ensure venture capital is available for businesses across the province.
Our Ministry is also doing its part to ensure success in the Asia-Pacific. Last year we appointed the Asia-Pacific Trade Council, which is bringing together a range of people from all sectors to help develop an action plan for B.C. in the region — identifying issues, opportunities and challenges for investment and trade.
The 2005/06 Ministry Economic Development Annual Service Plan Report compares the actual results to the expected results identified in the Ministry's 2005/06 Service Plan Update. I am accountable for those results as reported.
Honourable Colin Hansen
Minister of Economic Development
June 30, 2006