Message from the Minister and Accountability Statement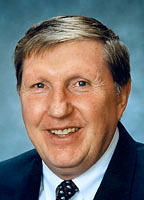 I am pleased to present the Ministry of Water, Land and Air Protection's 2004/05 Annual Service Plan Report. Over the last three years, we have brought our best to everything we do and as this annual report shows, we have made real progress in protecting the water, land and air of this province. This report outlines our achievements in meeting the government's goals for the environment, the economy and the communities in which we live. It reflects the vital role our ministry has played in helping to revitalize the economy by modernizing legislation and strengthening environmental management through partnership and shared responsibility for sustainable economic development and environmental stewardship. It shows how we have endeavoured to balance maximizing the benefits from our natural resources with maintaining the quality of our environment and enhancing the health of our communities.
In 2004/05, we ushered British Columbia's environmental management practice into the twenty-first century by bringing the Environmental Management Act into effect. We have continued to refine codes of practice associated with the Act to further accelerate the redevelopment of contaminated sites and return them to productive use within communities. The Act adopts proactive, cutting edge tools that will enable ministry staff to focus on higher-risk activities.
British Columbia is recognized globally for its water, fish and wildlife. These natural resources and the splendour of our parks make British Columbia an international tourism destination. In 2004/05, we worked to maintain these valuable natural assets, which are at the heart of many recreational opportunities and economic activities enjoyed by British Columbians in all regions of the province. We created 37 new parks and expanded 34 others. We continued to dedicate funds to upgrade park facilities and entered into a partnership with the federal government to rebuild the historic Myra Canyon trestles. We pursued opportunities to enhance environmental stewardship by developing partnerships and dedicating funds for conservation and habitat restoration.
We continued our commitment to protecting the environment and human health by enacting legislation to help protect groundwater from contamination and developed an action plan to address climate change.
I would like to thank our staff, our colleagues in other ministries, our numerous partners outside government and the people of British Columbia for their support and dedication in protecting the quality of our province's water, land and air.
The 2004/05 Ministry of Water, Land and Air Protection Annual Service Plan Report compares the actual results to expected results identified in the ministry's 2004/05 Service Plan. I am accountable for those results as reported.
Honourable Bill Barisoff
Minister of Water, Land and Air Protection
June 14, 2005