Message from the Minister and Accountability Statement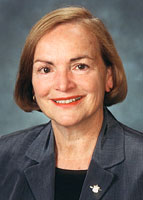 It is a pleasure to present the Annual Service Plan Report of the Ministry of Human Resources for the 2004/05 fiscal year.
The past year has been one of success for the ministry as we see the results of our reforms to British Columbia's income assistance system. Now, we have a system that focuses on long-term employment and self-sufficiency for those who are able to work and one that provides continuing assistance and support for those most in need.
Since June 2001 our caseload has been declining steadily. To date, there are over 100,000 British Columbians who no longer rely on income assistance — including more than 44,000 BC children, which means these families now have more opportunities to achieve their potential. This success is due in large part to the effort and commitment of British Columbians who want to get back into the workforce. This success is also due in part to our investments in a full range of employment programs — programs that benefit 90,000 people a year.
Because we have been successful in helping employable clients move from assistance to good jobs, the profile of British Columbians receiving income assistance is changing. We recognize that providing the best system of supports to those British Columbians who genuinely need them is a priority. Starting this year, we increased rates for persons with disabilities by $70 to a maximum of $856 per month — the largest increase in the history of the province.
We recognize that the health and well-being of British Columbians is paramount and that some of British Columbia's most vulnerable citizens have special health needs. Over the past year we have responded by increasing supports in areas such as dental coverage, eyeglasses, natal supplements, comforts allowance and medical transportation. These enhancements are making a real difference in the quality of life for children, women and people with disabilities.
As part of this government's focus on those most in need, we believe that, along with every community and every level of government, we have a role to play in the ongoing challenge of homelessness. Through the Premier's Taskforce on Homelessness, Mental Illness and Addictions, the Ministry of Human Resources has increased funding for safe, warm emergency shelters across the province by over $5 million to $18.2 million annually — increasing capacity to over 860 year-round beds and nearly 400 cold wet weather shelter beds during winter months. Our goal is to assist people to move beyond temporary shelter to more stable housing, greater self-reliance and long-term employment.
Our accomplishments over the past year are the result of the continuing dedication and hard work of ministry staff. In closing, I would like to thank all Ministry of Human Resources staff for their commitment to excellence.
The 2004/05 Ministry of Human Resources Annual Service Plan Report compares the actual results to the expected results identified in the ministry's 2004/05 Service Plan. I am accountable for those results as reported.
Honourable Susan Brice
Minister of Human Resources
June 15, 2005