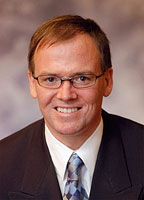 The revitalization of British Columbia's transportation network is soaring ahead. We have now launched our three-year Transportation Investment Plan. The plan lays out the crucial projects and programs that will keep our highways safe and our economy strong.
British Columbians will be able to see the benefits of these investments across the province. Already, our commitment to restoring roads in the Heartlands has allowed the percentage of roads in good condition to jump by five per cent. This is only the beginning.
Major projects are underway across British Columbia. The Trans-Canada Highway is being widened and rebuilt through Kicking Horse Canyon. Improvements to the Sea-to-Sky Highway will sustain it for decades in one of the province's fastest growing corridors. A new Okanagan Lake Bridge will keep the lifeblood of business and tourism flowing throughout that region. We are streamlining and modernizing our border crossings, ports and airports, reinforcing B.C.'s role as the country's western gateway to the world.
I am proud of the progress we've made in pursuing alternative funding sources to pay for the highways we build today. Our investment plan is supported by cost-sharing agreements with the federal government and other partners. Leveraging our provincial investment has secured a dramatic $6.5 billion worth of commitments for the next four years.
Along with new sources of funding, we are also making wiser use of the money entrusted to us. New agreements with maintenance contractors and their unions have cut labour costs significantly. Innovative technologies and ways of working have made it possible to keep roads in good repair for millions of dollars less. Red tape has been slashed by one-third as well, reducing costs for businesses and all British Columbians.
Transportation continues to be one of this government's top priorities. I look forward to receiving your thoughts on the goals and achievements described in this report.
Honourable Kevin Falcon
Minister of Transportation