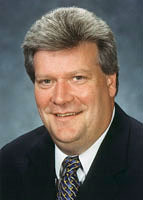 It is with pleasure that I introduce the Ministry of Public Safety and Solicitor General 2003/04 Annual Service Plan Report. This report provides an update on the ministry's activities and performance during the fiscal year ended on March 31, 2004.
Over the past year, this ministry has worked hard to achieve its goals. We have a strong, skilled workforce of professionals who are dedicated to serving the public and our communities. We take pride in our accomplishments, including: enhancing the effectiveness and efficiency of policing, supporting communities in increasing public safety, supporting victims of crime, maintaining safer streets, effectively responding to emergencies, such as forest fires and flooding, promoting responsible gaming and liquor industry practices, and enhancing the regulatory environment of consumer services industries.
This report reflects our continued efforts to fulfil our mission of ensuring the security and economic vitality of communities through effective policing, corrections, liquor and gaming control, and other protective and regulatory programs. Subsequent reports will detail the ministry's success in implementing the Service Plan 2004/05 – 2006/07, released on February 17, 2004.
Honourable R. T. (Rich) Coleman
Solicitor General Ministry of Public Safety and Solicitor General
June 15, 2004