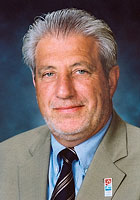 In presenting the Ministry of Provincial Revenue service plan report for 2003/04, I am pleased to acknowledge the continuing good work of all ministry staff and congratulate them on their achievements. Having assumed responsibility for the Ministry of Provincial Revenue from Honourable Bill Barisoff on January 26, 2004 I would also like to recognize his contribution to our success in achieving the goals set out for the period covered in this report.
This year, our government delivered on its promise to introduce a balanced budget. I am pleased to report that the Ministry of Provincial Revenue has supported that goal by maintaining the fair, effective and efficient administration and collection of revenue due to government.
The government services British Columbians rely on, such as health care and education, are financed largely by revenues collected by the Ministry of Provincial Revenue. A key priority of the ministry is the continued work to develop an innovative, consolidated revenue-management system for all of government. We are in the final stages of negotiating a long-term contract with a private sector partner to develop new business processes and a leading edge information technology system for revenue management. Improved customer service and cost savings will be achieved through combining more than 40 systems across government into a central system managed by this ministry as we work toward achieving our vision of becoming a centre of excellence for revenue management in government.
In support of this priority, in 2003/04, the ministry enhanced and centralized collections and payment systems. Voluntary compliance continues to be the priority for ministry educational and outreach efforts. Successful revenue collection depends on the voluntary payment of monies due to government, balanced by audit and enforcement activity.
I look forward to building on the success the Ministry of Provincial Revenue has achieved in meeting the goals and targets as outlined in this report. We will continue to work to streamline the regulatory requirements on taxpayers and the business community to support economic growth and job creation throughout all regions of British Columbia.
Honourable Rick Thorpe
Minister of Provincial Revenue
Rick.Thorpe@gems2.gov.bc.ca
Message from the Deputy Minister
The Ministry of Provincial Revenue continued to exceed performance targets again this year. In just under three years of operation as a ministry, we have collected a total of $815 million in incremental revenue and $1 billion in overdue debt owed to government. This year, we again exceeded our targets for increasing incremental revenue, audits and collections. The revenue collected by this ministry supports the delivery of government programs such as health care and education.
Our ongoing ability to meet and exceed our performance targets and maintain service to our clients is a result of the hard work of our staff. I would like to acknowledge all of our staff for their dedication to the MPR vision of excellence. We rely on their strengths, skills and commitment. To support staff development, we are fostering a learning environment. Almost all staff now have performance and development plans in place. We also use our online employee performance and learning system to identify priority training needs and optimize the use of training funds.
Our long-term vision remains the same: to be the centre of excellence for revenue and debt collection in government. We continue to do this through commitment, hard work and innovation. This year saw further development of the Revenue Management Project, which will transform the management of accounts receivable into an integrated, streamlined business and systems environment that enables consolidated revenue management. We are in the final stages of negotiating a contract with a long-term private sector partner.
This year, we improved our customer service in a number of ways. We improved the way we provide online services to businesses and individuals, making it even easier for them to make electronic payments. We also improved the way we provide information to help our customers understand and meet their tax and bill payment obligations.
I welcome our new minister, Rick Thorpe, and the ministry looks forward to working with him as it enters a new phase of further innovation and development. I would also like to thank our previous minister, Bill Barisoff, for his leadership through our development as a new ministry over the past two-and-a-half years.
Sincerely
Chris Trumpy
Deputy Minister of Provincial Revenue