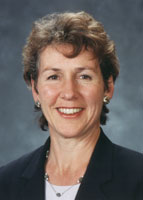 I am pleased to present the 2003/04 Annual Service Plan Report for the Ministry of Management Services. This Report demonstrates how the ministry is meeting commitments set out in its 2003/04 – 2005/06 Service Plan and how it is supporting the government's strategic objectives to revitalize the economy and restore sound fiscal management to government practices.
Over the course of the year, the ministry underwent significant change. New areas of responsibility resulted in a major shift in focus. The 2003/04 – 2005/06 Service Plan set out goals consistent with a ministry centred on performing information technology functions. As the ministry has evolved, its focus has changed to looking at how best to deliver government information and services to British Columbians. Technology is one important tool in supporting improved service delivery but it is no longer the prime focus of the ministy. As a result, the reader will find information throughout this Annual Service Plan Report that provides a sense of the expanded scope of the ministry and how it is modifying its vision, mission, goals, objectives, strategies, performance measures and targets to better reflect this revised mandate.
When the government was elected, the Premier promised taxpayers an accountable and cost-effective administration. He pledged to reduce the cost of government by increasing efficiencies and eliminating wasteful spending, and he vowed to provide responsible management of public resources and tax dollars.
The Ministry of Management Services puts these promises into action. Created in June 2001 to implement leading-edge business practices and improve service delivery, we are providing customers with convenient, innovative solutions that meet their information and service needs. The ministry helps make government more efficient by championing new processes and eliminating duplication. As a result, we are reducing the cost of government so that ministries can deliver on priorities identified by British Columbians such as health care and education.
The past year saw the Ministry of Management Services launch important initiatives to fulfill its Service Plan commitments. From the creation of government's shared services provider — Solutions BC — to the introduction of a strategy to provide affordable, high-speed Internet connections in every British Columbia community, to the creation of legislation that protects personal information held by the private sector — this Report sets out the ground-breaking work going on across the ministry. These changes will make a real difference and improve the quality of people's lives, particularly in small and isolated communities.
The ministry is dedicated to constantly improving how government services and information are delivered to citizens, businesses, and the public sector. This transformation is on-going. In the coming year, we will continue to work with our customers to identify opportunities to yield even more effective and efficient service delivery.
I am very proud of the ministry's accomplishments over the past year. I would like to thank all ministry staff and the management team for their commitment, dedication and hard work.
Honourable Joyce Murray
Minister of Management Services