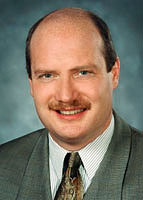 For the Ministry of Forests, the year 2003/04 was significant both for progress made and challenges met. Ministry staff made outstanding progress in meeting our service plan goals to ensure sustainable forest resources and sustainable forest benefits, and to strengthen our role as stewards of the province's forest and range resources. This progress is all the more notable given the extraordinary challenges that nature delivered to us — the continuing mountain pine beetle epidemic and devastating wildfires.
The scope of both challenges verges on the historic. The spread of the mountain pine beetle doubled in 2003 over the previous year, to 4.1 million hectares, which will create serious timber-supply impacts in the coming decades. The ministry is working to mitigate the impact of the epidemic on communities, and find new uses for this blue-stained wood. Likewise, British Columbia has never before seen the intensity of firestorm as we did in 2003. Record drought and heat contributed to extreme fires that could not be controlled, with extreme losses to individuals, communities and forest resources. As always, the BC Forest Service sought to learn from its experiences, and we are now better prepared for future fire seasons.
This past year also marked the one-year anniversary of the introduction of the Forestry Revitalization Plan, designed to open up new opportunities for more British Columbians and make the most of our precious public forests. The foundation for the full implementation of the plan was firmly laid in the past year, complete with legislative changes, shifts in roles and responsibility, and vigilance on the impacts of change on individuals, communities and the forest sector as a whole. Evidence of the positive impacts of these changes is already apparent, shown in renewed optimism and investments. The comprehensive nature of the plan means that much work remains to be done, yet I am pleased to say that our forest sector is on a sounder footing than it has been for some time.
We also brought the Forest and Range Practices Act into effect, upholding world-class, sustainable forest practices on the ground, while promoting innovation and cost-effectiveness in the planning and approval processes. Through clear environmental objectives, an increased reliance on professionals and a stronger compliance and enforcement function, FRPA will help deliver top-notch stewardship. Progress, although necessary, is never easy. Together with the public and forest stakeholders, we will persevere through what is and will be a difficult transition, solve old challenges and be beset by new ones. All the while, we will not lose sight of our commitment to sustainable forest resources and sustainable forest benefits. Doing so will pay dividends today and tomorrow.
Honourable Michael de Jong
Minister of Forests