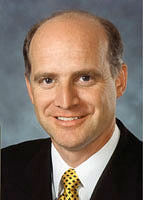 Fiscal 2003/2004 was a year of tremendous achievement by ministry staff. They helped government keep its fiscal plan on track during a time of change and challenge. It was a year when an important transformation was taking place in the way British Columbia reports on its finances, and a year when the province faced a series of unforeseen economic shocks.
SARS slowed tourism. "Mad Cow" disease hurt the cattle industry. The pine beetle infestation spread further in B.C.'s forests. The province endured the worst forest fire season on record, followed by severe flooding in the fall. There was a much larger than expected drop in federal equalization revenue.
Our resilient fiscal plan enabled us to absorb these shocks and still fulfill a key New Era commitment: introducing a balanced budget in February 2004 for fiscal 2004/2005. We also followed through on our promise to bring more transparency and accountability to government finances by moving to full compliance with Generally Accepted Accounting Principles and bringing the schools, universities, colleges, and health sector into government's reporting entity. As a result, taxpayers and investors now have a much more comprehensive picture of government's books.
We also introduced several legislative changes that support economic growth in British Columbia. The new Business Corporations Act, which came into force at the end of the fiscal year, reduces red tape and makes it easier for investors to do business in B.C. A tax relief initiative targeted at port operators protects vital west coast transportation infrastructure by helping ports compete with their U.S. counterparts. A tax exemption for manufactured penstock equipment for small hydro-electric projects will stimulate economic development and encourage new sources of clean energy. Regulations governing credit unions were modernized to benefit consumers.
This year, thanks to continued efforts to streamline and consolidate administrative procedures in the ministry, we removed unnecessary regulations. Over the past year, the ministry exceeded the year's deregulation target of 25 per cent by almost seven percentage points, bringing the ministry's deregulation reduction to 32 per cent since June of 2001.
There are signs that our commitment to revitalizing the economy is paying off. Preliminary estimates by Statistics Canada show that B.C.'s economic growth outpaced the national average in 2003 and exceeded government and private forecasts — a signal of increasing confidence in the province's economy. Two major international ratings agencies improved the province's debt rating outlook, and noted government's efforts to control spending and reduce the deficit. Investors, banks, and industry associations have encouraged us to stay the course in order to create even more opportunities for British Columbians.
I want to acknowledge the dedication and expertise of all ministry staff in helping to achieve our goals. I thank them for their hard work and support, and look forward to working with them in the future as we continue to deliver on our commitment to sound fiscal management and open and accountable financial reporting.
Honourable Gary Collins
Minister of Finance
June 23, 2004

Message from the Deputy Minister
The Ministry made a number of important changes this past year to strengthen financial management, increase accountability, and help restore British Columbia as an economic leader in Canada.
We introduced a balanced budget for 2004/05, took steps to meet full compliance with Generally Accepted Accounting Principles, modernized financial management processes, extended the mandate of government's Accounting Policy Advisory Committee, and continued our focus on multiple-year budget plans and outcome performance measures across government. These actions, coupled with our continued work on integrating planning and budgeting, support government's long-term strategy for accountable and responsible management of taxpayer dollars.
The achievements would not have been possible without the hard work of the Finance team who are leaders within the public service.
I have a deep appreciation for all my colleagues who have demonstrated great dedication and professionalism to bring about the achievements of 2003/04. It has been an honour to work with them over the last three years and I look forward to our further successes.
Paul Taylor
Deputy Minister and Secretary to Treasury Board