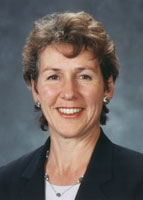 It is my pleasure to present the first annual service plan report for the BC Public Service Agency and BC Leadership Centre.
Fundamental changes were made to human resource management services in government during fiscal year 2003/04. On April 1, 2003, the BC Public Service Agency and the BC Leadership Centre were established, replacing the Public Service Employee Relations Commission.
This new government-wide model for human resource management consolidated all operational human resource services and provided an annual cost saving of $19.1 million.
In addition to achieving significant cost reduction, this new structure provides clearer accountability for human resource governance and management in the public service. The Agency assists deputy ministers and ministry line managers in managing their accountabilities for human resources. To realize its corporate objectives, the Agency works closely with Ministries' Strategic Human Resources branches, as business and strategic partners.
All of the participants in the redesign of government's human resource practices are to be commended for their vision and their commitment to the organizational goals. Professional, dedicated public servants contribute, fundamentally, to British Columbians' well-being and play a vital role in the lives of all British Columbians. The province is committed to making the BC public service the number one employer of choice for highly skilled staff.
The following report describes the activities and achievements of the new BC Public Service Agency and the BC Leadership Centre in their inaugural year of operation. I am very proud of the work that the Agency has undertaken. A dedicated public service supports government's strategic goals for a strong and vibrant economy, supportive social fabric, safe, healthy communities and a sustainable environment.
Honourable Joyce Murray
Minister of Management Services and
Minister Responsible for the
BC Public Service Agency and
BC Leadership Centre