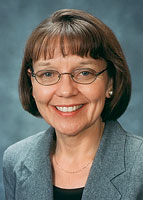 It is my pleasure to present the 2003/04 Annual Service Plan Report for the Ministry of Advanced Education. This report describes the ongoing work of the Ministry and our post-secondary system partners, and outlines the progress made toward the goals and objectives described in our 2003/04 – 2005/06 Service Plan.
I am proud of the achievements realized through our strategic approach to post-secondary education — an approach that puts students first, expands the skills and knowledge of our workforce, broadens our understanding of the world, and helps ensure continued economic prosperity and social well-being for all British Columbians.
Through this approach we have substantially increased the capacity of the public post-secondary system, and improved access for all British Columbians. We have expanded post-secondary research activity, which contributes to the social and economic well-being of our province through discovery, innovation and the creation of knowledge. We have expanded opportunities for students to train in high-demand fields such as health, engineering and trades. We have accomplished all of this and more while balancing the provincial budget in 2004/05.
As the benefits of Government's New Era direction are now apparent, with many sectors of the economy engaged in vigorous activity, the public post-secondary system is under increased pressure to provide the highly educated and skilled graduates necessary for today's workforce and the workforce of the future. We are ready to respond to this pressure. The efforts that the Ministry and our system partners have undertaken to date have laid the foundation for substantial growth in the years ahead — growth that will see 25,000 new student spaces and expanded capital facilities added to the public post-secondary system by 2010. This growth is already well underway, as demonstrated by recent announcements about the establishment of new institutions in the province and expansion of existing ones. Thanks to these efforts, today we can look back with pride on our achievements and look forward with optimism toward a promising future for all British Columbians.
Honourable Shirley Bond
Minister of Advanced Education