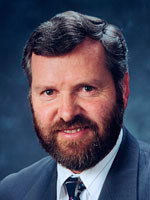 While the past year has presented unforeseen challenges to BC's agri-food industries, the diversity of our agriculture, food and fisheries sectors continue to provide many opportunities for adding value and marketing.
Wildfires, drought, BSE (Bovine Spongiform Encephalopathy), and avian influenza have dominated our activities and affected economic performance to a degree. For instance, our export targets were not met, partially because of the restrictions on beef, cattle and poultry products by other countries.
Our efforts to get borders open and the cattle and poultry industries back on their feet continue. Compensation issues are still high priorities, and consumer confidence remains a main concern.
In addition to dealing with these challenges, we have made many strides. The federal-provincial Agriculture Policy Framework is being implemented in B.C., providing a comprehensive and coordinated response to strategic sector needs.
We have entered a new partnership with the Federal government on fisheries management including the creation of the Pacific Council of Fisheries and Aquaculture Ministers and clear indication of renewed federal commitment to working with BC to resolve fisheries related issues.
The BC Seafood Sector and Tidal Water Recreational Fishing SWOT (strengths, weaknesses, opportunities, threats) analysis we presented to industry as a critical step in developing a new policy framework for fisheries and aquaculture in the 21st century.
Monitoring and auditing of salmon farms and fish health management plans have been increased and effective. On-farm food safety programs are improving traceability and food safety and quality across the food production system, and BC is leading all other provinces in environmental farm planning.
Three years ago, the ministry undertook to redefine itself and its relationship and services to industry. Over the past year, these partnerships have paid off as we all worked together to meet trying times, with key provincial groups like the Investment Agriculture Foundation and the B.C. Agriculture Council; with other provincial resource, environment and health ministries; and with federal agencies like Agriculture and Agri-Food Canada, Fisheries and Oceans Canada and the Canadian Food Inspection Agency.
We cannot foresee what new challenges the agri-food and fisheries sectors will face next year, but I am confident that our adaptability and diversity will enable us to deal with them.
Honourable John van Dongen
Minister of Agriculture, Food and Fisheries