Strategic Context
Most British Columbians are housed successfully in the private housing market. The 2006 census data reveals that about 70 per cent of households in B.C. own their own homes, while about 30 per cent are renters. Despite the rising costs of home ownership, home sales and prices have remained high in many markets across British Columbia and this trend is expected to continue.
British Columbia is enjoying a robust economy with historically low unemployment rates and sound economic growth. Statistics Canada reports that as of November 2007, the unemployment rate in B.C. was 4.2 per cent.1 Along with the many benefits of a strong economy, challenges such as housing affordability arise for both renters and buyers. This is particularly true for low and moderate income households. Housing costs in the metropolitan areas of British Columbia are among the highest in Canada. Housing affordability deteriorated in 2007, making it difficult even for higher income households to own a single family standard two-storey house. In Greater Vancouver, for instance, Canada Mortgage and Housing Corporation reports that the average price of a detached single family was about $725,000 as of September 30, 2007. The table below compares the average price for single family homes in Vancouver, Victoria and Kelowna for the period between 2000 and 2007.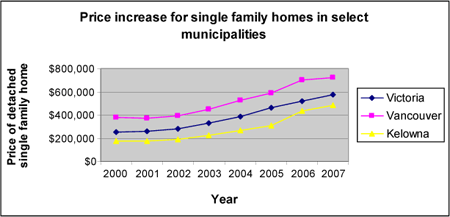 Source: Canada Mortgage and Housing Corporation.
Two of the major costs in building residential dwellings are land and labour. The rising cost of land in major population centres across British Columbia contributes to high housing prices. Robust construction activity means that there is high demand for skilled labour. In turn, costs for skilled labour have increased.
The current rental market is characterized by a low vacancy rate in virtually every metropolitan area of British Columbia. In addition, very few new rental units are being built for a variety of reasons including a low return on investment and high land and construction costs. Low vacancy rates suggest that there is a wide pool of applicants who are looking for rental accommodations, and landlords may turn away individuals or families perceived to be less desirable tenants. A lack of purpose-built rentals means that the majority of new rental housing stock has been in the form of secondary suites and investor-owned condominiums. These housing forms are especially important in areas with low vacancy rates and high rents, such as the Greater Vancouver and Victoria areas. Additionally, a larger number of inexperienced landlords own rental properties, which has resulted in greater pressure on Residential Tenancy Branch (RTB) dispute resolution services.
Homelessness remains a concern in communities across the province. Though viewed primarily as an urban problem, homelessness exists in almost every B.C. community. Low vacancy rates and limited rental units contribute to homelessness, both visible and hidden.2
A recent study 3 shows that housing is an urgent issue for British Columbia's Aboriginal population. Aboriginal people earn less on average than other British Columbians and therefore spend a higher percentage of their income on housing-related costs. In addition, they are twice as likely to be in core housing need.4
British Columbia's population continues to age, and a greater number of seniors are leading more independent lives. Approximately 600,000 seniors aged 65 and older now live in B.C., according to the most recently released data by Statistics Canada. This represents approximately 14.5 per cent of the population. This is an increase from 2001, in which 13.2 per cent of B.C.'s population was 65 years and older. This figure is projected to rise to 19 per cent by 2021. There are individuals among this population who are on fixed incomes and some who need housing with supports.
British Columbia's strong economy, combined with job creation and population growth, is continuing the momentum in residential and non-residential construction. This building boom has lead to shortages in skilled trades labour and increased construction costs. In this environment, an effective building and safety regulatory system is increasingly important to our stakeholders, including consumers.
Regulatory reform is a global trend that is shaping how government interacts with the construction industry and other building and safety stakeholders. The need to support economic competitiveness has prompted jurisdictions across Canada and the world to work with industry in harmonizing safety regulation while promoting research, development and marketing of new technologies. Harmonized standards allow international, provincial and territorial regulators to jointly focus on a single, standard development process and to co-ordinate consideration and public review of proposed changes. Harmonized standards also result in a more uniform national regulatory regime, which provides stakeholders with consistency between jurisdictions and helps to address the shortage of skilled labour.
---

1
Statistics Canada Labour Force Survey, available at www.statcan.ca/english/Subjects/Labour/LFS/lfs-en.htm published December 7, 2007.
2
The hidden homeless consist of those individuals and families who live in temporary accommodations in which they do not have control over the length and conditions of tenure, such as those who are "couch surfing".
3
"Aboriginal Housing in British Columbia: Needs and Capacity Assessment" by Catherine Palmer and Associates prepared for the Office of Housing and Construction Standards, 2007.
4
Core housing need is the situation in which individuals or families pay more than 30 per cent of their gross income for housing-related expenses (e.g., rent or mortgage).