Section A: Ministry of Forests and Range
Purpose of the Ministry
The Ministry of Forests and Range, also known as the Forest Service, is the main agency responsible for protecting the public's interest and providing leadership in the protection, management and use of the province's forest and rangelands. More than 90 per cent of British Columbia's forest and range lands are publicly owned, and managed by the provincial government on behalf of the public.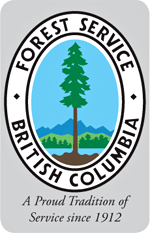 The Ministry has a mandate to manage and conserve forest and range resources for short- and long term socio-economic benefits, to protect and sustain forest and range productivity, to encourage competitive forest and range industries, and to set and manage the collection of revenue from the use of public forests and rangelands.
The Ministry pursues its mandate and goals in a consultative manner with the public, forest and range industries and other Crown agencies, while recognizing the unique interests of Aboriginal people. The pursuit of its mandate is enabled by a decentralized organizational structure that brings the Ministry close to its clients and stakeholders throughout the province.
Forest and range values in the Ministry's vision statement refer to the social, economic and environmental values associated with our forest and range resources. The environmental values including soil, water, fish, biodiversity, and wildlife, form the basis for the economic and social values. Economic values include timber, forage and fisheries resources that contribute to our economy. Social values include recreation resources, visual quality, resource features such as hoodoos, and cultural heritage resources. Collectively, these values contribute to the livelihood and recreation of many British Columbians, as well as support all British Columbians through the Crown revenue collected.
Vision
Diverse and sustainable forest and range values for British Columbia.
The Ministry of Forests and Range leads the B.C. Government's response to the mountain pine beetle epidemic and is working with a number of provincial ministries and with the federal government to mitigate the negative environmental and socio-economic impacts of the infestation while recovering the greatest economic value and protecting public health, safety and infrastructure.
The Ministry also has a significant role in supporting the Ministry of Environment on the Government's response to Climate Change, including a Future Forests Ecosystems Initiative.