Message from the Minister and Accountability Statement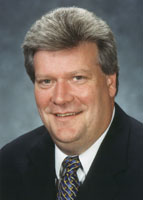 We faced one of most challenging years in the history of our forest sector in 2007.
In the last year, the Canadian dollar rose from $0.85 U.S. to par, costing B.C. forest companies $150 million for each one cent increase. As well, low lumber prices and a slumping U.S. housing market contributed to the sector's challenges.
Perhaps at no other time in modern history have we been so challenged to think strategically and innovate in a manner that assists our forest sector to achieve renewed prosperity.
The work has already begun with a regulatory review of the forest sector, designed to streamline processes, reduce red tape, cut administration and find more cost-effective ways of doing things without compromising worker safety or environmental stewardship.
As well, a new roundtable has been created to recommend a comprehensive, fiscally viable strategy to make B.C.'s forest industry more competitive, successful and productive. Elected officials, industry and industry association representatives, First Nations and other stakeholders will contribute to the process, and meetings will be held in communities around the province.
To mitigate the environmental and economic impacts of the mountain pine beetle on Interior forests and forestry-dependent communities, the Ministry will continue implementing the Mountain Pine Beetle Action Plan. On the Coast, the Coastal Forest Action Plan will also help with the important shift from old- to second-growth stands in an environmentally sustainable manner.
To address issues posed by climate change, the Ministry will continue to adapt our forest management framework in a manner that is consistent with the Premier's vision for our province.
As Minister Responsible for Housing, I'm committed to build on the successes we've achieved over the last year. Through Housing Matters BC, the Province's comprehensive strategy for reducing homelessness, we are ensuring British Columbians have access to safe and affordable housing.
Housing Matters BC is supported by the highest housing budget in B.C.'s history. It has provided direct assistance to more than 84,000 households in the past year. This includes more than 2,000 homeless British Columbians who, through the new Homeless Outreach Program, have been placed in stable housing with the supports they need to regain their independence.
We have also protected more than 750 units of affordable housing throughout B.C. with the purchase of buildings in Kamloops, Victoria, Burnaby, North Vancouver and Vancouver.
To help more low-income people and their families with the cost of safe, affordable housing, we will build on the successes of the Rental Assistance Program and Shelter Aid for Elderly Renters, and reach even more households this year. We will provide 750 rent supplements to help homeless British Columbians find stable shelter.
We continue to target housing units to those most in need of support by building new units, converting subsidized housing to provide appropriate support services and integrating provincial services to ensure people get help when and where they need it most.
To address climate change, reduce greenhouse gas emissions and increase the energy efficiency of buildings, we are developing additional green provisions for the B.C. Building Code.
We will also continue to modernize the building regulatory system to ensure buildings in B.C. are safe, our construction industry has consistent, clear regulations, and new homebuyers are protected.
The Ministry of Forests and Range and Minister Responsible for Housing 2008/09 – 2010/11 Service Plan was prepared under my direction in accordance with the Budget Transparency and Accountability Act. I am accountable for the basis on which the plan has been prepared. All material fiscal assumptions and policy decisions as of February 12, 2008 have been considered in preparing the plan and I am accountable for achieving the specific objectives in the plan.
Honourable Rich Coleman
Minister of Forests and Range
and Minister Responsible for Housing
February 12, 2008