Message from the Minister and Accountability Statement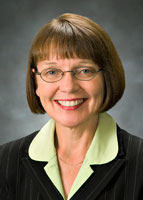 Over the next three years of this plan, we are committed to improving our strong record of achievement by maintaining the great education system we have while building stronger supports in schools and communities for students who continue to struggle.
In the 2007 Speech from the Throne, this government committed to improving quality, choice and accountability in education, to leading Canada in partnership with First Nations and to tackling the challenges of global warming. We have already begun these initiatives.
Since 2001, this government has invested over $130 million in new literacy funding. We are funding StrongStart BC early learning centres across the province to help pre-kindergarten children start school developmentally ready to learn. Over the next three years we will continue to promote literacy for all British Columbians, both through schools and in communities.
With ActNow BC, we're making sure that healthier food is sold in schools, and that students get regular physical activity. By September of 2008, no school will be selling junk food, and our students will be getting 30 minutes of daily physical activity.
This government is working to reduce greenhouse gas emissions by at least 33 per cent below current levels by 2020. In the Ministry of Education, we'll be working with school districts to institute advanced environmental design in all our capital projects, so every new school will be a healthier, more environmentally friendly place to learn and work.
Aboriginal student success is an area of particular focus for the Ministry. Across the province, Aboriginal student school completion rates are more than 30 per cent lower than the cross-province student average. We have now signed Aboriginal education enhancement agreements with over half the school districts in the province. As we complete this process, the agreements help Aboriginal students build academic success, a sense of belonging, youth leadership, and a stronger connection to their culture.
Through enhancement agreements, increased focus on Aboriginal achievement and increased funding, we are working to improve Aboriginal student achievement by 2015/16.
Greater connection to students also means greater connection to communities, and to families. We will continue to work with our many community and education partners as we realize our goals. Their input, and the performance measures of this service plan, will help us assess our success as we move forward.
B.C.'s schools are a rich environment for learning where most students thrive, but our overall student achievement levels and graduation rates have begun to level off. Working together, we can continue to improve the system until every student has the opportunity to reach their true potential.
The Ministry of Education's 2008/09 – 2010/11 Service Plan was prepared under my direction, in accordance with the Budget Transparency and Accountability Act. I am accountable for the basis on which the plan has been prepared. All material fiscal assumptions and policy decisions as of February 4th, 2008 have been considered in preparing the plan and I am accountable for achieving the specific objectives in the plan.
Honourable Shirley Bond
Minister of Education and Deputy Premier
Minister Responsible for Early Learning and Literacy
February 4, 2008