Message from the Minister and Accountability Statement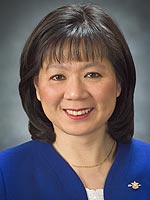 It is an honour to present the Ministry of Community Services 2008/09 – 2010/11 Service Plan. Our Government is supporting BC's communities to be greener, healthier more inclusive places to live for all British Columbians, and this service plan outlines the strategies we are using to achieve that vision over the coming three years.
The Ministry is committed to building awareness of climate change and encouraging action at the community level. We have launched a number of programs that support government's goal to significantly reduce greenhouse gas emissions. LocalMotion grants are assisting communities throughout British Columbia in building the infrastructure that will get people out of their cars and onto walking and cycling paths in their communities. The inaugural Green City Awards — presented at the Union of BC Municipalities annual meeting in September 2007 — honoured seven leading-edge local governments. In addition, through the Towns for Tomorrow initiative, we are investing in infrastructure for British Columbia's smaller municipalities, supporting a range of projects that address climate change, including enhancements to water and sewer systems.
The Ministry continues to invest in B.C. Spirit Squares, supporting the development of unique gathering spaces in our communities, a legacy of British Columbia's 150th anniversary. Through the Canada B.C. Municipal Rural Infrastructure Program, we are also working with the federal and local governments to invest in projects that benefit British Columbians. At least 60 per cent of this funding supports green local infrastructure, such as water and waste-water systems. As well, our gas tax and public transit agreements with the federal government aim to significantly improve local infrastructure and support greener communities.
In response to the Premier's challenge to double tourism revenues by 2015, the Ministry has signed agreements with seven of thirteen eligible resort municipalities under the Resort Municipality Tax Transfer Program. These agreements transfer a portion of the Hotel Room Tax back to the municipalities to finance a wide range of tourism-based projects.
We continue to promote twinning opportunities with communities in the Asia Pacific. I was pleased to undertake a 10-day mission to the People's Republic of China this past year, focused on forging new relationships between British Columbia communities and those in China and building on those we already have towards a new level of economic strength. That trip produced a formal agreement between our Province of British Columbia and the People's Government of Guangdong Province to encourage our respective local governments to establish such twinning arrangements.
Our BC Asia Twinning Tool Kit supports these innovative partnerships by providing local governments in this province with the information they need to establish international twinning arrangements, or enhance existing ones, to get the most out of the economic opportunities that these partnerships offer.
The Ministry of Community Services continues to support women and children who are fleeing abuse, helping them to rebuild their lives through access to transition houses, safe homes and second-stage housing. At the same time, we continue to focus on changing the attitudes and behaviours that lead to violence, through such programs as Partners in Prevention, which funds projects that engage men and boys as partners in working to prevent violence against women and girls.
In working towards achieving government's great goal of building the best system of support for seniors in Canada, the Ministry has led a comprehensive review of the recommendations contained in the report of the Premier's Council on Aging and Seniors Issues, "Aging Well in BC," released in December 2006. Working with 13 other ministries, we are now developing a government action plan to support older people in British Columbia in living healthy, active and independent lives.
The Ministry of Community Services 2008/09 – 2010/11 Service Plan was prepared under my direction in accordance with the Budget Transparency and Accountability Act. I am accountable for the basis on which the plan has been prepared. All material fiscal assumptions and policy decisions as of February 19, 2008, have been considered in preparing the plan and I am accountable for achieving the specific objectives in the plan.
Honourable Ida Chong
Minister of Community Services and
Minister Responsible for Seniors' and Women's Issues
February 19, 2008