Message from the Minister and Accountability Statement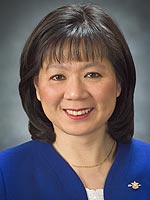 It is my pleasure to present the 2008/09 – 2010/11 service plan for the BC Public Service Agency. The Agency's mandate is to provide human resource leadership for the ministries and agencies and the 30,000 employees working to serve British Columbians. Meeting this challenge has never been greater as we face an increasingly competitive labour market and an aging workforce, where many employees are poised for retirement.
Just like private sector employers, the BC Public Service faces the same human resource challenges. By 2011 it is expected that exits from the B.C. labour force will exceed entrants for the first time. Within the BC Public Service, we project to lose 45 per cent of managers and 35 per cent of bargaining unit staff through retirement, by 2015.
Through our efforts to address this emerging challenge in previous service plans, the BC Public Service was named one of British Columbia's top 40 Employers in 2007. We intend to build on this reputation to attract and retain the people we need to provide effective, high-quality services and programs to British Columbians. Our strategic approach to address this challenge is outlined in the Corporate Human Resources Plan for government — by building internal capacity, improving competitiveness and managing for results, we are supporting B.C. in becoming the best public service employer in Canada.
Over the last year, we've seen important and significant strides toward this goal through implementation of the Corporate Human Resources Plan. All employment opportunities are now open to external, as well as internal candidates, leading to a 59 per cent increase in the number of hires from the external market. We've reduced the use of outside consultants and directed cost savings to fund other recruitment and retention activities. The launch of the Pacific Leaders program offers scholarships and student loan forgiveness to employees to support their career development; scholarship opportunities for government employees' children, and fellowships opportunities to attract new employees.
In launching the brand "Where Ideas Work", the BC Public Service continues to promote itself as an employer that values employees' ideas and ingenuity.
The latest Work Environment Survey of provincial employees, meant to seek opinions on issues impacting their work experience, shows a five-point gain in overall employee engagement, which is regarded as a significant move for an organization of 30,000 employees.
This Service Plan outlines the strategies the BC Public Service Agency will continue to implement as it leads and supports public service excellence, making a positive difference in the lives of the more than four million citizens in this province.
As Minister responsible, I believe this plan will contribute to a public service of the highest standard. The 2008/09 – 2010/11 BC Public Service Agency Plan was prepared under my direction in accordance with the Budget Transparency and Accountability Act. I am accountable for the basis on which the plan has been prepared. All material fiscal assumptions and policy decisions as of February 12, 2008 have been considered in preparing the plan and I am accountable for achieving the specific objectives in this plan.
Honourable Ida Chong, FCGA
Minister of Community Services
February 12, 2008