Message from the Minister and Accountability Statement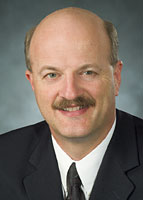 It is my pleasure to present the Ministry of Agriculture and Lands' 2008/09 – 2010/11 Service Plan. This plan outlines the strategic priorities and key initiatives for the Ministry over the next three years.
The Ministry's mission is to promote sustainable land use and the production of agriculture and aquaculture products in an environmentally sound manner for the benefit of all British Columbians. Our focus will ensure that we set the climate for innovation and change and our efforts will be guided by a collaborative approach in building the Agriculture Plan and the Aquaculture Plan.
Over the last five years British Columbians have marshalled their efforts and energy to turn the province into an economic powerhouse and a centre for social innovation and improvement. Today we live in a world redefined by enormous shifts in our demographic, economic and environmental makeup.
At the heart of the government's agenda lies this simple question: what can we do to secure the future for our children and our grandchildren?
This is a time for partnership; for action. The value of this partnership approach is demonstrated by the award-winning Britannia Mine Remediation Project, and an innovative public-private partnership agreement with EPCOR Britannia Water Inc. for the construction and operation of the Britannia Mine Water Treatment Plant. The project has reduced the discharge of heavy metals into Howe Sound by an estimated 95 per cent and has acted as a catalyst for community redevelopment. In addition, through a unique partnership approach with First Nations, local governments and key stakeholders, we have completed several land-use plans and agreements, and established an implementation plan for the successful recovery of mountain caribou.
We have worked together to preserve vast areas of wilderness, to create the Kitasoo spirit bear conservancy and to pioneer ecosystem-based management. Together with the federal government and private non-profit organizations we have established the $120 million Conservation Investment and Incentives Initiative Fund which is aimed at preserving the integrity of the Great Bear Rainforest. The province's $30 million contribution to the fund is being directed toward economic development opportunities for First Nations' businesses involved in activities such as sustainable fisheries, forestry and tourism.
Government actions call for long-term vision, not short-term experience. Today's youth are wondering what the future holds for them. A critical problem facing us today is the issue of global warming and climate change.
Since 1997 greenhouse gas emissions have continued to grow here in British Columbia and across Canada. Voluntary regimes have not worked. Our government, led by Premier Gordon Campbell, has a bold and unprecedented plan to achieve a 33 per cent reduction target of greenhouse gas emissions by 2020.
On November 2nd, 2007, the Premier and I hosted a symposium with 75 representatives of the diverse agriculture sector to discuss how these reductions can be achieved.
Government is committed to initiatives that protect the environment and support the objective of leading the world in sustainable environmental management. B.C. accounts for less than two per cent of the nation's agricultural land in crops, but still accounts for the largest share of land in apricots (69 per cent), raspberries (56.7 per cent), cranberries (45.8 per cent), and sweet cherries (76.1 per cent). B.C. continues to be Canada's leader in highbush blueberry production and remains third in terms of total acreage for vegetables.
In recent years, rising costs and increased global competition have created significant challenges for parts of B.C.'s agricultural economy. It will take concerted, sustained effort to help the industry respond to ensure future competitiveness in a global economy. Innovation and repositioning in value chains will help to ensure a bright future for agriculture in B.C. Climate change will bring challenges and opportunities to this sector and we must be prepared to respond.
The Province has set aggressive targets for greenhouse gas emission reductions and energy conservation that require changes in our thinking and approach. Our Ministry will support the achievement of these targets in part by developing a carbon inventory and reporting system for other ministries to record their progress in reducing gas emissions and by supporting the use of Crown land for the development of alternative energy projects.
Over the coming years, government will work closely with you as we explore ways to provide British Columbians with a range of options aimed at encouraging environmentally responsible choices. Our actions will mean more jobs, new investments and, ultimately, greater prosperity for British Columbians.
The Ministry of Agriculture and Lands' 2008/09 – 2010/11 Service Plan was prepared under my direction, in accordance with the Budget Transparency and Accountability Act. I am accountable for the basis on which the plan has been prepared. All material fiscal assumptions and policy decisions as of February 15, 2008 have been considered in preparing the plan and I am accountable for achieving the specific objectives in the plan.
Honourable Pat Bell
Minister of Agriculture and Lands
February 15, 2008