Message from the Minister and Accountability Statement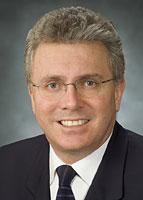 It is my pleasure to present the Ministry of Advanced Education 2008/09 – 2010/11 Service Plan.
We are committed to ensuring that British Columbia's post-secondary education system continues to deliver excellent and accessible education to B.C. students. We have a high-quality university sector, and an equally high-quality system of comprehensive community colleges, university colleges, specialized institutes and private post-secondary institutions.
Campus 2020: Thinking Ahead was launched by Premier Gordon Campbell two years ago to focus on the future of post-secondary education. The initiative was the first comprehensive look at higher education in British Columbia in 45 years. The review encompassed five months' consultation, visits to 18 communities across the province, and more than 200 written and electronic submissions.
As we move into the next phase of Campus 2020, we are continuing to work closely with students, post-secondary institution presidents and board chairs, and other partners to determine the special role institutions will play as we move towards becoming the best-educated place in North America.
The development of an Education Quality Assurance designation will become British Columbia's brand for post-secondary education for both public and private institutions and will be used around the world to promote high quality, reputable and credible B.C. post-secondary institutions. It will enable students to readily see which institutions, both public and private, are "recognized" as having met established quality assurance standards.
We plan to capitalize on our potential as Canada's pacific gateway to North America. We will improve our competitiveness and productivity through education. Since 2001 we've funded almost 22,000 new post-secondary student spaces — including doubling the number of first-year training spaces for medical students and increasing nursing seats by 82 per cent.
Through consultation with Aboriginal communities, we have developed an Aboriginal Post-Secondary Education Strategy to help close the higher learning education gap between Aboriginal and non-Aboriginal people. The strategy includes scholarships, targeted programs, transition support and strengthening partnerships to help Aboriginal students start, stay in, and succeed in post-secondary education and training.
Since 2001 we have committed $1.2 billion to improve campuses and provided government investments of more than $1.5 billion for research and innovation across the province. We are working to enhance B.C.'s capacity for innovation to improve our productivity, competitiveness and prosperity.
The Ministry of Advanced Education 2008/09 – 2010/11 Service Plan was prepared under my direction in accordance with the Budget Transparency and Accountability Act. I am accountable for the basis on which the plan has been prepared. All material fiscal assumptions and policy decisions as of February 19, 2008, have been considered in preparing the plan, and I am accountable for achieving the specific objectives in the plan.
Honourable Murray Coell
Minister of Advanced Education and
Minister Responsible for Research and Technology
February 19, 2008