Section 1.4: Budget 2008: Expenditures to Support Climate Action
The government has now had one year to begin to fulfill the commitments made in 2007. Many of these measures are complex or will require negotiations with stakeholders, and therefore will take more time to fully implement. However, Budget 2008 provides the foundation to assure British Columbians that the emission reductions required will be achieved. Table 1.13 summarizes the government's operating and capital expenditure initiatives over four years, which total almost $1 billion. The following section provides the details as to how that amount is allocated to the various climate action initiatives funded by Budget 2008.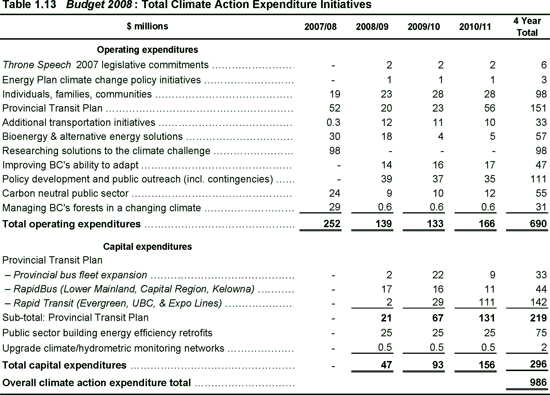 Funding for Key 2007 Throne Speech Legislative Commitments
Government must be creative in managing an issue as complex as climate change, and has to use all the levers it has available, i.e. expenditure programs, regulations, and tax initiatives. Budget 2008 contains measures to reduce emissions utilizing all these tools, in part by providing almost $6 million in funding for the following legislative measures announced in Throne Speech 2007:
Limits on GHGs by large emitters – Greenhouse gases from these sources, which includes fossil fuel production and other industries, comprise 36 per cent of total BC emissions. Budget 2008 will fund the development of a regulatory "cap and trade" system for large emitters. See the "Cap and Trade System for Large Emitters" topic box for an explanation of this market-based mechanism.
Limits on GHGs from new vehicles sold in BC – Of the 38 per cent of BC emissions attributable to the transportation sector, over one-third of those are from passenger vehicles. Budget 2008 provides the resources to develop emission standards for new motor vehicles sold in BC. These standards will be phased in over time.
Limits on GHGs from landfills – Organic waste in BC landfills decomposes to create methane, a greenhouse gas that is 21 times more damaging than CO2 and it comprises 8 per cent of provincial emissions. The problem is caused by the 30-40 per cent of the waste stream that is compostable. New standards will result in increased capturing of methane on site. The fiscal plan will fund the development of criteria and standards in support of these goals, working closely with local governments.
Development of a "Green Building Code" that will introduce the highest energy efficiency standards in Canada – Incremental funding is allocated to develop and implement the new Code, in consultation with industry, professional, and community representatives. The new "green requirements" will mean every new home and building will conserve more energy and water, reducing the environmental impacts and resulting in long term cost savings.
Funding for 2007 Energy Plan Initiatives supporting Climate Action
Budget 2008 allocates $3 million over 3 years to fund the further development of many of the climate action-related commitments in the 2007 Energy Plan (see Table 1.12). In addition, Budget 2008 provides for an exemption on royalties for gas that would otherwise be flared at producing wells. The value of the royalties is estimated to be $1 million annually, but the initiative is revenue neutral since royalties would not be collected under the status quo.
Initiatives to assist individuals, families, and communities
BC's 1.8 million households contribute almost 20 million tonnes in CO2-equivalent emissions annually for an average of 11.1 tonnes per household. The sources of these emissions are shown in Chart 1.1.
In 2008 Throne Speech, government outlined a new LiveSmartBC strategy to reward smart choices that will save energy, water, fuel, time and money.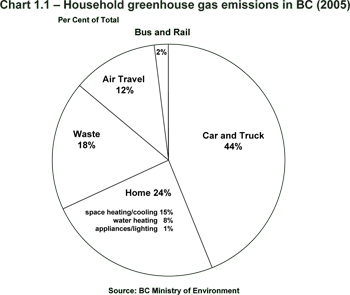 Since household GHG emissions constitute over 30 per cent of the provincial total, it is imperative that strategies be implemented to assist British Columbians adjust to a lower carbon footprint. Budget 2008 supports this goal by allocating a total of $98 million over 4 years to initiatives. Consistent with the 2008 Throne Speech, $60 million of this amount is to fund the new LiveSmartBC: Efficiency Incentive Program that will provide financial support to households for energy audits and building retrofits. Small businesses can receive energy assessments under the program as well. Some of the details of this new initiative are contained in Table 1.14.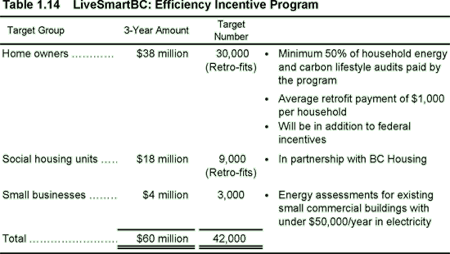 As part of this allocation to Individuals, Families, and Communities, Budget 2008 also will provide:
$20 million over four years to help switch remote communities, mainly First Nations, from diesel-generated power plants to sources of clean electricity, and to improve the energy efficiency of their homes and businesses;
$15 million in 2007/08 to expand and refine the existing "SCRAP-it" program that provides financial and other incentives to get older, less efficient vehicles off the road; and
$3 million to fund an updated Energy Efficient Buildings Strategy, to encourage even greater participation by home-owners, businesses, and communities in taking advantage of conservation-oriented building technologies and practices.
These initiatives will complement BC Hydro's "smart metering" initiative, which will allow all of its customers to monitor power consumption as it is being utilized, allowing them to make conservation decisions immediately. The meters are to be installed by 2012 at a cost of up to $930 million.
Provincial Transit Plan
As is evident from Chart 1.1, the most significant component of household GHG emissions is from personal vehicles. On January 14, 2008, the government announced its Provincial Transit Plan, designed to reduce private vehicle usage.
The plan will fund four new rapid transit lines in the Lower Mainland, nine new Rapid Bus routes in the Lower Mainland, the Capital Region and Kelowna, and purchase up to 1,600 buses for use in many BC communities.
Overall, the plan is costed at $14 billion to 2020, with the intent that it be cost-shared among the province, the federal government, the South Coast British Columbia Transportation Authority (formerly TransLink), and local governments.
Over four years, the province's contribution is anticipated to be $151 million of operating funding and $219 million in capital funding.
The Provincial Transit Plan includes the existing commitment of $435 million to help fund the new Canada Line, which will connect downtown Vancouver with Richmond and the Vancouver International Airport.
It is important to note that, while GHG reductions are an important benefit of improving mass transit, there are many other benefits to such investments. These include time savings for both transit riders and private vehicles by reducing road congestion, encouraging more efficient community planning, and providing seniors, young people, and others having limited access to automobiles with increased convenience in the course of their commuting requirements.
Additional transportation initiatives
A large proportion of emissions from the transportation sector are generated by heavy-duty commercial vehicles and port activities. Therefore, Budget 2008 provides funding for the following:
$30 million over three years for the BC Green Ports Initiative to implement emission reducing practices for short-haul commercial trucks servicing BC ports, and to fund port electrification to allow ships to turn off their engines while in port.
$3 million over three years for a Green Lights Transportation Program which will utilize new technologies to assess commercial vehicles for compliance with trucking regulations while in transit on highways, reducing the frequency of stoppages and idling. This funding will also provide plug-in infrastructure at key truck-stop locations to reduce idling times.
As well, sales tax exemptions on after-market products that improve the aerodynamics and therefore the fuel efficiency of larger commercial vehicles are contained in Budget 2008.
Bio-energy and alternative energy solutions
To the extent that traditional fossil fuels can be replaced with cleaner energy choices, GHG emissions will be reduced. To encourage development of greener fuels in BC sooner than they would otherwise occur, the following initiatives are planned:
As announced on January 31, 2008, an immediate priority is for $25 million to establish a new Bioenergy Network, to encourage research and investments in such areas as wood-waste co-generation, bio-fuels from wood, agricultural, or waste biomass, and wood pellet production. The Network will also be responsible for directing research and initiating projects that promote the development and use of fuel from organic resources.
Also part of the announcement was a production incentive to encourage biodiesel production. If the appropriate capital investments are made, producers could be eligible for financial support, depending on the specifics of the facility. The actual cost to the fiscal plan is dependent on the size and nature of the investments made, but could reach $10 million over three years.
Additional 2007/08 funding of $5 million will support the expansion of solar thermal energy systems in BC. The funding is largely intended to increase the number of solar installations in BC, mainly for water heating purposes.
Also included in this category are planned 2008/09 expenditures of $17 million from the Innovative Clean Energy (ICE) Fund that was announced last spring. This fund will, among other functions, assist in bringing promising new clean energy technologies to market.
Researching solutions to the climate challenge
Further research is necessary to design the required actions to mitigate climate change and to better understand its implications, however government cannot do this alone. Therefore, as announced on January 25, 2008, an immediate priority for 2007/08 is to provide a $95 million contribution, of which $90 million is for an endowment fund, to assist two organizations undertake valuable research and generate solutions to key technical and policy questions posed by government. The organizations are as follows:
The Pacific Institute for Climate Solutions (PICS) – Led by the University of Victoria in cooperation with the University of BC, Simon Fraser University, and the University of Northern BC, this new collaborative will provide government with scientific research expertise on climate change issues, such as enhancing the understanding of low carbon technologies and industrial processes, investigating practical alternatives to current "carbon-intensive" consumer products, and researching opportunities for more environmentally-friendly commercial investments in BC.
The Pacific Climate Impacts Consortium (PCIC) – This organization has evolved from a concept in 2005 to a partnership among the University of Victoria, BC Hydro, Environment Canada, and the BC Ministry of Environment. Its mandate is to produce practical scientific information to help communities, natural resource managers and business adapt to climate change.
In addition, given the economic importance of BC's oil and gas industry, the capture and permanent underground storage of CO2 generated by petroleum production is likely to be an important mechanism to help meet BC's emission reduction targets. To that end, Budget 2008 provides $3 million in 2007/08 to undertake a feasibility study on this technology at a natural gas plant in northern BC.
Improving BC's ability to adapt to climate change implications
While acting to minimize the impacts of climate change, it is prudent to also accurately monitor and plan for those changes that will continue to occur for some time due to past emissions. In addition to the contributions to designing adaptation strategies that will be provided from organizations such as PCIC and PICS, Budget 2008 also provides for the following:
Working in partnership with federal agencies, $10 million over three years in operating funding and $1.5 million in capital funding, to upgrade the government's hydrometric, fire, and meteorological networks to collect more reliable climate and related data. Data provided by these systems is critical in order to cope with extreme weather events and to adapt to long term changes in climate.
$1 million over three years will help assess strategies to improve the province's ability to respond to events such as floods and droughts, the frequency of which is likely to increase. Key economic resources in the areas of fisheries, agriculture, and hydro-electricity face mounting risks from such occurrences.
An allocation of $30 million over three years is part of a 10-year, $100 million program for flood protection infrastructure and maintenance with a shift in emphasis from response/recovery to mitigation. Over 240 communities in BC have been identified as being at some risk of flooding. Projects will include structural flood protection works, gravel removal, and engineering/modeling work. Federal cost sharing is also being pursued.
An additional $6 million over three years will assist with eliminating the backlog in Independent Power Producer applications, resulting in additional green power supplies to augment the BC Hydro system.
Policy Development and Public Outreach
To ensure that ministries and other public sector organizations are coordinating their efforts to advance climate change initiatives, the Climate Action Secretariat was created in 2007 with an initial budget of $4 million for 2007/08. Budget 2008 increases the funding for its operations to $46 million over 3 years (along with a further $62 million in contingency funding for additional new initiatives) allocated as follows:
Operating budget – $12 million over 3 years for policy formulation and coordination, developing required legislation and regulations, ensuring the achievement of a carbon neutral public sector by 2010, development of a regional "cap and trade" system, and related functions.
Outreach and engagement – $12 million over 3 years for consultations with stakeholder groups, for work with other levels of government and other partners on climate action solutions, and to establish/fund the Citizen's Conservation Council. The Council, to be established this year, will have a mandate for climate change education and outreach. A further $3 million over three years is provided outside of the Secretariat's budget for a new "Food Miles" Initiative, to increase public awareness of the distance food products are transported to encourage the purchase of local agricultural products.
Technical analysis – $7 million over 3 years to develop models, impact assessments, and other analytical tools to assist in making key policy choices. Some of this funding will support the Climate Action Team, whose 22 members and a Special Advisor were announced on November 20, 2007. The Team will advise on interim emission reduction targets for 2012 and 2016, and provide recommendations to government on additional strategies to reduce emissions.
Communications and education – $15 million over 3 years to provide information to British Columbians about choices they can make in support of reducing greenhouse gas emissions.
Contingencies – The work of the Secretariat and the Climate Action Team is in its initial stages, and the Citizen's Conservation Council has yet to be established. An allocation of $62 million over three years will also be maintained as a part of government's contingencies vote to support further initiatives.
Carbon neutral public sector
Only through changing the collective behavior of all members of society, including government, can the climate challenge be met successfully. Simply put, government must lead by example. Therefore, the province has committed that its operations will be "carbon neutral" by 2010. Note that "carbon neutral" does not imply zero emissions, but rather zero net emissions. This means that for those emissions that can't be reduced further, accountability is taken by purchasing offsets from projects that reduce or sequester emissions. Budget 2008 assists in this regard as follows:
Emissions by the public sector currently totals several hundred thousand tonnes of CO2-equivalent annually. Budget 2008 allocates $14 million in operating funding over 3 years, and $75 million in capital funding, to retrofit existing provincial public sector buildings. Retrofits will include measures such as higher efficiency lighting and more efficient boiler systems. This program complements the announcement in the 2008 Throne Speech that all new provincial public sector buildings will be constructed to a minimum of "LEED" (Leadership in Energy and Environmental Design) Gold or equivalent standards.
The Pacific Carbon Trust, a new Crown corporation, will receive $24 million over 4 years to invest in GHG-reducing projects in BC. The mandate of the Trust will be to purchase credible, low-cost offsets in BC to assist the government meet its carbon neutral target by 2010. Once up and running, the Trust will be able sell offsets to individuals and many businesses.
$15 million will be provided in 2007/08 to begin to develop advanced communication and collaboration tools, including desktop videoconferencing, to reduce public servant travel, in addition to $2 million to develop new low-carbon procurement procedures and a "Green BC Website" for ministries to better track their GHG emissions and evaluate new strategies for reductions.
These initiatives will complement the Public Sector Energy Conservation Agreement, announced in 2007, which applies to some 6,500 public sector buildings. This $200 million joint government-BC Hydro initiative will decrease electricity consumption across the public sector building portfolio over the next 12 years.
Managing BC's Forests in a Changing Climate
$19 million in 2007/08 and a further $2 million for staffing over the next three years is allocated to accelerate forest growth and reduce losses due to forest health problems in order to sequester more CO2, develop new seed technologies that are more resilient to climate change, and reduce risks of wildfire to communities.
$10 million to assist BC's pulp and paper industry develop new technologies to further reduce its GHG emissions from the processing of wood chips into pulp.
Total Climate Action Expenditures and the Federal Ecotrust Contribution
The above measures total almost $700 million in operating funding and $300 million in capital spending over four years beginning in 2007/08. As part of this operating funding, the government intends to introduce Supplementary Estimates to obtain the necessary legislative approvals to fund over $250 million of 2007/08 priority initiatives, such as the Provincial Transit Plan, the Bioenergy Network, the Pacific Institute for Climate Solutions and the Pacific Climate Impacts Consortium. The federal government provided BC with a $199.3 million "EcoTrust" contribution in 2007, to support provincial projects that will result in real reductions in greenhouse gas emissions and air pollutants.
In summary, Budget 2008 provides the fiscal mechanisms to begin to address emissions in all the key sectors (see Chart 3 in the Climate Change Backgrounder topic box): the public transit, green ports, trucking, bio-energy, tailpipe emissions, and enhanced "SCRAP-it" initiatives will reduce emissions in the Transportation sector; the resources provided for "cap and trade," energy plan carbon sequestration feasibility analysis and research will address the fossil fuels, industry, and electricity sectors; the new LiveSmartBC: Efficiency Incentive Program, electrification of remote communities, new Energy Efficient Building Strategy, solar, and public sector building retrofits will assist with emission reductions in the residential/commercial sector; and the new landfill emission standards will mitigate against higher GHGs in the Waste category. Finally, the carbon tax will address emissions in all sectors, due to the incentives it will create to utilize fossil fuels more efficiently.
Environmental, Economic and Health Implications
Greenhouse Gas Reductions – The regulatory, expenditure, and taxation policies being facilitated through Budget 2008, will be significant in helping British Columbia make the social and economic adjustments necessary to meet its GHG targets. The government has recently engaged MK Jaccard and Associates, a highly respected firm that has completed many other environment/energy/economy modeling exercises, to analyze the impacts of new and existing policy measures. At this time, given the large number of initiatives being undertaken and their complexity, the estimates of the impacts are not yet finalized. The Climate Action Team will be using this modeling to inform its recommendations, with significant work to be completed by Summer 2008.
Economic Implications – The economic impacts from the climate initiatives supported by Budget 2008 are anticipated to occur gradually over time. There will be some increased costs to businesses and consumers from the upcoming regulatory measures (e.g., "cap and trade" system for large emitters, new fuel standards, and the vehicle tailpipe standards), however many of the changes will be phased in so that any necessary adjustments can be made over several years.
As for the new carbon tax, implementation in stages will have significantly lower economic impacts than if the tax were suddenly introduced in its entirety. This approach allows consumers and businesses to adjust their behaviour over time, and provides incentives for them to purchase lower carbon technologies when it is time to replace their capital stock (e.g. vehicles or production machinery). The macroeconomic costs of the carbon tax will be substantially reduced through the full and carefully planned recycling of carbon tax revenues.
In order to continue to ensure that the economy remains competitive, the government has introduced a net reduction in overall taxes in this budget. Moreover, increasing the price of carbon, through the carbon tax, will also send more appropriate "price signals" to the market that make the development of alternative energy sources, such as wind power, more economically attractive.
Co-Benefits for Health – Many climate action policy initiatives will also have significant positive impacts for public health. The most obvious is due to improved air quality, since GHG emissions and air pollution often occur concurrently. Lowering emissions will also reduce incidences of respiratory diseases, often linked to premature mortality, and policies that reduce the reliance on automobiles will encourage more active lifestyles.