Section 1.3: Existing Climate Action and Related Initiatives in BC:
A Track Record of Action
Significant public attention has only recently been focused on climate change and energy conservation issues. However, the provincial government has been responding for some time now. Early in its first mandate the government recognized the importance of developing and using BC's energy resources efficiently and in a more environmentally responsible manner, as evident in Energy for our Future: A Plan for BC, released in 2002. Then, in December 2004, the government released its first climate strategy, Weather, Climate, and the Future: BC's Plan. Complementing these early actions have been a series of additional energy efficiency, clean power, alternative energy, transportation, and related forestry initiatives. This extensive record is documented in Table 1.10.
The 2007 Throne Speech and Budget 2007: Ramping up to Address Climate Change
While past actions were moving BC towards a lower carbon economy, it became clear that more needed to be done. That is why last year's Throne Speech, delivered on February 13, 2007, committed to a 33 per cent decrease in GHG emissions by 2020 compared to the current level. This target, along with the 80 per cent reduction target for 2050, was enshrined in the Greenhouse Gas Reduction Targets Act in the fall of 2007. However, targets are only effective if there are actions to meet them. The key measures proposed in the Throne Speech to begin the process for meeting the targets are noted in Table 1.11.
Subsequent to the Throne Speech, Budget 2007 was tabled. In that document, the government began the work on its renewed climate action agenda by undertaking several measures. Among them, both the social service tax exemption for home heating equipment that is "ENERGY STAR Qualified" and the maximum $2,000 sales tax rebate on purchases of hybrid electric passenger vehicles were extended, biodiesel fuel was exempted from the Motor Fuel Tax Act, $10 million was provided to purchase hybrid vehicles for the provincial fleet, and $4 million was allocated to establish the Climate Action Secretariat.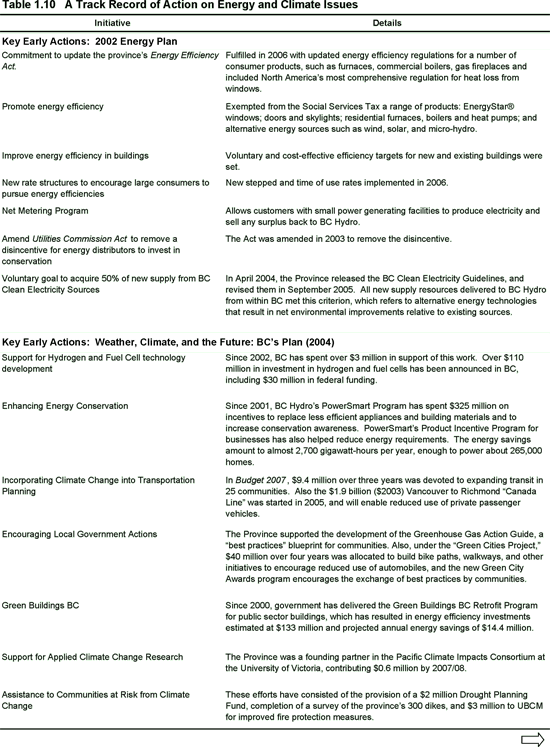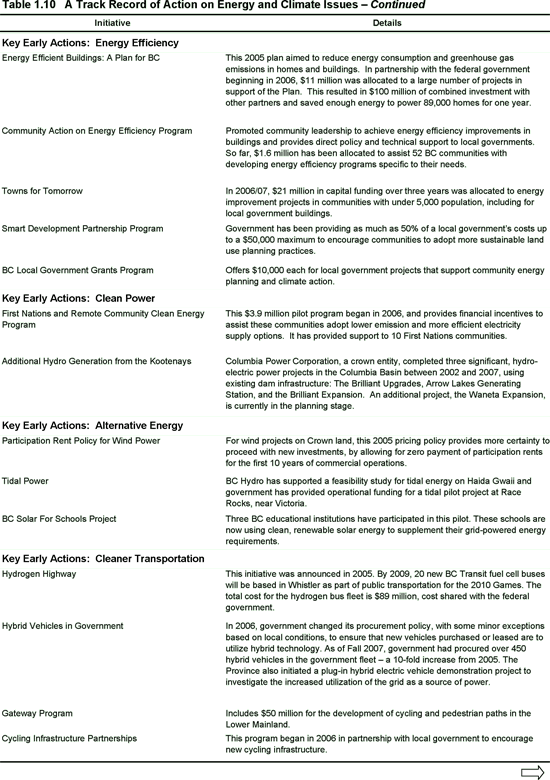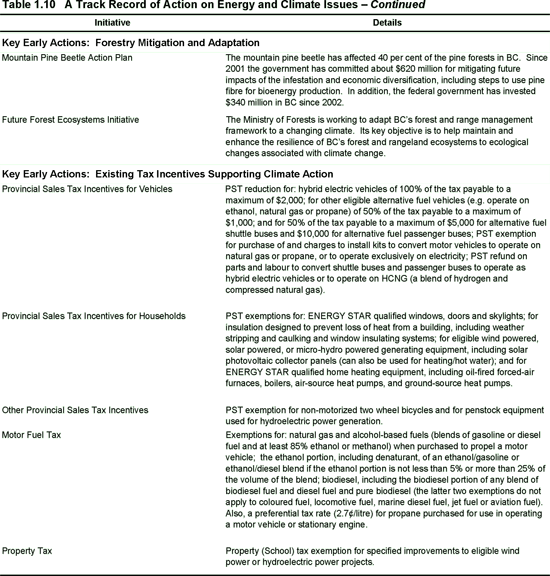 2007 Energy Plan: Continued Actions for Conservation and Greener Energy
On February 27, 2007, the government released The BC Energy Plan: A Vision for Clean Energy Leadership, updated from the 2002 version. This document contains a total of 55 policy initiatives, many of which will act to reduce fossil fuel consumption and therefore GHG emissions. The main components that will directly contribute to emission reductions are outlined in Table 1.12.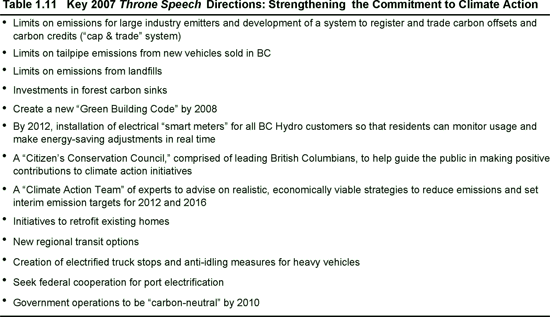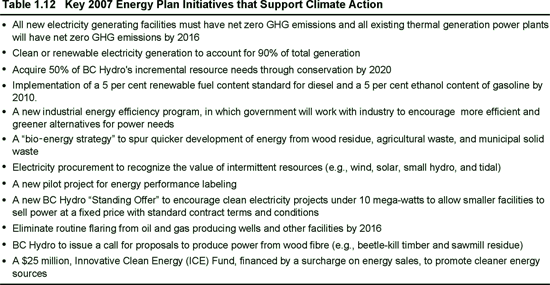 Results of Public Consultations to Prepare for Budget 2008
Prior to each budget, the Select Standing Committee on Finance and Government Services travels the province to consult with British Columbians on their fiscal priorities. Based on what the Committee heard regarding the climate action issue in Fall 2007, its report advised that the government should:
take decisive action on climate change by providing clear and concise information on programs and measures available to individuals and businesses to change behaviors;
expedite the construction of rapid transit;
promote energy-efficient households;
provide incentives to support BC's growing biofuels industry;
support the trucking industry's green transition; and
given the potential for government to implement a carbon tax, mitigate the impacts of such a tax on lower and middle-income families.
Although there is additional work to be done, Budget 2008 addresses all of these suggestions and goes even further.