Changes since the Second Quarterly Report
The surplus forecast for 2007/08 has been reduced by $155 million from the second Quarterly Report forecast, primarily due to allocations for priority initiatives, partially offset by additional revenue and a reduction in the forecast allowance.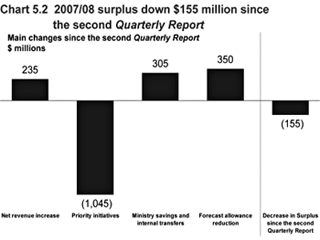 Since the second Quarterly Report in November:
The forecast for total revenue, including income from commercial Crown corporations, increased $235 million.

Taxpayer-supported revenue is up $175 million, led by higher personal income tax revenue, additional investment income and an increase in other revenue, partially offset by a reduction in forest revenue and a decline in projected federal transfers.
Income from commercial Crown corporations increased by $60 million, primarily due to the positive impact of lower claims cost projections and the sale of assets on ICBC's financial results.

Total spending increased $740 million from the previous forecast, primarily due to increased spending on one-time programs partially funded by the federal government.

Government allocated $1,045 million of the surplus to priority initiatives such as climate action (including a Climate Action Dividend to individual British Columbians to help them achieve their climate action goals), arts and culture, health and children, and research and education.
The additional spending on priority initiatives, additional flood and disaster relief costs and spending on one-time federally funded programs was partially offset by lower interest costs and other savings.
Some of the priority initiative funding will flow to universities, health authorities and other organizations within the broader government entity in the form of endowments and funds, resulting in a $299 million reduction in the self-funded expenses of these organizations.

The forecast allowance was reduced by $350 million in recognition of the lower risk to achieving the projected surplus remaining until the accounts for the full year are completed.
Table 5.2 provides more details on developments since the second Quarterly Report.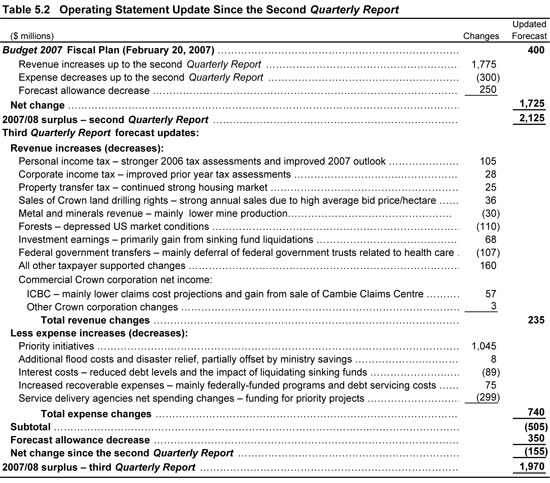 2007/08 Priority Initiatives
Government intends to introduce Supplementary Estimates to obtain the necessary legislative appropriations to fund the following priority initiatives.
Climate Action
2007/08 priority initiatives for Climate Action total $702 million, with specific investments in the following areas:
Climate Action Dividend ($450 million) – Budget 2008 will provide for a $100 Climate Action Dividend payment to each British Columbia resident to help people achieve their climate action goals ($440 million), and fund administrative costs associated with making the payments ($10 million).
As British Columbian's increase their awareness of the effects of greenhouse gas emissions, it is anticipated that they will begin making personal commitments to reduce their individual impacts on the world's climate through different consumption choices. These choices may carry additional costs; but, while increasingly accepted as necessary costs, it will take time for individuals to manage them within their personal finances. As well, the government recognizes that the initial impact of new provincial Climate Action initiatives aimed at reducing our collective carbon footprint will impact individuals and businesses in the immediate term. The Climate Action Dividend is intended to assist in the transition.
Pacific Institute for Climate Solutions (PICS) and Pacific Climate Impacts Consortium (PCIC) ($95 million) – PICS is a new multi-university collaboration that will provide government with scientific research expertise on climate change issues, enhancing our knowledge of low carbon technologies and investigating practical alternatives to "carbon-intensive" consumer products.
PCIC will produce reliable research to foster a better understanding of the future impacts of climate change on BC's water and other natural resources, weather events, and the economy.
Provincial Transit Plan ($52 million) – A grant will be provided to the South Coast British Columbia Transportation Authority for Rapid Bus development and other assets.
Bioenergy Network ($25 million) – The funding will be used to establish a network responsible for encouraging research and initiating projects that promote the development and use of fuel from organic resources, including research and investments in wood-waste co-generation, bio-fuels from wood, agricultural, or waste biomass, and wood pellet production.
SCRAP-it Program ($15 million) – Funding for expansion of the program that provides financial and other incentives to remove older, less efficient vehicles from BC roads.
Other Climate Action initiatives totaling $65 million include:

Forest health and growth ($19 million) – Initiatives that maximize forest sequestration of CO2, including strategies that improve adaptability to climate change and reduce wildfire risks.
Reduction of public servant travel ($15 million) – Allocated to the development of advanced communication and collaboration tools, including desktop videoconferencing, to reduce public servant travel.
Pulp and paper industry emissions ($10 million) – Funding to assist British Columbia's pulp and paper industry to develop new technologies to further reduce GHG emissions during the processing of wood chips into pulp.
Pacific Carbon Trust ($9 million) – Start-up funding for a Crown corporation mandated to invest in GHG-reducing projects in British Columbia and to assist the government in meeting its carbon neutral target by 2010 by purchasing low-cost credible carbon offsets in BC.
Solar energy ($5 million) – Funding to support the expansion and uptake of solar thermal energy systems in British Columbia.
Clean energy ($4 million) – Support for remote First Nations and other communities currently reliant on diesel generated power plants to switch to sources of clean electricity and improve the energy efficiency of their homes and businesses.
Carbon capture ($3 million) – Funding to research technology options for the capture and permanent underground storage of CO2 from oil and gas production.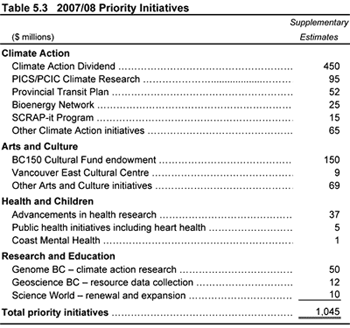 Arts and Culture
BC150 Cultural Fund ($150 million) – This will be a permanent endowment generating investment income that will fund a wide range of arts and cultural activities in communities throughout the province, as identified by the BC Arts Council.
Vancouver East Cultural Centre ($9 million) – Support for the revitalization and restoration of the Vancouver East Cultural Centre, and establishment of an endowment fund to assist with the ongoing operation of the expanded centre.
Other arts and culture initiatives ($69 million) – Further initiatives will be announced before fiscal year end.
Health and Children
Brain research ($25 million) – Funding provided to the Brain Research Centre at UBC for the development of prevention and rehabilitation strategies.
Centre for Hip Health ($10 million) – Funding to complete facility construction and support multidisciplinary programming on hip health and musculoskeletal research.
Childhood Cancer Treatment ($2 million) – Funding for research in the area of Paediatric Oncology that focuses on developing new strategies for treating childhood cancer.
Public Health ($5 million) – Support for public health initiatives, including $4.5 million to Legacies Now to fund health and wellness initiatives, and $0.5 million to the Healthy Heart Society to conduct heart screening and provide heart education sessions throughout the province.
Coast Mental Health Foundation ($1 million) – An endowment fund for the Courage to Come Back Awards recognizing British Columbians who have overcome illness, injury or adversity to contribute to their communities.
Research and Education
Genome BC ($50 million) – Support to the organization's 2010-2015 strategic plan for research that focuses on addressing the challenges of a changing world, including climate change. This provincial contribution is expected to attract an additional $150 million in external funding toward these research activities.
Geoscience BC ($12 million) – Funding for further development of geoscience data that will support mineral and oil & gas exploration.
Science World ($10 million) – Support for a major upgrade and renewal of its facilities, including development of an outdoor science park. Science World attracts over 500,000 visitors annually, and reaches over 180,000 children, educators and parents through its outreach programs.
2007/08 Notional Contingencies Allocations
In addition to the priority initiatives, spending commitments and pressures totaling $140 million have been notionally allocated to the Contingencies vote, as is shown in Table 5.4.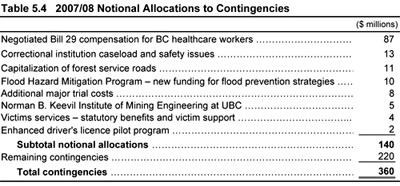 Musqueam
As noted in the second Quarterly Report, in November 2007 the government announced a negotiated reconciliation agreement with the Musqueam people to bring a resolution to three court cases. The agreement includes a cash payment of $20.3 million and land transfers in the Lower Mainland involving the University of BC golf course lands, Bridgepoint Casino lands and certain lands within the Pacific Spirit Regional Park.
The overall value and provincial cost of the agreement is dependant on several factors involving land transfers and valuations. The government expects to finalize the agreement in March 2008. If the agreement is ratified by the Musqueam, the government plans to seek the necessary approvals from the Legislative Assembly to implement the Final Agreement.
The final costs of implementing the reconciliation agreement are expected to be accommodated within the revised fiscal plan forecast for 2007/08.