The Economic Forecast Council, 2008
Introduction
The Budget Transparency and Accountability Act requires the Minister of Finance to consult the Economic Forecast Council (the Council) each year on the outlook for British Columbia's economy. The consultation process takes place in advance of each year's budget and the resulting forecasts are published in February along with the provincial budget.
The meeting between the Minister and Council members occurred on December 7, 2007, where the discussion centred around the Council's estimates for 2007 and its economic outlook for 2008 and beyond. Participants each provided information for the individual years 2007, 2008 and 2009 as well as an average forecast for the years 2010 to 2012. Six members also subsequently updated their forecasts in early January.
Council members presented their opinions on BC's near‑term economic outlook and on factors that may affect the province's medium‑term outlook. Among various topics discussed were the US economic slowdown, the international credit crisis, commodity prices, the appreciating Canadian dollar, as well as the construction, forestry and tourism sectors. This was followed by discussions on climate change and possible means to further attract investment in the province.
Forecast details from the Council surveys are summarized in the table at the end of this topic box.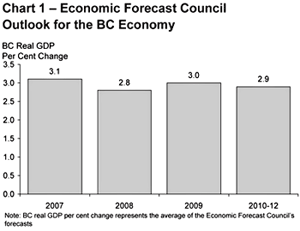 Overview
Council members' forecasts for economic growth in British Columbia in 2007 averaged 3.1 per cent, while their estimates for future growth averaged 2.8 per cent for 2008, 3.0 per cent for 2009 and 2.9 per cent on average over the 2010 to 2012 period. Council members expected slightly weaker growth over the next few years relative to what they had anticipated a year ago. The US housing market crash, and associated economic slowdown, as well as the high value of the Canadian dollar were the main reasons for their downward revisions. Despite the softer outlook, economic growth in BC is expected to outperform the national average through 2012.
Participants expected domestic demand to continue as the main source of growth for BC in the near‑to‑medium‑term, with trade being the main soft spot for the province due to both weaker external demand (particularly from the US) as well as the high valued Canadian dollar. Council members expect a strong domestic economy to be supported by robust consumer spending, continued strength in construction and demand for BC's natural resources. The Council noted that while trade with the US will likely suffer, BC is well positioned (both geographically and economically) to take further advantage of trading with Asia.
The Council encouraged the provincial government to maintain its healthy fiscal situation and to focus policies on attracting and retaining skilled labour and enhancing productivity.
The primary risk to the forecast noted by Council members is a harsher than expected US slowdown, as the turmoil in the US housing market could hinder US economic growth more than expected. Medium‑to‑long term forecast risks include the availability of labour with expected demographic trends, the impact of the Mountain Pine Beetle infestation, the rising cost of construction projects, and the risk of a prolonged US slowdown.
International Outlook
The Council's estimates for US growth averaged 2.2 per cent for 2007, while its forecasts for US growth averaged 2.1 per cent for 2008, 2.6 per cent for 2009, and 2.8 per cent for the 2010 to 2012 period.
Most Council members felt that the overall US economy would expand at a slower pace in 2008, chiefly driven by the weakness in the US housing sector. While the Council felt the US would likely avoid recession in the near‑term, some members warned that it was still a possibility. Most Council members also noted that US potential economic growth may be lower than previously thought. The majority of the council lowered their medium-term outlook on US real economic growth, relative to the previous Council survey prior to Budget 2007.
Outside of North America, Council members anticipated that global growth would remain relatively robust, especially in Asia and other developing countries. Most participants expected continued strong economic growth and high demand in China and India, while some also noted growing demand developing in other parts of the world such as Brazil, Mexico and parts of Europe.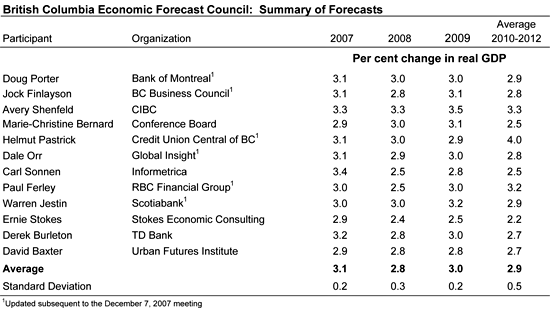 The Canadian Economy
The Council was in agreement that Canada will also experience slower growth over the coming years, mainly brought on by weakness in the US economy. Most members felt that Canada would outperform the US economy in 2008, due in part to weakness in Ontario being somewhat offset by relative strength in the Western provinces. The Council acknowledged that a slowing manufacturing sector and high Canadian dollar will continue to hamper growth in Eastern Canada. Several Council members pointed out that the Canadian dollar, expected to remain high throughout the forecast period, could continue to hurt net exports and hinder tourism from the US.
Council members agreed that Western Canada would be one of the main drivers of national economic growth over the next few years. Participants noted concern over a general labour and skills shortage in the Canadian economy, and that interprovincial migration to Alberta could continue to deplete the already shrinking labour supply in other provinces.
Estimates for Canadian growth averaged 2.6 per cent for 2007, slowing to 2.3 per cent for 2008 before rising back to 2.6 per cent for 2009. The Council's forecast then held steady at 2.6 per cent average for the 2010 through 2012 period.
The risks to Canadian economic growth in 2008 and 2009 included weakness in the US economy, a high Canadian dollar and worsening labour and skills shortages.
Financial Markets
At the time of the meeting in December, most Council members expected the Federal Reserve to lower its intended Federal Funds rate slightly from its present rate of 4.25 per cent, to an annual average of 3.93 per cent for 2008.1 However, due to the increased financial and economic turmoil observed in January, the Federal Reserve employed a series of drastic rate cuts in late-January, leading to the current Fed funds rate of 3.00 per cent. Given the recent movements by the Fed, and mounting fears of a recession in the US, it is now unlikely that the Fed funds rate will average 3.93 per cent in 2008.
Council projections for the intended federal funds rate averaged 4.20 per cent for 2009 then rose to an average of 4.67 per cent over the 2010 to 2012 period.
There was a mixed view among Council members on whether the Bank of Canada would need a higher or lower overnight target rate in 2008 than the 4.25 per cent that was in effect at the time of the December meeting. On average, the Council expects the Bank's overnight target rate to average 4.16 per cent in 2008. The interest rate spread between the US and Canada was expected to narrow slightly on average over the medium‑term. Council's forecasts for the Bank of Canada's overnight target rate averaged 4.42 per cent in 2009 and then averaged 4.56 per cent over the 2010 to 2012 period.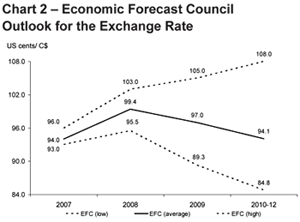 Exchange rate forecasts averaged 99.4 cents US for 2008, a rise from the 93.1 cents US observed in 2007. Council's predictions for 2008 ranged from a low of 95.5 cents up to a high of 103.0 cents. Average exchange rate forecasts for 2009 were 97.0 cents US with nine of the twelve participants expecting the Canadian dollar to average below parity that year. On average, the Council expected the Canadian dollar to lose some value vis–à–vis the US dollar by the medium‑term, and average 94.1 cents US for the 2010–12 period. However, Council members continued to have quite divergent views on the value of the Canadian dollar over the medium‑term, with forecasts ranging from 84.8 cents to 108.0 cents over the 2010 to 2012 period.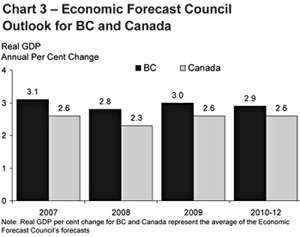 Council members were fairly consistent in their concerns over the possible impacts of a higher Canadian dollar. Several participants noted that the high dollar is already hurting net exports and tourism in BC and Canada, and will likely hinder economic growth if it continues to remain high.
British Columbia Forecast
Council forecasts for BC's economic growth averaged 2.8 per cent in 2008, 3.0 per cent in 2009 and 2.9 per cent during the 2010 to 2012 period. Council members anticipated a softer outlook for BC than was forecast previously, largely due to weakness in the US economy. The Council agreed that while BC's outlook is lower than before, the province is still expected to outperform the national average over the forecast period. Participants expected domestic demand to continue as the main source of growth for BC in the near‑to‑medium‑term. Key economic drivers include robust consumer spending, strong construction activity and continued demand for BC's resources, particularly from rapidly expanding Asian economies.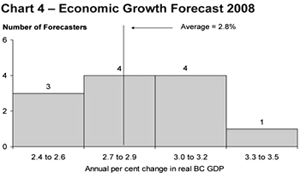 As shown in Chart 4, most Council members' forecasts for BC growth in 2008 were distributed between 2.4 and 3.2 per cent, with one estimate exceeding 3.2 per cent. For 2009, the majority of forecasts fell within the 2.9 to 3.1 per cent range, with a few falling outside of this range (see Chart 5).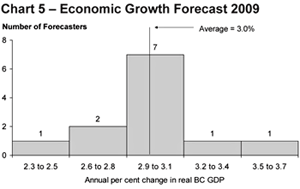 Half of the Council forecasts for economic growth in the 2010 to 2012 period were within the 2.6 to 2.9 per cent range. A few participants predicted growth below this range, and a few predict growth above (see Chart 6). The range of forecasts was the broadest in this period, with a low of 2.2 per cent and a high of 4.0 per cent.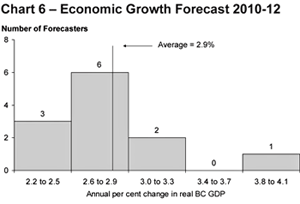 External Issues
The Council discussed at length the softening US economic outlook, with particular focus on the severe weakness in the US housing market. As the US is still BC's major trading partner, a prolonged downturn in the US economy would have a significant negative impact on the province's economic growth. However, some Council members noted that BC's diversified export market, primarily BC's growing trade with Asia, would help to shield the BC economy while other provinces, particularly Ontario, would be harder hit.
In addition, members noted that BC is well positioned to benefit from rising demand for overseas goods in several Asian countries, especially China and India. Several Council members emphasized trade opportunities brought on by the rapid growth of Asian economies and the current high demand for commodities. Some participants noted that sustained demand from Asia, as well as other parts of the world, will cause commodity prices and energy prices to remain elevated in the medium‑term.
Sector‑specific Issues
The Council's discussion on BC's domestic economy focused on consumer spending, the labour market, construction and the forestry sector.
Most Council members cited continued strength in the domestic economy as the key driver of BC's economic growth over the coming years. While the high dollar and slowing US economy are hindering BC's external trade, BC's domestic economy is expected to remain strong, keeping our economic growth ahead of the national average.
Most Council members noted that consumer spending in BC is expected to remain robust over the forecast period. While housing starts are expected to come down from the high level observed in 2007, they are expected to remain at relatively healthy levels in the medium term.
On average, the Council estimated total net migration to BC was 44,670 people in 2007, with forecasts averaging 45,900 people for 2008. Members provided a broad range of forecasts for total net migration in 2008, varying from a low of 38,400 people to a high of 55,000 people. Some participants voiced concern over the availability of working‑aged migrants over the coming years due to the oncoming wave of retiring baby boomers, coupled with already tight labour market conditions in most parts of Canada. The Council anticipates total net migration to average 46,890 people in 2009, falling to an average 45,520 people per year through the 2010 to 2012 period.
The issue of a potential labour shortage in BC was one of the Council's medium‑term issues, with some members suggesting that migration levels may not be sufficient to replace all the retiring workers over the coming years. This could place significant strain on BC's labour market, which is already exhibiting a very low unemployment rate. These shortages may push up labour costs and inflation and could strain economic growth. Alberta's ability to attract workers, as well as increased ease of labour mobility due to the Trade, Investment and Labour Mobility Agreement (TILMA), were cited as possible contributors to labour shortages in British Columbia. Some Council members commented that policies to increase the inflow of working migrants, through programs such as the Provincial Nominee Program, could aid in combating potential labour shortages.
Many Council members were concerned about the impact of the softening US housing market on BC's forest industry, as US demand for forest imports could continue to decline. Participants also discussed the Mountain Pine Beetle infestation and its negative effect on BC's lumber industry, noting that the epidemic has spread more rapidly than anticipated and that the infestation has accelerated lumber processing rates in the near‑term. With reduced demand and the high value of the Canadian dollar, Council members suggested the forest sector may be hard hit over the coming years.
Commenting on BC's tourism industry, some Council members suggested that tourism would likely suffer with the continued high value of the Canadian dollar compared to its US counterpart. While tourism from the US is expected to be weak, some Council members noted that tourism from international sources may increase over the coming years.
Many participants mentioned BC's lagging labour productivity relative to other provinces and to Canada. Members noted that continued weak productivity growth could create major constraints on the provincial economy in the medium‑to‑long‑term. They agreed that the government must continue its focus on increasing productivity and skills training in the future.
Climate Change
The Council was asked to comment on the issue of climate change, in terms of BC's recent policy announcements, as well as climate change policy options and how they may impact the economy.
Council members felt that BC had set ambitious targets for climate change, with the targeted 33 per cent reduction in emissions by 2020. It was also suggested that this target may be particularly challenging for BC to attain, since the province is already one of the lowest emitters per capita.
Most Council members said that a carbon tax would be their recommended method of introducing incentives for emission reductions. The Council members felt that a broad based carbon tax that affects choices at the consumer and household level, as well as all types of businesses is preferable to a system that only targets some emitters. Some members of the Council stressed that if carbon taxes were to be implemented, it should be done in a revenue‑neutral fashion, meaning that carbon tax revenues collected by the government should be returned to consumers and business, and not be retained by government. One member added that carbon tax revenues could be used to fund alternative energy.
Some members commented that a cap and trade system may not be appropriate for BC, as they felt this type of system was preferred when there is "low hanging fruit", meaning quick and easy ways for industries to reduce emissions. It was suggested BC industries had few quick and easy options available, and therefore a cap and trade system may work to the province's disadvantage.
Council members also voiced some concerns and risks associated with undertaking climate change initiatives. The Council was unanimous in their view that there would be economic costs associated with meeting the announced targets. There was concern that climate change policies could have a more pronounced negative impact on BC's interior, where many of the natural resource industries operate. Some members mentioned the conflict that could arise in BC from trying to take advantage of high demand for its natural resources and further develop the oil and gas industry, while at the same time trying to reduce greenhouse gas emissions.
The Council also commented on BC's choice to implement climate change policies ahead of many other provinces, states, and federal governments. If other jurisdictions implement more business-friendly climate change policies in the near-future, or do not implement climate change policies at all, then BC could be at risk on a competitive front.
While members agreed that emissions reductions would cause economic disruption, some members pointed out that it would provide an opportunity for expansion in the environmental industry, and that it is a problem that all governments will have to address in the near future.
BC Business
The Council was asked to share their views and strategies on attracting investment to BC, including head offices or regional offices. Council members voiced a fairly unanimous opinion that trying to entice head offices to locate in BC would not be the best strategy. Rather, the Council suggested that government should continue to ensure that it creates a level playing field for all types of business in the province. Some Council members suggested lowering the top marginal income tax rate, or the marginal effective tax rate, would serve to benefit the business climate in BC. Overall, Council members stressed the importance of small business and that undertaking policies to encourage investment from existing business would be the most beneficial course of action to the province on this front.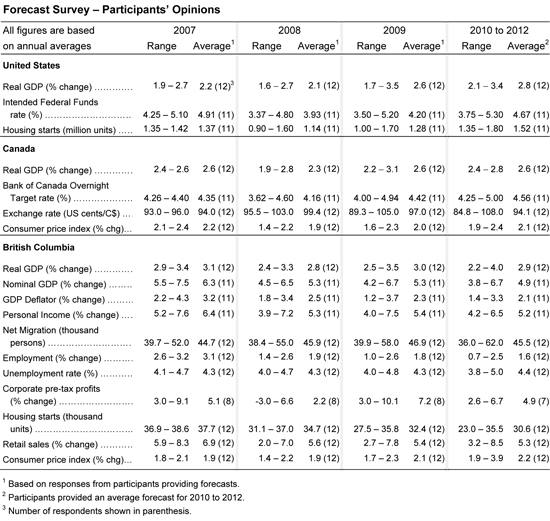 ---

1
The intended federal funds rate is the interest rate at which depository institutions lend balances at the Federal Reserve to other depository institutions overnight.