The Outlook for the External Environment
United States
According to advance estimates, US economic growth decelerated in the fourth quarter of 2007, slowing to an annualized growth rate of just 0.6 per cent. This followed strong growth of 3.8 per cent in the second quarter and 4.9 per cent in the third quarter. US economic strength in the third quarter was somewhat misleading, as a surge in exports and a build-up of inventories masked negative indicators such as declines in investment and corporate profits. Slow economic growth in the fourth quarter was due to a number of factors, including weakness in personal consumption, a continued decline in residential investment, lower export growth and a decline in inventories.
The US labour market was relatively weak in 2007 as annual average non-farm employment increased by 1,540,000 persons (or 1.1 per cent). The unemployment rate remained at 4.6 per cent on average in 2007, matching the rate observed in 2006. On a monthly basis, however, the unemployment rate rose through the year, reaching 5.0 per cent by December 2007. US consumer price inflation was 2.9 per cent in 2007, while core inflation (which excludes food and energy) was 2.3 per cent. The US Federal Reserve expects inflation to moderate in coming quarters.
The US housing market has continued its rapid decline through 2007, with annual housing starts falling to 1,343,900 units — far below the 1,811,900 starts recorded in 2006. The pace of starts fell through the year, with annualized starts ending up at 1,006,000 units in December — the lowest monthly pace observed since May 1991.
The continued decline in housing was one of the largest drags on economic growth throughout the year. The US National Association of Home Builders' (NAHB) housing market index, a measure of present and future housing market conditions, has shown considerable weakness in recent months, hitting a record low of 18 in December (see Chart 4.2). Given the continued low levels on this index, some analysts expect the worst is yet to come in the US housing market slowdown. With the continued degradation in housing, foreclosures and mortgage default risks have risen. With a sizable portion of subprime mortgages scheduled to reset in 2008, there is considerable risk to the US economy moving forward as well.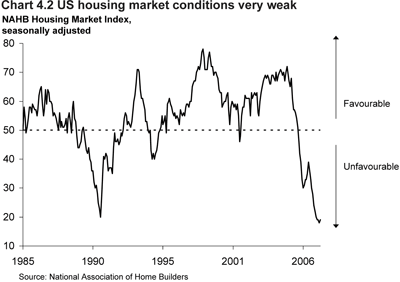 The total value of subprime mortgages in the US is currently estimated at around US$1.3 trillion.2 In November 2007, the OECD estimated that losses caused by the US subprime and near-prime mortgage market could end up in the US$200 to US$300 billion range. The financial sector exposure to these losses lies mainly in holdings of mortgage-backed securities repackaged within collateralized debt obligations (CDOs), variously held by hedge funds, banks and bank-sponsored structured investment vehicles.
In addition, credit based on home-equity loans is now facing increasing risk as house prices fall. With growing concern over the extent of the contagion surrounding the subprime crisis, financial markets have been increasingly volatile, as investors reshuffle their portfolios in attempts to minimize their exposure to these risks.
In a bid to inject some much needed stimulus into the slowing US economy and financial markets, the Federal Reserve slashed its key Fed funds rate by 75 basis points in an unscheduled announcement on January 22, 2008. In days leading up to this surprise announcement, stock markets world-wide lost considerable ground as fears mounted that a US recession may be on the horizon and that the subprime contagion in financial markets may be worse than investors had previously anticipated. The rate cut has raised some hope that positive feedback will be felt in the housing market. However, liquidity in the housing market has been severely restrained as financial institutions have tightened lending standards in response to the subprime crisis.
The Fed cut its key rate a further 50 basis points in a scheduled announcement on January 30, 2008. The Fed funds rate, now sitting at 3.00 per cent, is at its lowest since June 2005. The Fed cautioned that risks remain to the downside and that it plans on acting in a timely manner as needed to address those risks.
According to the January Consensus Economics survey of private sector economists, US real GDP is expected to grow by 2.0 per cent in 2008 and 2.7 per cent in 2009. The weak 2008 outlook for the US is due to growing speculation that the housing downturn and subprime crisis are likely to hamper economic growth more than previously expected. Along with the downgrade to overall economic growth for 2008, the probability of a US recession is increasing. In December, the Moody's Economy.com probability of recession in the next six months increased to 56 per cent — its highest rating since 2001. Some analysts, such as David Rosenberg, Chief Economist with Merrill Lynch, believe the US economy has already drifted into recession.
---

2
The Economist online – January 10, 2008.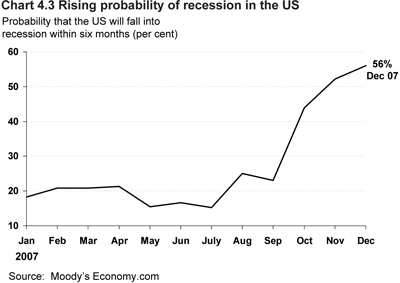 In order to reflect the mounting risks surrounding the US economic outlook, the Ministry of Finance's growth assumptions are somewhat lower than the January Consensus in anticipation that the Consensus will decline further in coming months. The Ministry of Finance is assuming that the US economy will grow by 1.7 per cent in 2008, compared to the 2.0 per cent January Consensus average. US growth is expected to recover to 2.4 per cent in the Ministry of Finance forecast for 2009, while the January Consensus predicts growth of 2.7 per cent. Over the medium-term, the Ministry of Finance assumes that the US economy will grow at a rate of about 2.7 per cent per year.
This medium-term outlook has been lowered since previous forecasts based on concern voiced by the Economic Forecast Council that potential growth (the rate at which the economy can grow without causing inflation to accelerate) in the US is lower than previously thought.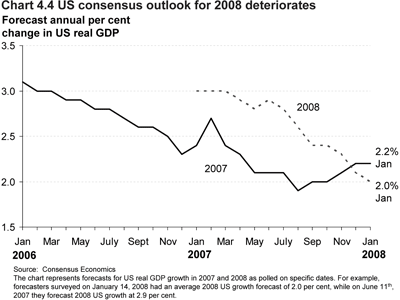 Canada
The Canadian economy grew at an annualized pace of 3.5 per cent in the first quarter, 3.8 per cent in the second quarter, and then slowed to a still robust 2.9 per cent growth in the third quarter. The strength in the Canadian economy thus far in 2007 has been due to strong consumer spending and business investment outweighing weakness in the trade sector. Nationally, employment grew by 382,100 jobs (or 2.3 per cent) in 2007, while the unemployment rate averaged 6.0 per cent.
The appreciating Canadian dollar and weakened demand from the US contributed to slower (current value) merchandise exports growth of 2.5 per cent through the first eleven months of 2007. While exports of forestry products on the national level also fell substantially, they comprise a much smaller portion of total national exports than they do for BC. Growth observed in exports of agricultural, industrial, energy and consumer products more than offset declines in forestry and automotive products at the national level.
The value of manufacturing shipments edged up 1.0 per cent year-to-date to November 2007. Over the year, weakness in wood, chemical, plastics and computer manufacturing has been offset by strength in petroleum and coal products, minerals and metals.
Domestic demand continued to be a source of strength for the Canadian economy in 2007, with retail trade rising 5.7 per cent through the first eleven months of the year. Consumer confidence was slightly lower through 2007, falling 0.4 per cent compared to 2006 levels. Canadian housing starts stayed at relatively high levels through 2007, although a noticeable drop occurred in December. On an annual basis, Canadian housing starts rose 0.4 per cent from 2006 levels. Healthy increases in Saskatchewan, Manitoba, Newfoundland and BC were largely offset by weakness in Ontario, with Alberta, PEI and Nova Scotia also registering declines.
The Consensus Economics average forecast for 2008 Canadian real GDP growth has deteriorated in recent months, averaging 2.1 per cent in the January survey. There is high variance among individual forecasters, with a high estimate of 2.8 per cent and a low of 1.5 per cent. The decline in expectations over the year is largely due to the softening US outlook and highly valued Canadian dollar, which forecasters believe will have a considerable impact on the Canadian economy. The January Consensus average indicates that Canadian economic growth is expected to recover to some degree in 2009, to 2.5 per cent. The Ministry of Finance's economic forecast assumptions are more prudent, with Canadian real GDP growth expected to be 1.9 per cent in 2008, 2.2 per cent in 2009 and 2.5 per cent over the medium-term. The evolution of the Consensus survey average forecast for Canada can be seen in Chart 4.5.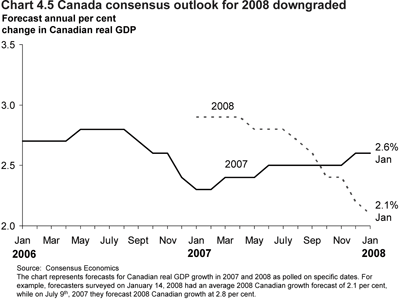 Japan
According to the January Consensus survey, the Japanese economy is expected to expand by 1.5 per cent in 2008. The survey noted weak exports and muted consumer spending as reasons for its meagre growth outlook. The January Consensus predicts that Japan's real economic growth will reach 2.0 per cent in 2009. The Ministry of Finance is assuming lower growth of 1.2 per cent in 2008, 1.7 per cent in 2009 and 2.0 per cent over the medium-term. These prudent assumptions reflect the continued uncertainty regarding the Japanese economic outlook.
Other Economies
According to the January Consensus, the European Monetary Union (EMU) economies are expected to expand by 1.8 per cent in 2008, slower than the growth exhibited by these regions over the past couple of years. In the January Consensus, expectations also call for slower growth in Europe going forward, with participants forecasting average growth of 2.0 per cent for 2009. The Ministry of Finance assumes slightly lower growth rates for Europe, of 1.6 per cent in 2008 and 1.7 per cent in 2009.
China continued its rapid pace of economic expansion in 2007, maintaining double digit growth of 11.3 per cent according to the January Blue Chip Economic Indicators, a monthly survey of about 50 leading business economists. The survey participants' average forecast calls for continued rapid expansion in 2008 and 2009, with forecast growth of 10.2 and 9.4 per cent respectively. China's growth in recent years has been fuelled in part by strength in exports, investment and manufacturing, which in turn has led to higher global demand and prices for commodities.
There is some concern, particularly with the global stock market volatility of late, that China's economic expansion is not as well protected from a US slowdown as previously thought. The current view among economists is that while China and other Asian economies may be more buffered than they were through the 1990s, a US slowdown or recession would still have an impact on Asia. The increasing global integration of trade and investment flows, as well as the sheer size of the US economy, means most countries will likely feel some ill effects from a US slump.