Recent Developments
BC's economy showed considerable domestic strength in 2007, with solid growth in retail sales and housing. On the trade side, the value of merchandise exports declined due to the highly valued Canadian dollar and reduced demand for BC's forest product exports caused by the US housing market slowdown. Lower natural gas and forest prices also put downward pressure on economic growth in the province.
The performance of key BC economic indicators in recent quarters is presented in Table 4.1.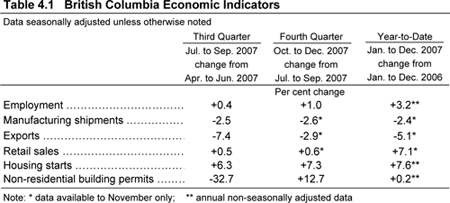 In 2007, employment in BC posted annual growth of 3.2 per cent, or 70,800 new jobs. The unemployment rate continued to reach lows not seen in over thirty years, falling to 3.9 per cent in March and ending the year at 4.2 per cent. The unemployment rate averaged 4.2 per cent for the year. Sectors that saw particularly strong gains in 2007 were: construction; transportation and warehousing; information, culture and recreation; as well as primary forestry, fishing, mining, oil and gas. BC's economy added a further 12,300 jobs in January 2008, an increase of 0.5 per cent over December's employment levels. The monthly unemployment rate fell to 4.1 per cent in January.
The housing sector continued to be a source of economic strength for BC in 2007, with housing starts for the year increasing by 7.6 per cent over 2006 levels and reaching 39,195 units. The growth in housing starts has been in multiple units, which increased 17.7 per cent through the year, while starts of single units declined 6.2 per cent from 2006 levels. Demand in the housing sector continues to be supported by positive inter-provincial migration and solid income growth.
Retail sales in BC continued to post robust growth in the first eleven months of 2007, rising 7.1 per cent on a year-to-date basis to November. Growth in retail sales has been broad based, with categories such as home furnishings stores, home centres and hardware stores experiencing the most rapid growth. Sales in the retail sector have been driven by robust income growth, positive consumer confidence and additional demand for household goods from an active housing market.
The value of manufacturing shipments has fallen 2.4 per cent year-to-date to November 2007, largely due to a sizable decline in wood product shipments. Manufacturing shipments of fabricated metal, paper, primary metals and other minerals all saw gains in 2007. These gains were more than offset by a 19.1 per cent year-to-date decline in the value of wood product shipments, caused by weaker prices and the slowing US housing market.
The value of merchandise exports dropped 5.1 per cent through the first eleven months of 2007 due to declines in lumber, natural gas, coal and copper exports outweighing gains recorded in pulp, electricity, aluminum and zinc exports. The high value of the Canadian dollar coupled with slowing demand from the faltering US economy weighed heavily on BC's export market through 2007. The US housing market crash has led to particular weakness in forest product exports.
The value of non-residential building permits rose 0.2 per cent in 2007. A rise in the value of commercial permits during the year offset declines in both industrial and institutional building permits.