Part Four: British Columbia Economic Review and Outlook
Summary
The Ministry of Finance forecasts BC economic growth of 2.4 per cent in 2008 and 2.8 per cent in 2009 (see Chart 4.1).
The forecast for BC in 2008 reflects the economic slowdown in the US, in particular the weakness in the US housing sector.
The US housing market decline is having a pronounced negative impact on BC's forest product exports.
BC's economy is now more diverse than in earlier decades, and the province's domestic economy is less affected by weakness in the US than it was previously.
In the medium-term, growth is expected to be slightly weaker than previously forecast due to a softer outlook for the US and Canadian economies, and associated weakness in BC's trade sector.
The main risks to the economic outlook are:
weaker than expected US economic growth driven by a deeper than expected housing market crash and financial sector crisis;
a Canadian dollar significantly above the current forecast;
slower than anticipated global demand resulting in reduced demand for BC's exports;
skilled labour shortages and inter-provincial migration pressures; and
the response of BC's forest industry to the Mountain Pine Beetle epidemic.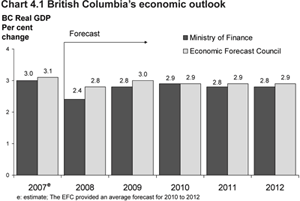 ---

1

Reflects information available as of February 6, 2008 with the exception of Statistics Canada's January Labour Force Survey results, released February 8, 2008. All annual and quarterly references are for the calendar year. Some numbers may not add due to rounding.
The Economic Forecast Council's average estimate of BC's economic growth is 3.1 per cent for 2007, 2.8 per cent for 2008 and 3.0 per cent for 2009. Over the medium-term (2010 to 2012), the Council's average forecast calls for BC's economic growth to be 2.9 per cent per year. Consistent with prudent forecast assumptions, the Ministry of Finance's medium-term outlook is slightly lower than the Economic Forecast Council's outlook, at 2.8 per cent per year on average (see Chart 4.1). A topic box at the end of Part 4 reports on the consultation between the Economic Forecast Council and the Ministry of Finance.