Building on British Columbia's Strengths
British Columbia is the home, workplace and community for over 4 million people. Over the span of its history, British Columbia has always welcomed people seeking to fulfill their dreams and prosper. The willingness of individuals to invest time and energy into building British Columbia has made the province the envy of many around the globe.
The government recognizes that keeping British Columbia an attractive place to live and invest is essential for the province's continued growth and prosperity. Indeed, government policies have contributed to a remarkable improvement in British Columbia's business investment activity over the last seven years. The positive investment climate has, in turn, contributed to a significant rebound in the provincial economy as sectors that languished in the 1990s, such as mining, have re-emerged.
This turnaround can be seen in the chart below. BC real (inflation adjusted) business capital investment rose at an average annual rate of 2.5 per cent between 1990 and 2000 before jumping to a 6.6 per cent average annual growth between 2000 and 2006. This bounce in investment activity translates into more jobs, better incomes and an increase in the overall standard of living for British Columbians. Real GDP per capita, a popular measure of average living standards, grew at a 1.9 per cent average annual rate in the six years to 2006, more than triple the 0.6 per cent average growth recorded in the 1990s.
The rekindling of the provincial economy and average living standards is evident in other economic figures. The pace of growth in British Columbia real GDP – the broadest measure of overall economic activity – has exceeded the national average every year since 2001. The number of people employed in British Columbia has risen by 345,000 since 2001; job growth in 2007 was the second strongest in Canada and the province's annual unemployment rate dropped 0.6 percentage points to 4.2 per cent in 2007, its lowest annual rate in more than 30 years.
British Columbia has regained its reputation as a place to live, work and invest. The province now has a solid underpinning that will help it withstand the high degree of uncertainty and mounting economic upheaval seen in some international economies. But the government cannot take this improvement for granted and is now developing ways to create an even more resilient, flexible and diversified economy.
The government's efforts are focused toward building on the province's strengths, while also addressing areas of the economy where special attention is needed.
The Government's Strategy
Encouraging investment from overseas is a key to the future success of the provincial economy in an increasingly integrated, highly competitive, global economy. The government's objective is to make the province a magnet for the domestic and international investments that create jobs and incomes for all British Columbians.
To accomplish this, the government will bolster British Columbia's attractiveness as a place to invest. This will be done by enhancing the attributes that sway decisions about where firms locate and invest and where individuals choose to work and raise their families. The strategy focuses on six key attributes:
Quality of life – Knowledge-based industries are increasingly attracted to locations with excellent recreational opportunities, cultural activities, health care and education systems;
Environmental leadership – Many forward-looking firms are likely to choose to locate in jurisdictions that demonstrate a commitment to the environment;
Tax and regulatory competitiveness – While not the only influence on investment decisions, a competitive tax and regulatory regime is a clear requirement for a healthy investment climate;
Sound fiscal management – Investors are attracted to jurisdictions that have stable and sustainable fiscal practices and a government with a proven record of fiscal discipline;
A skilled and adaptable workforce – The new fast-paced global economy requires successful businesses to be nimble and responsive to changing market conditions. This places a premium on employees that are technically skilled but also able to adapt to changing workplace demands; and
Access to markets – The presence of an efficient and reliable transportation system as well as a network of connections to existing and emerging markets are critical to success in the global economy.
The government's plan also recognizes the need to provide support for British Columbia's traditional industries, particularly the forest sector, which is facing the challenges of a US housing market downturn, the high value of the Canadian dollar and the Mountain Pine Beetle infestation.
Quality of life
Many studies have shown that quality of life plays a major role in where businesses decide to locate and invest – particularly knowledge-based industries. British Columbia is renowned for the superior lifestyles enjoyed by its citizens, reflecting the province's unparalleled natural beauty, first rate recreational facilities and abundant cultural activities. British Columbia boasts world class skiing, hiking and kayaking as well as a major professional hockey team. The province's recreational opportunities will be enhanced by the hosting of the 2010 Olympic and Paralympic Winter Games and the legacy the games will leave to the province.
The high quality of life in British Columbia is recognized in the international community. This can be seen in the results of a recent survey of the livability of major cities around the world conducted by Mercer Human Resource Consulting. The survey considered 39 quality of living determinants including each jurisdiction's political and social environment, health and sanitation, public services and education system. This survey ranked Vancouver third among major cities in overall quality of living in 2007, placing behind only Geneva and Zurich. Toronto was the next highest ranked Canadian city, placing 15th overall. Ottawa, Montreal and Calgary placed within the top thirty.
A major facet of British Columbia's superior quality of life is the province's universal health care system. British Columbians are able to access the system to help maintain and improve their health at all stages of life. According to the latest Statistics Canada provincial demographic figures, British Columbians enjoy Canada's highest life expectancy at birth, with residents expected, on average, to live to 81 years of age. Reliable high quality health care has long furnished the province with a significant competitive advantage, particularly compared to the United States.
As part of an ongoing commitment to strengthen the province's health care system, the government engaged British Columbians in a Conversation on Health. The objective of this dialogue was to gather the views, concerns and insights of people that actually use the public health system. Input from the province-wide discussions is shaping future government policy directions, as outlined in the Throne Speech.
The government is committed to a broad range of initiatives that will transform many aspects of the province's health care system. Budget 2008 creates a Transformation Fund within the Ministry of Health to facilitate the anticipated changes resulting from these initiatives, with a total of $300 million allocated over the three years of the fiscal plan. Budget 2008 increases health funding by $2.9 billion over the three years to 2010/11.
British Columbia also boasts a vibrant cultural life including a wide array of music venues, world class museums and a lively theatre scene. Budget 2008 includes funding totalling $105 million over four years in support of various arts and culture initiatives. The government is also establishing the BC150 Cultural Fund with a $150 million permanent endowment to support new arts and cultural activities.
Budget 2008 includes 2007/08 year-end priority initiatives of $78 million to support British Columbia arts and culture. This includes $9 million for the revitalization and restoration of the Vancouver East Cultural Centre.
Access to housing is another important factor in living standards. The strength of the provincial economy, combined with British Columbia's desirability as a place to live, means that housing affordability is becoming an issue for some groups in the province. While there are recent signs that house price increases are moderating, Budget 2008has introduced several measures to help improve affordability.
The Home Owner Grant phase-out threshold has been increased from $950,000 to $1,050,000, ensuring that more than 95 per cent of homeowners will continue to qualify for the full grant. First time home buyers will benefit from an increase in the price threshold from $375,000 to $425,000. This means first time home buyers can save up to $6,500 in property transfer tax.
The province's overall quality of life also depends on helping those people who have fallen behind. The provincial government, working in partnership with local governments, has made a commitment to tackle the challenging issue of homelessness among the province's most vulnerable citizens.
For example, the government recently announced increased funding of $41 million for the Province's Housing Matters BC program which will support new and expanded measures to help break the cycle of homelessness.
Environmental Leadership
Increasingly, successful businesses are looking beyond just the bottom line and are considering their impacts on the environment. Concepts such as triple bottom line accounting – which take into consideration the business's performance related to the environment, social issues and profits – are becoming increasingly commonplace.
British Columbia has long recognized the importance of using energy resources in an efficient and environmentally friendly manner. Two early plans are Energy for our Future: a Plan for BC, which was released in 2002, and Weather, Climate and the Future: BC's Plan, released in 2004. Another example is last year's $13.5 million air action plan that will result in improved quality of community airsheds across the province.
The Province's leadership in these areas will be a magnet for those progressive firms that embrace environmental responsibility as a core value. This is reinforced by the government's legislated requirement for a one-third reduction in greenhouse gas (GHG) emissions by 2020.
British Columbia's GHG reduction targets and policies will also create opportunities for research and development of new environmental technologies. The province is encouraging the investigation of alternative energy sources and other technologies to reduce the province's carbon footprint. For example, the recent announcement by Westport Innovations Inc. of a new arrangement to supply its liquid natural gas (LNG) fuelling technology to Kenworth Trucks demonstrates the sort of economic opportunities created by sound environmental stewardship.
The province will also address climate change through its procurement practices that will focus on reducing the government's ecological footprint. For example, the government is generating increased demand for innovative construction technologies by requiring that new government buildings meet the Leadership in Energy and Environmental Design (LEEDs) Gold standard or equivalent – an acknowledged green buildings rating.
Government's commitment to become carbon neutral by 2010 includes the adoption of new technology, such as desktop video conferencing, to reduce greenhouse gases produced by travel. Public sector building retrofits will also improve the energy efficiency of government facilities.
Other initiatives include the new BC Energy Plan, announced in February 2007, which set ambitious goals for energy conservation and efficiency. In addition, the BC Bioenergy Strategy targets the province's extensive natural biomass resources, such as wood residue, diseased timber and agricultural and municipal wastes, for use in the generation of clean and renewable sources of power.
The Innovative Clean Energy (ICE) Fund has been established and will produce new opportunities for research and development into alternative energy technologies and cleaner energy sources. Projects will begin receiving ICE funding in the Spring of 2008.
Another example of the government's environmental leadership is its efforts to expand and improve the province's network of protected areas. In recent years, the government has made land use decisions that add protected areas on the Central/North Coast and in other areas such as Haida Gwaii, bringing the total area protected up to 14 per cent of the province. Budget 2008 includes an additional $2 million annually to staff and manage many of the province's new protected areas.
Tax and Regulatory Competitiveness
While taxes alone do not determine where firms will locate and invest, a competitive personal and corporate tax system is clearly a prerequisite to a strong investment climate. In addition, governments can provide certainty within the business environment by setting firm goals and articulating a policy road map showing how the goals will be achieved.
Since 2001, British Columbia has taken major strides to create a stable and competitive tax and regulatory system.
Budget 2008 builds on this record with additional cuts to personal and corporate income tax rates. These measures have been made possible by the government's commitment to return the revenue generated from the carbon tax to British Columbians through direct tax reductions and from the commitment to constantly seek ways to become more competitive.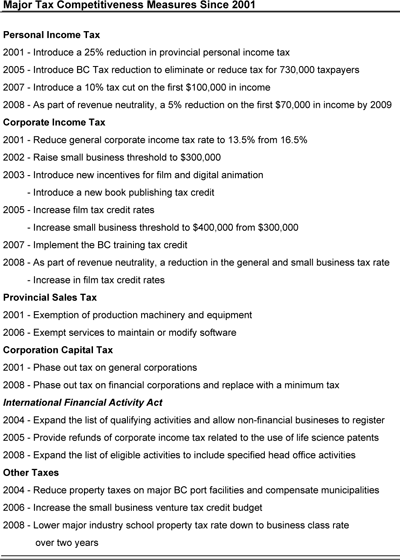 In 2008, as part of carbon tax revenue recycling, the general corporate income tax rate will be reduced to 11 per cent. The goal is to reach a general rate of 10 per cent by 2011. This decrease, together with tax rate reductions announced by the federal government, will result in a combined federal and provincial rate of 25 per cent by 2012 – well below the average US rate of 35 per cent.
In addition, the small business income tax rate will be reduced from 4.5 per cent to 3.5 per cent, effective July 1, 2008 with a goal of further reductions to 2.5 per cent by 2011.
As a result of Budget 2008, British Columbia will have the lowest personal income taxes in the country on incomes up to $111,000. Keeping tax rates low for lower and middle income earners adds to the province's allure as a place to work and live.
Changes to the International Financial Activity Act provide incentives for international firms to locate head office functions in the province. Changes include an amendment to allow non-security corporations to trade in money market investments and an amendment to allow management and control functions, such as human resource and strategic planning services, as eligible international financial activities.
Also, Budget 2008 phases out the capital tax on financial institutions. By 2010, the tax will be replaced with a financial institutions minimum tax, thereby creating new opportunities for investment and job growth in the credit union, trust and banking sectors. The financial sectors of the economy provide well paid, high skill jobs and a low "carbon foot-print."
To secure the future of film production activity in the province and to ensure British Columbia retains its "Hollywood North" label, the province's film tax credits are enhanced. In particular, the basic Film Incentive BC tax credit is increased from 30 per cent to 35 per cent while the basic Production Services Tax Credit is raised from 18 per cent to 25 per cent.
British Columbia's export-oriented sectors, such as forestry and mining, will benefit from a reduction in the provincial school tax rate on major industrial properties. This measure will result in a $12 million tax reduction in 2008 and a $24 million reduction in 2009 and future years.
An important government objective is a modern, efficient and effective regulatory system that promotes innovation and economic opportunity while protecting the public interest. As of December 31, 2007, the government exceeded its multi-year target of a zero net increase in regulatory requirements, with the number of regulatory requirements 1.3 per cent lower than the previous December. Since implementation of regulatory reforms in 2001, the government has reduced its regulatory burden by 42.6 per cent. Such continuous improvement reduces impediments to business success in British Columbia.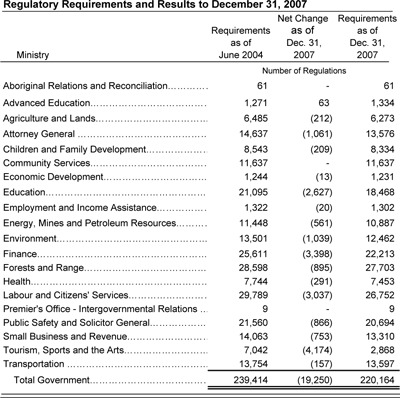 The government's ongoing effort to improve British Columbia's tax and regulatory competitiveness creates a business climate conducive to new investment and job creation. It also helps improve conditions in sectors that may be going through periods of difficulty, such as the province's forestry sector.
Sound Fiscal Management
Successful businesses tend to prefer jurisdictions with sustainable fiscal management practices. Desirable locales exhibit relatively stable tax and regulatory regimes that allow business leaders to focus on the job at hand – orienting their operations toward meeting customer needs. This means that, if a government wants to attract and retain businesses and investment, it must establish a reputation for keeping its financial house in order.
Over the last several years, the British Columbia government has consistently demonstrated a commitment to prudent fiscal planning and sustainable budgetary practices. The province will record its fourth consecutive surplus budget in 2007/08 while the ratio of taxpayer-supported debt to GDP – a measure of the debt burden – has been reduced from previous high levels. After peaking at 21.3 per cent in 2002/03, the province's debt-to-GDP level is expected to fall to 14.1 per cent by the end of 2007/08.
The government's careful attention to its fiscal bottom line and its ongoing success in bringing down the province's debt burden has received favourable reviews from major credit rating agencies. Moody's Investor Services has given British Columbia its coveted Aaa rating, the highest rating possible. Similarly, Standard and Poor's gives the province its top AAA rating.
Looking forward, Budget 2008 maintains the government's sound fiscal position with modest surpluses expected for each of the three years of the fiscal plan. These balanced budgets are underpinned by legislated fiscal rules that prohibit deficit budgets. Prudent financial planning practices, such as forecast allowances applied to the annual balance and conservative economic assumptions, will help ensure the Province achieves the projected budget surpluses.
A Skilled and Adaptable Workforce
North American businesses need an educated, well-trained workforce to succeed in today's competitive world economy. For domestic enterprises to compete, governments must ensure businesses can rely on access to a pool of literate, engaged employees that have the educational foundation to adapt to the constantly changing nature of world markets.
The government is meeting the needs of businesses and individuals by working toward making British Columbia the best educated and most literate jurisdiction in North America. The province's excellent primary and secondary education system consistently scores well in international standardized testing.
For example, recently released results of the Organization for Economic Co-operation and Development's (OECD) tri-annual Programme for International Student Assessment (PISA) found that British Columbia 15-year-olds were in the top ranks worldwide, standing fourth in science, sixth in reading and thirteenth in math.
The Province is expanding access to post-secondary education institutions, boosting support for research and increasing opportunities for skills training. For example, the government is addressing priority education issues by creating 625 additional graduate spaces per year to complete the commitment to add 2,500 new graduate spaces. An additional 200 spaces will also be made available for aboriginal access and 300 spaces will be made available to respond to waitlist pressures for skilled trade foundation programs.
In addition to maintaining its previous commitment to produce more trained doctors, government is adding a further 900 health spaces to increase the number of nurses and allied health care professionals.
Increased Provincial support for skills training provided in earlier budgets is paying off. The Industry Training Authority (ITA) – the agency responsible for apprenticeships and industry training programs – expects a total of 43,900 participants in its training programs during 2007/08, which is up from 38,000 training participants in 2006/07. In addition, the ITA anticipates that it will award a total of 8,016 training credentials in 2007/08, an increase of 884, or 12 per cent, over the previous year's total.
Access to markets
Successful businesses prefer to operate near the transportation hubs that give them access to suppliers and customers. Indeed, situating operations close to efficient and reliable transportation networks is a high priority for companies doing business in the global economy.
British Columbia is fortunate to be strategically situated at the junction between established North American markets and rapidly growing Asian economies. The province's world-class transportation infrastructure provides the land, air and sea links essential for the movement of products to and from the immense Pacific Rim market.
Recognizing the benefits that are gained by tapping emerging overseas markets, the government is making the investments necessary to expand and improve the province's transportation infrastructure. British Columbia's reputation as North America's gateway to the fast growing Pacific Rim economy will be greatly enhanced upon completion of current and planned transportation projects.
For example, the province, together with the federal government, other provinces and transportation stakeholders, is following through on the Pacific Gateway Strategy. This ambitious multi-year action plan is the backdrop for several current and anticipated road, highway, airport, rail and port improvement projects – undertakings that will upgrade vital links to overseas trading partners and bolster the competitiveness of the province's transportation industry.
Another critical component of the government's overall transportation plan is the Ports Strategy, which was adopted in 2005. The strategy seeks to boost exports, increase Asia-Pacific container traffic through British Columbia ports and enhance the province's position as a world class cruise destination.
A major milestone in the Province's Ports Strategy was achieved with the opening of the Prince Rupert Container Terminal in September 2007. The $170 million project was funded by the Province, the Government of Canada, the Prince Rupert Port Authority and private sector partners. The terminal has a designed shipping capacity of 500,000 twentyfoot equivalent units (TEUs), which will enable fast, efficient and reliable movement of products between North American and Asian markets. The terminal, given its location on the Pacific Ocean's "Great Circle Route," is one-to-two days closer to Asia than other west coast ports.
The government also recently announced a 10-year extension to its Ports Competitiveness Initiative, which was originally introduced in 2003. This program provides property tax relief to 20 of British Columbia's major ports by capping municipal tax rates on eligible facilities and provides compensation to local governments for the resulting revenue loss. The extension increases the level of compensation and ties future payment increases to the rate of inflation. In addition, the initiative enables local governments to set up their own competitiveness agreements with port operators.
The Province's investments in improving access to markets will pay dividends to British Columbians for years to come. The expansion and improvement in British Columbia's transportation system will ensure that the province will remain a major player in the global economy and be ready to take advantage of emerging markets and future opportunities in the global economy.
Conclusion
Attracting businesses and investment to British Columbia remains a top priority for the Province. Having succeeded in rekindling investor interest in the province, the government is now building on the province's renewed economic and social strengths. Measures introduced in Budget 2008 will ensure that British Columbia is an even more desirable place to live, work and do business.