Provincial Debt
The provincial government along with its Crown corporations and agencies provide services and capital infrastructure to support the social and economic programs needed for maintaining and enhancing the quality of life in BC. Funding for these programs is mainly derived from revenue sources such as taxation and the sale of natural resources. Government also obtains financing from outside sources mainly through debt issuances that are to be repaid on future dates.
Borrowing for operations is required to finance deficits and to meet other working capital requirements such as loans and advances or changes in accounts receivable/payable. This type of debt (government direct operating debt) tends to rise during periods of deficits, but declines with surpluses. Government operating debt is forecast to decline by $1.8 billion over the next three years reflecting continuing surpluses.
Borrowing for capital projects finances the building of schools, hospitals, roads and other social and economic assets. As these investments provide essential services over several years, the government, like the private sector, borrows to fund these projects and amortizes the costs over the assets' useful life.
In 2007/08, provincial debt is forecast to total $35.0 billion, $1.8 billion below budget. In 2008/09, provincial debt will increase $2.7 billion from the 2007/08 updated forecast to total $37.7 billion. The 2008/09 change reflects:
a $949 million increase in taxpayer-supported debt reflecting a $1.8 billion increase in other taxpayer-supported debt mainly to finance net capital requirements, offset by a reduction in operating debt;
a $1.2 billion increase in commercial Crown corporation debt, mainly to fund power generation and transmission capital projects by BC Hydro; and
a $600 million increase in the forecast allowance to mirror the $750 million income statement forecast allowance.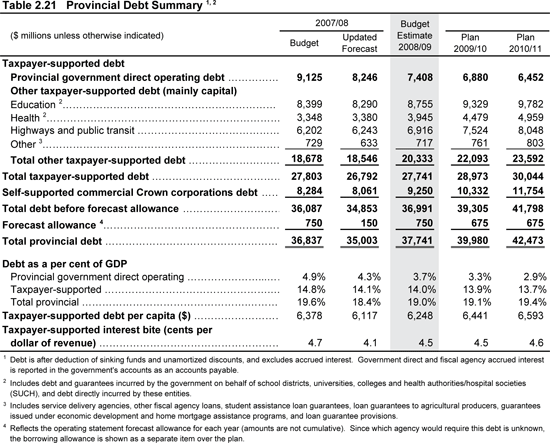 Over the next two years, government direct operating debt is forecast to decrease $956 million reflecting continued surpluses, while other taxpayer-supported debt will increase $3.3 billion mainly to finance capital requirements.
Self-supported debt will increase $2.5 billion over 2009/10 and 2010/11, mainly to fund power generation and transmission projects which will refurbish aging infrastructure and expand capacity to support the province's economic growth.
The debt forecast assumes a forecast allowance of $750 million in 2008/09, decreasing to $675 million in 2009/10 and 2010/11 to mirror the operating statement forecast allowance. Should the government not require this allowance, projected debt levels under the fiscal plan would be lower by the amount of the forecast allowance for each year.
In general, the change in debt will not equal the surplus:
as debt is required to finance capital spending in excess of non-cash amortization costs included in the surplus; and
due to other working capital sources/requirements that represent changes in balance sheet items (such as cash balances, loan receivables and other accounts receivables/payables), but do not form part of the surplus.

Table 2.22 reconciles forecast surpluses with changes in debt. In the updated fiscal plan, debt rises despite expected surpluses mainly due to the impact of capital spending in excess of amortization, and higher commercial Crown corporation debt incurred for capital investments.
The ratio of taxpayer-supported debt, which excludes commercial Crown corporations and other self-supported debt, to GDP is a key measure often used by financial analysts and investors to assess a province's ability to repay debt. The government is committed to maintaining a downward trend in this ratio, using a three-year moving average.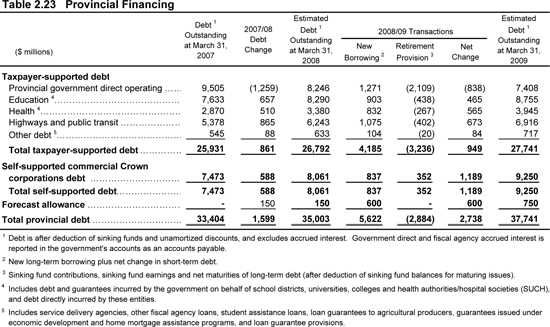 The taxpayer-supported debt to GDP ratio is forecast to decline from 14.0 per cent in 2008/09 to 13.9 per cent in 2009/10 and to 13.7 per cent in 2010/11, keeping debt affordable for future generations of British Columbians.
However, taxpayer-supported interest costs are expected to rise to 4.6 cents per dollar of revenue by 2010/11, due to higher interest rates and increased taxpayer-supported capital debt.
Table 2.23 summarizes the provincial financing plan for 2007/08. New borrowing of $5.6 billion is anticipated, of which $2.9 billion will be used to replace maturing debt and $2.1 billion will be used for capital and other financing requirements. The remaining $0.6 billion reflects an increase in the debt forecast allowance.
Additional details on the debt outstanding for government, Crown corporations and service delivery agencies are provided in Appendix Tables A16 and A17.