Capital Spending1
In addition to funding municipal and regional infrastructure delivered by local governments, the province also invests directly in capital infrastructure to provide services to the public and facilitate economic development. Provincial capital infrastructure investments are made through school districts, health authorities, post-secondary institutions, Crown agencies and ministries.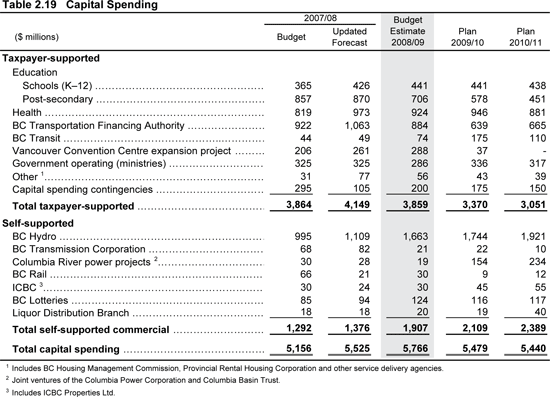 The rising infrastructure demands of a growing economy coupled with inflationary pressures on existing capital projects requires government to be diligent in ensuring that capital and debt are affordable over the long term. To achieve this, government is committed to maintain a downward trend in the taxpayer-supported debt to GDP ratio, using a three-year moving average. This ratio is a key measure often used by financial analysts and investors to assess a province's ability to repay debt.
Additional information on the provincial capital plan and debt management is provided in the topic box on page 88.
Taxpayer-supported capital spending
Taxpayer-supported capital spending includes capital infrastructure for school districts, health authorities, postsecondary institutions, taxpayer-supported Crown agencies, and ministries.
Taxpayer-supported capital spending is projected at $3.9 billion in 2008/09, declining to $3.1 billion by 2010/11. Significant elements of this projected spending include the following:
Continued management of the $1.5 billion program to seismically upgrade at-risk schools, as well as the ongoing rehabilitation of schools through-out the province. The province is providing $915 million in capital funding from 2008/09 to 2010/11 to replace, renovate or expand K–12 facilities. Projects funded include Mission Hills Elementary in Kelowna, Duchess Park Secondary in Prince George, and Clayton Centre Area Elementary in Surrey.
Budget 2008 includes $600 million in capital funding to post-secondary institutions throughout the province. Projects funded include the Arts and Science Building at UBC Okanagan, the UVIC Science building, the renovation and redevelopment of existing space at the Abbotsford campus of UCFV, upgraded trades training facilities at the College of New Caledonia, and places to support Aboriginal learners on campuses at post secondary institutions throughout the province.
Post-secondary capital spending also includes a significant level of investment funded through other sources, including foundations, donations, cash balances, federal funding and revenues generated from services. Examples of projects financed wholly or partially through such sources include Marine Drive student housing at UBC, the Arts and Social Sciences Complex at SFU, and various parking structures and student residences planned at various campuses throughout the province.
The Ministry of Health will also provide almost $1.2 billion in capital grants to health authorities for new major construction and upgrading of health facilities, equipment, and information systems over the next three years. Including funding from own sources, such as Regional Hospital Districts and Foundations, this will support a total capital spending plan for the health sector of approximately $2.7 billion over the next three years.
Examples of major capital projects include:

Construction of a new ambulatory care facility in Surrey, the Surrey Outpatient Facility.
Royal Jubilee Hospital inpatient facility in Victoria.
Fort St John Hospital replacement.
Kelowna General Hospital Ambulatory Care Centre and Emergency Department.
Vernon Jubilee Hospital Diagnostic and Treatment Building.
A new cancer centre in Prince George as part of the Northern Cancer Control Strategy.
Residential care and Assisted Living projects to support seniors and people with disabilities throughout the province.
New academic space in teaching hospitals throughout BC, including Prince George Regional Hospital, and planning is underway at Kelowna General Hospital to support medical school expansion.
Abbotsford Regional Hospital and Cancer Centre P3 Project.
Investments in new and replacement medical and diagnostic equipment such as MRI and CT scanners.
Information management and technology projects including, for example, diagnostic imaging systems and clinical information systems.
Province-wide eHealth initiatives.

Government also intends to upgrade and expand BC Children's Hospital facilities. Funding will be allocated from capital contingencies as the project scope and budget are defined.

Ongoing commitment to the provincial transportation investments (see page 56 for more information) which will provide $2.9 billion of public and private sector investment over the next three years. Under the plan, provincial capital spending for 2008/09 to 2010/11 is directed towards initiatives such as the new Pitt River Bridge component of the Gateway Project, Sea-to-Sky Highway improvements, the William R. Bennett Bridge, the Cariboo connector program, funding to support road rehabilitation benefiting the oil and gas sector and additional road rehabilitation to manage the impacts of intense harvesting required under the Mountain Pine Beetle Strategy.
Commitments to the Provincial Transit Plan, building on exiting investments in transit vehicles and projects throughout the province. See page 56 for more information on the Provincial Transit Plan.
The Vancouver Convention Centre Expansion Project (VCCEP). Capital spending for VCCEP on Table 2.19 is based on the total capital cost of the VCCEP, reflecting the funding provided by all partners; the province, the federal government, and Tourism Vancouver. Table 2.6 provides the timing and amount of provincial funding grants provided to the VCCEP. These grants are eliminated in the summary financial statements, so that only the total capital expenditures of the VCCEP are reported in the government financial statements.
The capital plan also includes $164 million to increase physical capacity in BC correctional centres.

Capital Contingencies

Recognizing that rising construction costs remain a concern, the province has included a capital contingency in its three-year capital plan as a prudent planning measure. This contingency is in addition to the contingencies included in individual project budgets.

In addition to covering risks from higher than expected cost inflation on projects, the capital contingency will be used to fund emerging government priorities such as the upgrade and expansion of BC Children's Hospital, the revitalization of Robson Square, eHealth projects and energy conservation upgrades to existing facilities.

Should the capital contingency not be used in any year, taxpayer-supported debt would be lower.

Financing Capital Projects

Provincial capital infrastructure spending is financed through a combination of sources:

cash balances;
partnerships with the private sector (public-private partnerships);
cost-sharing with partners; and
borrowing (debt financing).

Debt financing continues to represent a significant source of financing for provincial capital spending, so the level of capital spending has a significant impact on projected provincial debt.

Self-supported capital spending

Total capital spending includes capital infrastructure for self-supported commercial Crown corporations.

Self-supported capital spending is projected to increase from $1.9 billion in 2008/09 to $2.4 billion in 2010/11. The majority of this capital spending is for electrical generation, transmission and distribution projects carried out through BC Hydro to enhance reliability, public safety and growing demand. In addition to the projects shown on Table 2.20, other examples of electrical generation, transmission and distribution projects included in self-supported capital spending are the Mission-Matsqui Transmission Reinforcement Project, a new substation in Abbotsford, and upgrades to the GM Shrum generating station on the Peace River and the John Hart generating station on Vancouver Island.

Further details on provincial capital investments are shown in the service plans of ministries and Crown corporations.

Projects over $50 million

As required under the Budget Transparency and Accountability Act, major capital projects with multi-year budgets from provincial sources totaling $50 million or more are shown in Table 2.20. Annual allocations of the full budget for these projects are included as part of the provincial government's capital investment spending shown in Table 2.19.

In addition to financing through provincial sources, major projects may be cost-shared with the federal government, municipalities and regional districts, and/or the private sector. Total capital spending for these major projects is $5.3 billion, reflecting financing of $4.4 billion through internal sources or borrowing, $374 million from federal government contributions and $548 million from other sources including private donations. Major capital investments include:

$226 million for post-secondary facilities including a new science building at the University of Victoria, student residences at UBC, and expansion of Vancouver City College's Broadway (King Edward) Campus.
$1.7 billion for health facilities including the Abbotsford Regional Hospital and Cancer Centre; the Surrey Outpatient Facility; expansions to the Victoria Royal Jubilee, Kelowna General and Vernon Jubilee hospitals, and replacement of the Fort St. John hospital.
$1.3 billion for major transportation capital infrastructure. In addition, the Ministry of Transportation is investigating financial and project delivery options through P3s for improvements to Lower Mainland infrastructure. Provincial funding for the RAV project is not included in the province's capital spending, but is included in the transportation investment plan.
$1.2 billion for power generation and transmission capital projects by BC Hydro, BC Transmission Corporation and the Brilliant Expansion Power Corporation.
$883 million for the Vancouver Convention Centre Expansion Project.

---

1 
Capital investments are not included in the government's annual surplus or deficit. In accordance with generally accepted accounting principles (GAAP), annual amortization expenses that recognize the estimated wear and tear of capital assets during the fiscal year are included in the government's annual expenses instead of recording the full capital costs as they occur.