Revenue
Government revenue includes the combined revenues of the CRF, taxpayer-supported Crown agencies, the SUCH sector, and the net income of commercial Crown corporations. In Budget 2008, government is introducing a carbon tax based on GHG emissions from fossil fuel combustion effective July 1, 2008, and is committed to recycle all amounts collected back to British Columbians through cuts to personal income, corporate income and other tax sources. Other tax measures implemented in Budget 2008 totaling $505 million over the fiscal plan are in addition to almost $2.5 billion announced in Budget 2007. For more details on tax initiatives, see Part 3: Tax Measures.
Budget 2008 Plan
Following growth of 7.0 per cent in 2006/07, revenue is forecast to total $39.4 billion in 2007/08, up 2.3 per cent. The 2007/08 revised forecast incorporates the effects of 5.6 per cent nominal GDP growth on taxation revenue (up 6.4 per cent); and higher ICBC net income resulting from the disposition of Surrey Central City Mall and lower claims costs. These improvements are partially offset by the impacts of tax cuts introduced in Budget 2007; lower forests revenue resulting from the effects of a rising Canadian dollar and a weak US housing sector; and declining federal transfers.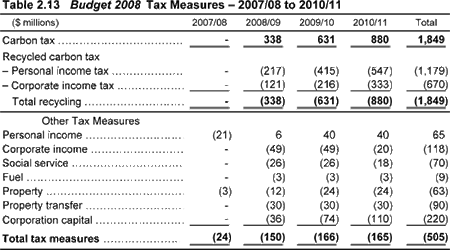 In 2008/09, revenue is forecast to decline 2.3 per cent or $910 million, due to the effects on taxation and forests revenue from a slowing US economy; tax measures introduced in Budget 2007 and Budget 2008; and a further decline in federal transfers mainly related to one-time funding received in 2007/08.
Over the next two years as economic growth strengthens due in part to an improving US economic outlook, revenue is expected to average 3.9 per cent annual growth, rising $1.4 billion and $1.6 billion in 2009/10 and 2010/11, respectively.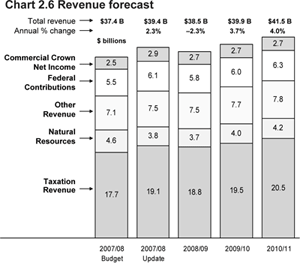 Key assumptions and sensitivities relating to revenue are provided in Appendix Table A10. The major revenue components are:
Personal income tax – down 0.6 per cent in 2008/09, and rising 3.9 per cent and 4.9 per cent over the next two years.
Over the four years, revenue includes the effects of $3.2 billion of tax reductions provided to BC residents in the 2007 and 2008 budgets – including an estimated $1,179 million of recycled carbon tax. Adding back the tax measures, base revenue is forecast to average 6.2 per cent annual growth over the next three years, consistent with Budget 2008 projections of personal and labor incomes.
Corporate income tax – down $878 million in 2008/09 due to tax cuts implemented in Budget 2008 and abnormally high 2007/08 revenue mainly reflecting underpayments from the federal government in 2006. Revenue declines a further $218 million in 2009/10 due to overpayments from federal government in 2008 and additional tax reductions introduced in Budget 2008 associated with recycling carbon tax revenue.
In Budget 2008, the government has implemented corporate income tax reductions totaling $788 million including $670 million of recycled carbon tax cuts.

Social service tax – after incorporating measures introduced in Budget 2008, annual growth is forecast to average 4.8 per cent over the next three years, in line with expected consumer and business spending. For full details on tax initiatives, see Part 3: Tax Measures.

Property tax – including a new measure for major industrial property, revenue is expected to average 4.5 per cent growth annually over the three years, in line with expected inflation and new construction activity.
Property transfer tax – including tax measures introduced in Budget 2008 targeted to first time homebuyers and moderation expected in the housing market (consistent with the outlook for BC housing starts), revenue declines an average of 3.4 per cent annually over the fiscal plan.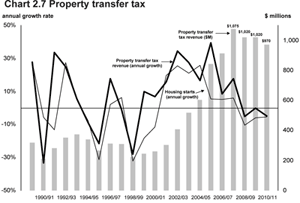 Corporation capital tax – phased out over three years to help stimulate growth and competitiveness in the financial services sector by reducing tax rates by one-third in 2008/09, an additional one-third in 2009/10 and the final third effective April 1, 2010.
Natural gas royalties – relatively flat growth in 2008/09 and 7.9 per cent average annual growth over the next two years reflects the impacts of expected changes in price, exchange rate and production volumes over the 2007/08 to 2010/11 period. The government continues to provide royalty programs and credits to encourage industry infrastructure investment that will generate oil and gas exploration and development. Robust sales of Crown land leases in 2007/08 indicate industry's strong interest in exploration and development in BC which could lead to higher future production. See Appendix Table A.11 for more details regarding natural gas price forecasts.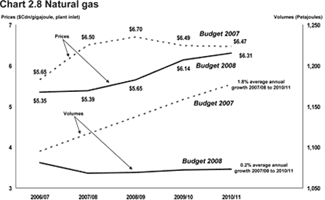 Other – revenue from other energy, metals and minerals increases $25 million and $112 million in the first two years of the plan due to the effects of improving mine profitability and increasing coal and electricity prices. Revenue declines 3.9 per cent or $51 million in 2010/11 mainly due to falling coal and metal prices.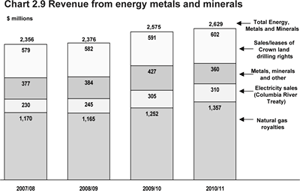 Forests – From 2004/05 to 2007/08, stumpage revenue from Crown land harvests has declined 45 per cent due to the effects of a slowing US housing market, falling lumber prices, the mountain pine beetle infestation and a rising Canadian dollar.
The prevailing weak lumber prices and US housing market are expected to continue throughout 2008 resulting in a further stumpage revenue decline in 2008/09. As prices and markets recover beginning in 2009, stumpage revenue increases to $919 million by 2010/11, although still below levels recorded in the past three years.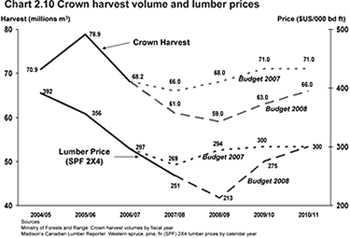 Border tax revenue increases in 2007/08 due to the full-year impact of the Softwood Lumber Agreement 2006, effective October 2006 and declines in 2008/09 reflecting reduced lumber exports to the US in response to weak markets. The export border tax is assumed to be 15 per cent in 2007/08 and 2008/09 reflecting low lumber prices. Over the last two years of the fiscal plan, border tax revenue is expected to decline as the export tax rate falls to 5 per cent by 2010/11, consistent with the assumed recovery of lumber prices to US$300.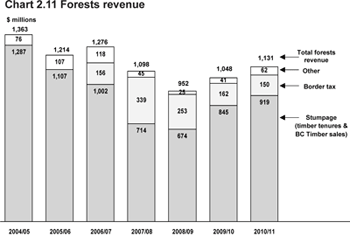 Health and social transfers – growth is relatively flat in 2008/09 as the effects of increasing national bases and a higher BC population share are offset by declining deferred federal contributions (mainly 2004 Wait Time Trust) and the effect of $70 million prior-year adjustments recorded in 2007/08. Over the next two years, revenue is expected to average 4.7 per cent annual growth, in line with federal commitments of annual increases for health and social programs of 6 per cent and 3 per cent, respectively.
Other federal contributions – the one-time ecoTrust ($199 million), the contribution to the Conservation Investments and Incentives Initiative fund ($30 million) and deferred revenue associated with mountain pine beetle ($33 million) recorded in 2007/08 contribute to the $292 million revenue decline in 2008/09. Over the last two years of the fiscal plan, other federal contributions are expected to be relatively flat.