Summary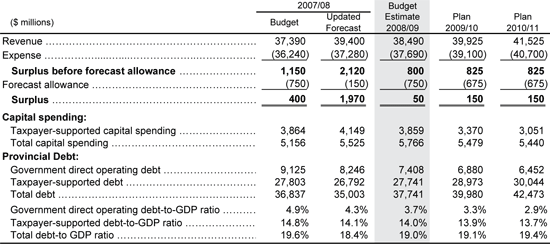 A Budget for Climate Action
Budget 2008 supports and adds momentum to government's plan to reduce greenhouse gas emissions by providing the fiscal framework to implement government's climate action initiatives. At the same time, BC maintains its commitment to a strong, vibrant and competitive economy that promotes investment, innovation and job creation. Consistent with these two objectives, government intends to introduce legislation to implement a new carbon tax effective July 1, 2008. Under a three year revenue neutral carbon tax plan, 100 per cent of revenues from the tax will be returned to British Columbians through offsetting tax reductions.
Revenue Neutral Carbon Tax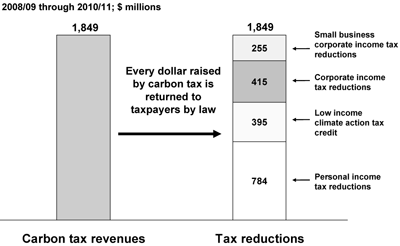 The carbon tax will initially be based on a rate of $10 per tonne of greenhouse gas (GHG) emissions, and will increase to $30 per tonne by 2012.
To return the revenues from the carbon tax back into the economy, government is:
introducing a new low-income refundable Climate Action Tax Credit of $100 per adult and $30 per child for low-income families, which will be paid quarterly;
reducing personal income taxes by 5 per cent on the first $70,000 of income by 2009;
lowering the general corporate income tax rate to 11 per cent from 12 per cent and the small business rate to 3.5 per cent from 4.5 per cent; and
introducing additional increases to the Climate Action Tax Credit and reductions to personal and corporate income taxes. The goal is to lower the general corporate income tax rate to 10 per cent and the small business rate to 2.5 per cent by 2011.

In total, carbon tax revenues of $1.85 billion over three years will be returned to taxpayers through offsetting tax cuts and tax credits.
By taxing all of the fossil fuel combustion emissions in BC that are included in the national emissions inventory, the province is taking responsibility for its own emissions and providing a key tool to meet its GHG reduction targets.
The tax is initially being set at a relatively low rate and being increased over five years to give people and businesses an opportunity to adjust.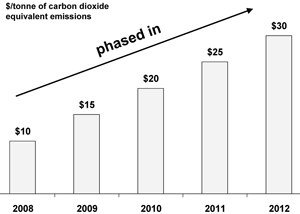 Climate Action Dividend
To help British Columbians make lifestyle changes to reduce their use of fossil fuels, each resident will receive a Climate Action Dividend payment of $100 in June 2008, paid out of the 2007/08 surplus. The total value of these benefits is $440 million.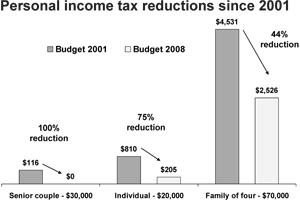 Significant tax reductions since 2001
The latest personal income tax cut of 5 per cent on the first $70,000 in income builds on the 25 per cent tax cut in 2001, the BC Tax Reduction in 2005 and the 10 per cent tax cut on the first $100,000 in income in 2007. As a result of these changes, 250,000 people no longer pay BC personal income taxes and all taxpayers have received substantial cuts. More than 85 per cent of taxpayers with incomes of $70,000 or less have received tax cuts of at least 37 per cent.
The general corporate income tax rate has been cut by a third to 11 per cent from 16.5 per cent in 2001, while the small business rate has been reduced by more than 20 per cent to 3.5 per cent from 4.5 per cent in 2001.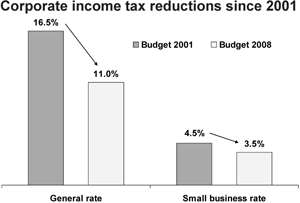 Over $1 billion additional commitments to support Climate Action
In addition to the carbon tax and offsetting tax reductions, Budget 2008 also includes a further $64 million of tax measures and $986 million of spending commitments for climate action initiatives.

Budget 2008 includes further tax measures to promote climate action for a total three year revenue commitment of $64 million. These comprise:
Small Business Venture Capital Act tax credit budget increased by $5 million annually and allocating $7.5 million to clean technology businesses;
tax relief for fuel efficient conventional vehicles qualifying for the federal ecoAuto rebate, equal to the federal rebate. This is in addition to the existing tax relief for hybrid and alternative fuel vehicles; and
provincial sales tax exemptions for a variety of energy efficient goods, including washing machines, refrigerators and freezers as well as electric power‑assisted bicycles and tricycles and electric motorcycles.
On the spending side, $690 million of operating expenditures over four years are committed to support greater energy efficiency and reduce carbon emissions, to promote research into new energy efficient technologies, expand public transit and to help achieve a carbon-neutral government by 2010. These include:
$60 million for the LiveSmartBC incentives to households for energy audits and retrofits; and energy assessments for small businesses;
$33 million for the BC Green Ports Initiative to help reduce emissions from short-haul trucks servicing BC ports, and to fund port electrification to allow ships to turn their engines off while in port; and to reduce truck emissions at inspection stations; and
up to $10 million for incentives to encourage biodiesel production.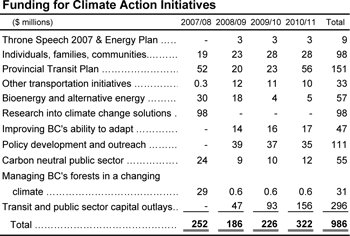 In addition, government has committed to $296 million of capital spending that includes:
$219 million for public transit projects including three new rapid transit lines in the Lower Mainland, RapidBus expansion, and additional buses for use in many BC communities; and
$75 million towards energy efficient retrofits for public sector buildings.
The total spending commitment is $986 million.
In total, these tax reductions and spending commitments exceed $1 billion over four years.
Domestic economy remained strong in 2007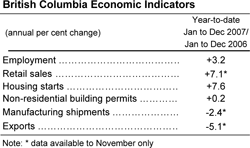 The government is committed to maintaining both a strong, competitive economy and a robust, affordable fiscal framework. This budget will be the fifth consecutive balanced budget.
Through 2007, the domestic economy posted a fourth consecutive year of strong growth led by high employment, retail sales, and housing construction. However, exports and manufacturing declined reflecting weakness largely due to the high Canadian dollar and a significant slowing in the US housing market, related in large part to the sub-prime mortgage market.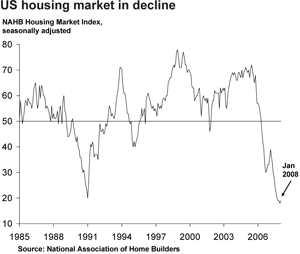 Growth to pick up after slowing in 2008
Looking ahead, significantly slower growth is expected in the US for 2008, with US housing starts falling well below trend. This results in some slowing of economic growth in BC, with BC real gross domestic product expected to grow by 2.4 per cent. In the medium term, growth is expected to pick up to average 2.8 per cent.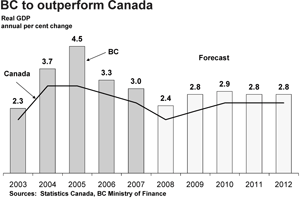 Prudence remains important to achieving a balanced budget plan
The main risks to the fiscal plan lie in the potential for a larger than expected slowdown in the US economy and the US housing sector, particularly in 2008/09. The volatility of natural gas, lumber prices and the Canadian dollar also pose significant risks. To help manage the higher level of risk in 2008/09, government is continuing its prudent fiscal planning practices by:
using economic planning assumptions that are generally lower than forecasts provided by external experts;
maintaining a $375 million contingency vote, equivalent to 1 per cent of operating expenditures;
retaining a $750 million forecast allowance to protect the bottom line from revenue declines and unexpected natural disaster costs;
targeting a surplus of $50 million in 2008/09, returning to $150 million in subsequent years as economic conditions improve; and
maintaining a $200 million capital contingency in 2008/09 or 5 per cent of taxpayer-supported capital outlays.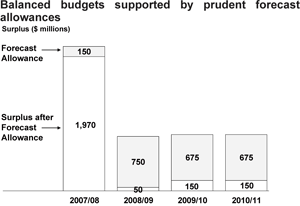 Debt remains affordable
Government is committed to a significant capital spending program over the next three years, to build much needed hospitals, roads, transit facilities, and bridges. Taxpayer-supported capital spending is forecast to total $10.3 billion over the next three years. As a result, taxpayer-supported debt is forecast to grow by $3.3 billion over the next three fiscal years to $30 billion in 2010/11. However, government continues to manage its capital spending plan to ensure that the growth in taxpayer-supported debt is less than the growth in the overall economy.
As a result, the taxpayer-supported debt to GDP ratio, a key measure of fiscal sustainability used by credit rating agencies, is forecast to decline over the next three years.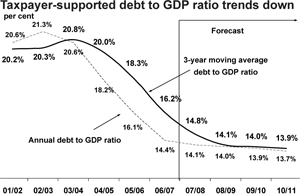 Government intends to continue its commitment to maintaining this downward trend in the taxpayer-supported debt to GDP ratio. Consistent with the recommendations of the Economic Forecast Council, a moving average is used to track the debt to GDP ratio trend. This strategy keeps debt affordable for future generations of British Columbians.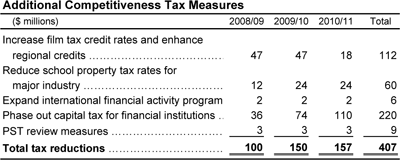 Building on BC's economic strengths
To ensure British Columbia's economy remains strong and competitive, further tax reductions totaling $407 million over three years are introduced in Budget 2008. The changes include ensuring the film sector remains competitive with other jurisdictions, addressing the competitive pressures facing BC's export-oriented businesses, and promoting BC as an attractive location for financial services:
the basic Film Incentive tax credit rate and the basic Production Services tax credit rate are increased and the regional film tax credit rate is increased for production activities that are distant from the Lower Mainland and Southern Vancouver Island;
the school property tax rate for major industrial property is reduced over two years to equal the business class rate in 2009, providing relief to export-related industries including the forest sector;
to enhance Vancouver's attractiveness as an International Financial Centre, eligible activities under the International Financial Activity Act will be expanded; and
the capital tax on financial institutions is phased-out over three years, and then replaced by a minimum tax.
In addition, to ease pressures faced by first time home buyers, the First Time Home Buyers' exemption threshold is increased to $425,000 from $375,000 and first time buyers are no longer required to have a mortgage of at least 70 per cent.
Tax reductions provided to British Columbians in Budget 2008 total $2.3 billion over three years, of which $1.85 billion is recycled from the carbon tax.
In addition to tax reductions, spending initiatives that stimulate economic growth remain a vital component of the province's fiscal plan. New investments totaling $346 million over four years are included in this budget supporting environmentally responsible resource development, engagement with Aboriginal peoples regarding land and resource activities, post-secondary research opportunities and community development.

Sustaining and strengthening social services
Budget 2008 also commits funding to sustaining and enhancing education and other key services upon which British Columbians depend. Budget 2008 provides:
$144 million over three years for K‑12 education, despite declining enrolments. This funding enables the opening of up to 400 Strong Start centres by 2010; and
$787 million over four years invested in programs that reduce homelessness; support adults and children at risk; implementation of a positive aging action plan; maintain justice and public safety; and sustain a wide range of supports for those in need.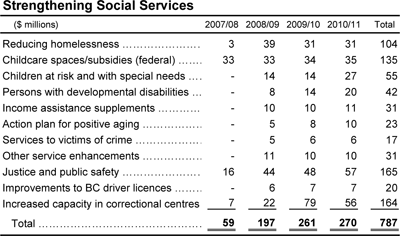 $2.9 billion to support health care
Budget 2008 commits $2.9 billion in new funding to health care to provide a sustainable growth track averaging six per cent a year. The new funding accounts for about two-thirds of the consolidated revenue fund budget increases allocated in Budget 2008. Included in this funding is a $300 million Transformation Fund to help implement a broad package of changes impacting many areas of the system, as well as the recently announced range of legislative and regulatory initiatives. An Innovation and Integration fund totaling $75 million is set aside in the contingencies vote to:
support patient focused service enhancement and best practices;
facilitate innovation; and
improve integration and coordination of health service delivery.
Government is also supporting major new health projects in Victoria, Kelowna, Vernon and Fort St John with $543 million over four years contributed to those projects, and new projects at the planning stage at the BC Children's Hospital and in Prince George.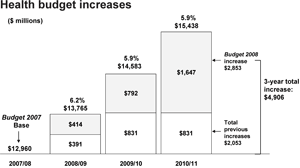 Conclusion
In summary, Budget 2008:
introduces a revenue neutral carbon tax as a key climate action tool;
provides the fiscal resources to support the development and implementation of the climate action plan;
commits to additional tax cuts for business and individuals to support climate action and enhance competitiveness;
makes continued investments to strengthen competitiveness and promote economic growth;
includes significant prudence in face of the economic risks in the US; and
provides new funding to sustain health care and other key public services in the years ahead.