Consolidated Revenue Fund Spending
Consolidated Revenue Fund (CRF) spending, compared to Budget 2007, is forecast to increase from $29.8 billion in 2007/08 to $33.5 billion by 2010/11 – a 12.5 per cent increase. Budget 2008 represents a 5.5 per cent increase over Budget 2007, and increases of 2.5 and 4.1 per cent over the following two fiscal plans.
Budget 2008 supports the development and implementation of government's Climate Action commitments, and is focused on actions that will help ensure new legislated greenhouse gas reduction targets are met. Funding for Climate Action and BC Energy Plan initiatives, along with other Budget 2008 commitments, supports investments in new technologies, environmentally sustainable natural resource and economic development, and continued infrastructure support for BC communities. Budget 2008 also sustains and enhances social services for British Columbians, provides additional skills development and training opportunities, and confirms government's commitment to health care and education.
Climate Action
Budget 2008 commits almost $1 billion dollars over four years in operating and capital expenditure initiatives to support a comprehensive multi-sector approach to reducing BC's greenhouse gas emissions. Climate Action initiatives funded in Budget 2008 will help set BC on the path to achieving a 33 per cent reduction in Provincial greenhouse gas emissions by 2020, a commitment that is now confirmed in the Greenhouse Gas Reduction Targets Act. Climate Action initiatives in the fiscal plan are described in full in Part 1, with the spending initiatives set out in Table 1.13.
New Investments in the Economy and Communities
Initiatives that stimulate economic growth and facilitate community enrichment continue to be critical components of the province's fiscal plan. In addition to the Climate Action initiatives described in Part 1, Budget 2008 invests $346 million over four years towards short and long term initiatives that support environmentally responsible resource development, engagement with Aboriginal peoples regarding land and resource activities, postsecondary training and research opportunities, and community development through expanded arts and culture.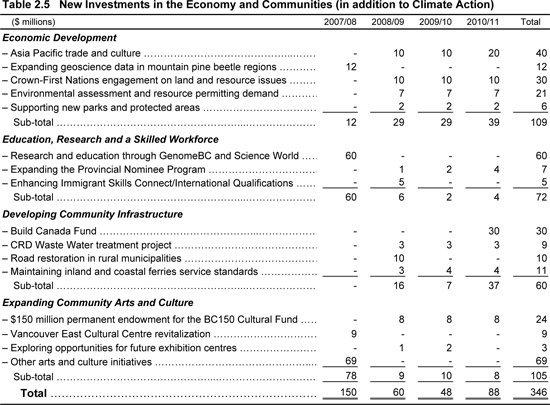 Economic Development
Government is committed to initiatives that encourage economic development, investment from foreign markets and new resource exploration. However, with the province's strong commitment to Climate Action, investments in British Columbia must also be environmentally responsible and sustainable. The province's Budget 2008 Climate Action initiatives will help to ensure future economic activities in British Columbia minimize greenhouse gas emissions. Budget 2008 also includes $109 million over four years to encourage economic development that meets government's social, economic and environmental objectives.
In support of the Asia-Pacific Initiative, the fiscal plan includes $40 million from 2008/09 to 2010/11 to promote Asia Pacific trade and culture. This includes coordination of provincial business services related to trade and investment with Asia Pacific nations and strengthening economic and cultural links between BC and Asian countries through the expansion of targeted trade, investment and cultural programs including trade missions, business networks, and marketing.
Geoscience BC will receive $12 million in 2007/08, $6 million to further develop geoscience data that will support mineral exploration in the Mountain Pine Beetle infested areas of the province, and $6 million for oil and gas exploration in frontier areas of the province.
Budget 2008 includes $10 million annually in new funding starting in 2008/09 for enhancing government's engagements with First Nations when Crown land and resource decisions affect asserted Aboriginal territories.

This allocation includes $1 million per year for the Province's Environmental Assessment Office to assist with the costs of First Nations consultation obligations on major project assessments.
$9 million per year will be available to natural resource ministries for an innovative cross government approach to effective engagements with First Nations who are affected by government decisions on access to Crown land and resources. This new strategy will ensure the Crown's obligation to consult is fully and appropriately met, while providing opportunities to partner with First Nations in many large and small economic development projects.
With these initiatives, Budget 2008 maintains the provincial commitment to funding for initiatives targeting reconciliation of aboriginal rights and title, as well as building strong and respectful relationships between government and aboriginal organizations.

Budget 2008 includes $7 million annually in new funding starting in 2008/09 to address increased applications for access to natural resources, which require review by a number of provincial agencies.

$2 million per year to enable the Environmental Assessment Office to keep pace with the increasing number of major projects throughout the province requiring environmental assessments. Environmental assessments are comprehensive project reviews that include public and First Nations consultation to ensure major projects meet the goals of environmental, economic and social sustainability. This funding builds on the $2 million base lift in Budget 2007 to ensure timely completion of assessments.
Budget 2008 provides $5 million annually starting in 2008/09 for additional staff resources to reduce environmental permitting and licensing backlogs and to improve enforcement of environmental regulations.
$2 million of this annual allocation will focus on addressing significant independent power producer permit application backlogs that must move through a multi-ministry permitting process. Applications have risen dramatically in light of BC Hydro's electricity self-sufficiency objectives and associated calls for green electricity production from independent producers.
Budget 2008 provides $2 million annually to staff and manage 125 new protected areas covering nearly 1.4 million hectares in the Central Coast/North Coast, Morice, and Sea to Sky land and resource management plans.
Budget 2008 also introduces a new special account called the Park Enhancement Fund, profiling BC Parks and inviting financial contributions by businesses, non-profit organizations, or individuals who wish to support BC Parks. All contributions to the Fund, as well as all revenues earned from the sales of parks promotional and educational merchandise and services, will be directed to enhanced parks projects or management initiatives that meet recreational and conservation objectives.
These investments build upon the $15 million provided in Budget 2007 for parks upgrades, in part to fund an expansion of recreation opportunities in selected parks, and to update water systems, campground trails, and day use amenities in the most well-used BC parks.
Education, Research and a Skilled Workforce
Budget 2008 reconfirms government's commitment to increase access to postsecondary education and training to ensure that British Columbia continues to build a skilled and knowledgeable workforce that is well positioned to meet current and future labour market challenges. The province faces skilled labour shortages in a variety of sectors – healthcare, early childhood education, applied sciences, engineering and trades – all of which play key roles in ensuring a healthy, educated and financially secure population and a sustainable provincial economy.
Post-Secondary Education and Research
Budget 2008 supports $493 million, over three years, in post-secondary funding above the 2007 base budget level. By 2010/11, provincial funding for the Ministry of Advanced Education will have risen by $549 million since 2004/05, a 30 per cent increase.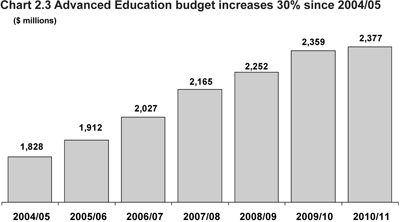 Provincial funding has significantly increased access to post-secondary institutions throughout the province, increasing enrollment opportunities so that students with a B average in high school now have ready access to BC universities. Although access has improved, the overall number of students in the post-secondary system has increased less than previously forecast. This provides an opportunity for the province to work with post-secondary institutions to reassess current funding against program demands. Therefore, Budget 2008 takes a renewed focus on available resources inside the post-secondary system and redirects funds previously approved for seat growth to areas of high labour market demand.
This approach allows the redirection of $18 million over three years to ensure the province maintains its commitment to producing more trained doctors to meet the demands of a growing and aging population. An additional $3 million will be made available for increased nurse education and health care bursaries.
In 2007/08, government will contribute $60 million in new funding for research and innovation initiatives:
$50 million to Genome BC, for research that focuses on the challenges of a changing world, including climate change. This contribution is expected to attract an additional $150 million in external funding toward these research activities.
$10 million to Science World for structural upgrades to its landmark building and to develop an outdoor science park.
In addition to these allocations shown in Table 2.5, the province is also investing $95 million in 2007/08 for Climate Action research at post-secondary institutions. Further details are available in Part 1: A Budget for Climate Action.
In the coming year, government will be reviewing the Campus 2020 report which provides government with 52 recommendations on how to build on the strengths of BC's existing post-secondary education system and transform it for the future.
Investment in current and future learners is also supported by the Budget 2007 Children's Education Credit which provides $1,000 per newborn toward the cost of future tuition and educational expenses.
Initiatives to Attract a Skilled Workforce
Government's role in facilitating economic growth includes attracting a skilled and knowledgeable workforce through programs that remove employment impediments and welcome international workers into British Columbia's economy. Budget 2008 provides $12 million over four years for the following initiatives:
Increased funding of the Provincial Nominee Program (PNP) with an additional $7 million over three years. The PNP, which attracts high demand workers and business entrepreneurs from abroad, will be significantly expanded from 2008/09 to 2010/11. The target number of PNP approvals will total 15,000 for high demand and 720 for business immigrants, representing increases of 150 per cent and 50 per cent respectively over previous targets.
$5 million in 2008/09 to extend the Skills Connect for Immigrants (SCI) and International Qualifications (IQ) programs and leverage additional federal dollars for these two programs. The SCI program provides career planning services, job shadowing and mentoring opportunities to underemployed/unemployed skilled immigrants to help them find employment in sectors facing critical skills shortages, such as construction and tourism.
The IQ program supports projects that remove systemic barriers preventing skilled immigrants from obtaining employment in an area related to their training and experience. Initiatives include work-based language training and strategies to improve credential assessment.
This funding builds on Budget 2007's $33 million investment in the Industry Training Authority to create an additional 7,000 apprenticeship spaces through public and private training institutions by the end of 2009/10. In addition, Budget 2006 provided $39 million for an additional 3,700 apprentice training spaces, and to establish three Industry Training Organizations.
Developing Community Infrastructure
Budget 2008 provides an additional $60 million into projects that maintain community infrastructure across the province.
$30 million in 2010/11 for the Build Canada Fund, a federal/provincial/local government infrastructure program which will allow communities in British Columbia to address drinking water, sewage treatment and other infrastructure issues.
Combined with existing investments of $157 million, the province will invest $187 million in municipal infrastructure over the next three years. This will leverage an additional $115 million in federal contributions, as well as municipal funding for a variety of projects throughout the province.
$9 million over the fiscal plan to enter into a three-way cost sharing agreement for planning and procurement of wastewater treatment facilities in the provincial Capital Regional District.
$10 million in onetime grants in 2008/09 to help municipalities rehabilitate roads damaged by increased logging truck traffic due to the increased harvesting of trees infested by mountain pine beetle.
$8 million over three years for coastal ferries to meet continued funding requirements resulting from the purchase of new vessels for the northern ferry routes and address inflationary pressures. This additional funding maintains current service levels on unregulated ferry routes and continues to support social program subsidies for seniors, students, and people with disabilities.
$3 million over three years for inland ferries to address expected inflationary pressures in provincial inland ferry contracts, ensuring that existing service levels continue for communities served by inland ferries.
Expanding Community Arts and Culture
Budget 2008 provides $105 million over four years on British Columbia arts and culture initiatives. The BC150 Cultural Fund, a $150 million permanent endowment is being established in 2007/08. This investment is forecast to generate $8 million annually to support new arts and cultural activities across the province. Spending priorities will be identified by the BC Arts Council. This represents a 50 per cent increase over current provincial funding to the BC Arts Council.
Additional Budget 2008 arts and culture spending includes:
$9 million in 2007/08 toward the revitalization and restoration of the Vancouver East Cultural Centre, and establishment of an endowment fund to assist with the ongoing operation of the expanded centre.
$3 million over the next two years for the planning of an Aboriginal art gallery and a World Women's History Museum to celebrate the important arts, culture and societal contributions made by British Columbia's women and Aboriginal peoples.
$69 million in additional 2007/08 funding has been allocated to support other arts and culture projects. Announcements on finalized spending priorities will occur before the end of the fiscal year.
These investments will enhance the lives of British Columbians, providing new experiences through expanded arts and cultural activities in their communities.
Vancouver Convention Centre Expansion Project (VCCEP)
The Vancouver Convention Centre Expansion Project (VCCEP) represents a significant investment in tourism for the province. The total project budget of $883 million includes the expansion and upgrade of the Vancouver Convention and Exhibition Centre, and interconnection of the existing and new facilities. The project is scheduled to be substantially complete by March 15, 2009.

2010 Olympic and Paralympic Winter Games (2010 Olympics)
The province has committed $600 million towards funding of the 2010 Olympic and Paralympic Winter Games. This includes a provincial contribution towards components that are jointly funded with the federal government including venues, security, a venue operating trust, live sites, and the Paralympic Games. It also includes a provincial commitment to medical costs, First Nations, sports and municipal legacies, and a contingency allocation earmarked for addressing unbudgeted costs.
Budget 2008 includes $254 million for expenditures within the $600 million envelope. Coupled with planned expenditures to the end of 2007/08, provincial expenditures to the end of 2010/11 are expected to be $600 million. Budget 2008 also includes an allocation of $20 million within the Contingencies Vote in 2008/09 and $49 million in 2009/10 for managing unforeseen pressures. This leaves $10 million remaining in the contingency allocation for 2010/11 that would be available should any post-Games costs emerge.

Provincial Transportation Investments
Budget 2008 updates and builds on the government's three-year transportation investment plan. The province remains committed to securing federal cost-sharing on all eligible projects and programs, and leveraging additional investments through partnerships with private partners.
Between 2008/09 and 2010/11 the updated transportation plan provides:
$2.3 billion of provincial investment in transportation infrastructure; and
$0.7 billion of investment leveraged through federal cost-sharing and partnerships with private partners, local governments and other agencies.
The three-year transportation plan includes $438 million in provincial funding for the Gateway program. The Gateway program has three key projects, the North Fraser Perimeter Road, South Fraser Perimeter Road and the Port Mann/Highway 1 project. Under their Pacific Gateway Strategy, the federal government has committed $90 million to the North Fraser Perimeter Road, and $365 million towards South Fraser Perimeter Road costs. The Port Mann/Highway 1 project will be procured through a public-private partnership, financed in part through user tolls.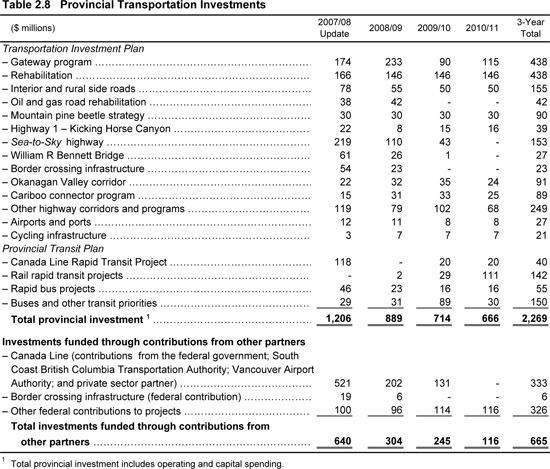 The updated plan also includes a significant commitment to the provincial transit plan, including $151 million in new operating funding and $219 million in new capital funding over four years. Further information is provided in Table 1.9.
K-12 Education
Budget 2008 provides $144 million over three years in increased funding for K12 education. This is in addition to the $648 million allocated in previous budgets, for a total funding increase of $792 million over three years.
Over the fiscal plan, the K12 education budget increases by an average of 2 per cent per year while the number of students is projected to decline by 1 per cent per year, resulting in an increase in per pupil funding.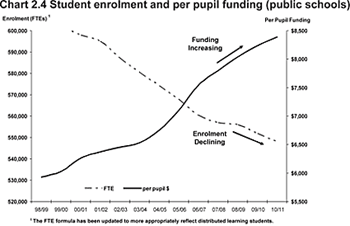 Budget 2008 includes funding to continue the Strong Start program for early learning. Up to 84 Strong Start centres are currently open and operating, and $38 million over three years will support a significant expansion with up to 400 Strong Start Centres projected to open by 2010.
In 2007/08, 41,000 public school students enrolled in distributed learning. Of these, 23,000 were students in grades 1012 that enrolled in both classroom-based and distributed learning courses. Boards of Education will be allocated $37 million to fund distributed learning enrolment in the 2007/08 school year. By 2008/09, the number of public school students enrolled in distributed learning is projected to grow by 10 per cent to a total of 44,900 students. Independent school enrolment is forecast to increase at 2 per cent annually, and $17 million over three years in new funding has been allocated to meet statutory funding commitments to independent schools.
Enhancing Health Care
Budget 2008 continues government's commitment to health care and provides $2.9 billion over three years in increased funding beginning in 2008/09. This is in addition to $2.0 billion allocated in previous budgets, for a total funding increase of $4.9 billion. The budget increases include funding for negotiated settlements through 2009/10. In 2010/11, Ministry of Health funding growth is maintained at the same 5.9 per cent growth as in 2009/10 to accommodate potential wage increases.
New funding for the Ministry of Health accounts for 68 per cent of the additional Consolidated Revenue Fund budget increases allocated in Budget 2008 over the next three years.
Budget 2008 provides additional funding of $2.0 billion to health authorities over the next 3 years, representing an average annual increase of 6 per cent. The financial forecast for health authorities has been developed by the Ministry of Health on an aggregate basis. Individual Health Authority budget allocations and Service Plans will be developed over the coming months and will be reflected in the updated fiscal plan in the first Quarterly Report.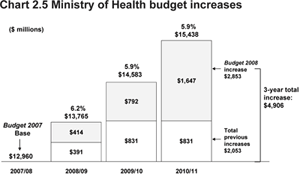 Funding for the Ministry of Health programs, including areas such as PharmaCare, Medical Services Programs and Emergency Health Services (including BC Ambulance Services) increases by $555 million over the next three years.
In total, funding to health authorities and ministry programs will rise to $15.4 billion by 2010/11. This funding will go towards maintaining core health services and government priorities, including new long-term care beds and community mental health services, and specific initiatives such as increased cataract procedures, improved access to services in Surrey, the opening of the Abbotsford Regional Hospital and Cancer Centre, and the introduction of the Human Papillomavirus (HPV) Vaccine immunization program to help protect women and girls from cervical cancer.
Based on feedback obtained during the Conversation on Health, government is implementing a broad package of changes impacting many areas of the system, including a range of legislative and regulatory initiatives, to improve health care for the long term with new emphasis on healthy lifestyles, prevention and accountability as highlighted in the Speech from the Throne. A Transformation Fund of $300 million over three years has been established in the ministry's budget, that will be used to drive change in the health care system.
Budget 2008 also establishes a new Innovation and Integration Fund to assist health authorities in implementing best practices and in integrating and coordinating the delivery of health services, within a province wide patient centered funding model. The Contingencies (All Ministries) and New Programs vote includes an allocation of $50 million for the new funding in 2008/09 and $25 million in 2009/10.
Priority 2007/08 initiatives of $100 million will be focused on a range of important medical research initiatives in areas including cancer, neurological disease and intestinal and liver disorders in children as well as core promotional activities within the ActNow program in the Ministry of Tourism, Sport and the Arts.
In addition, government is supporting new health capital projects in Victoria, Kelowna, Vernon and Fort St. John with $543 million over 4 years beginning in 2007/08 for major health facilities expansions in those areas. As part of the Northern Cancer Control Strategy, government has committed to a new cancer centre in Prince George. Preliminary funding for the project is provided in the health capital plan. This allocation will be refined based on final project approval in the coming months. Government also intends to upgrade and expand BC Children's Hospital facilities. Funding will be allocated from capital contingencies as the project scope and budget are defined.
Health spending by function includes all health care related spending by the Ministry of Health and other ministries, including Children and Family Development and Employment and Income Assistance, as well as other service delivery agencies such as Canadian Blood Services. Health spending by function, on a summary basis, increases to $14.8 billion in 2008/09, up from $9.4 billion in 2000/01, a 57 per cent increase.
Strengthening Social Services
Budget 2008 commits $438 million over four years on programs and services to enhance quality of life for British Columbians.
Included in the $438 million is $104 million of additional funding to reduce homelessness (see Table 2.11).


Budget 2008 builds on the successes of Budget 2007 with an additional $104 million over 4 years to implement new and expanded measures to help break the cycle of homelessness, including:
An additional $78 million over 4 years to allow emergency shelters to stay open 24 hours a day/seven days a week to provide on-going support to link people to existing community services, including more permanent types of housing. This is in addition to $27 million provided in Budget 2007 to convert 300 cold wet weather beds to year round shelter beds.
An additional $2 million over 4 years is also provided for a new Aboriginal outreach component. More than 2,000 people on the street in about 40 communities across the province have found stable housing as a result of the $3 million outreach pilot project provided in Budget 2006. An additional $11 million is provided in Budget 2008 to make the pilot outreach project permanent as well as to expand homeless outreach services in 27 communities.
A pilot program providing 315 rent supplements to assist homeless people find rental accommodation in the private market will be made permanent and an additional 750 additional rent supplements will be made available at a cost of $3 million over 4 years.
To set the stage for faster delivery of additional, affordable and supportive housing, the province will provide one-time funding of $10 million in 2008/09 for predevelopment costs, such as architectural, geotechnical and environmental plans and studies, to ensure city-owned sites will be ready to start construction within a year.
Budget 2008 provides $8 million over 3 years for the Residential Tenancy Office to hire additional information and dispute resolution officers to improve client services and reduce call wait times and waits for dispute resolution hearings across the province.
In 2006/07, the federal government eliminated the Early Learning and Child Care Agreement which represented a loss of approximately $455 million in federal funding for BC between 2007/08 and 2009/10. In March 2007, the federal government agreed to provide funding to the provinces and territories to support the creation of child care spaces. Budget 2008 provides $135 million over four years for the creation of 2,000 additional child care spaces. This funding also provides for child care subsidy and operating funding to support the additional spaces.
Budget 2008 continues government's commitment to enhancing the quality of life for children and their families. In Budget 2006, government invested $421 million between 2005/06 and 2008/09 on programs and services for children. In Budget 2007, $140 million was invested between 2006/07 and 2009/10 in programs and services to children and youth at risk or with special needs. Budget 2008 builds on this investment by providing $55 million over three years. This funding will support service providers in permanency planning for children-in-care and family supports and includes $20 million for new or continued access to services for children and youth with special needs.
Government is committed to ensuring culturally appropriate services for Aboriginal children at risk and their families. Budget 2008 provides a further $17 million over three years to support the delivery of services for Aboriginal children in care and building capacity within the Aboriginal community for child and family services.
Budget 2008 provides $42 million in programs and services to adults with developmental disabilities and their families. This funding will:
assist service agencies in providing new or continued access to community living services including respite care, residential placements and life skills training;
implement more manageable caseloads for staff that work with families and individuals; and
provide an increased level of quality assurance in managing and monitoring services to adults, children and their families.
Budget 2008 includes an additional $31 million over 3 years to provide for increasing costs of and demand for supplementary benefits for persons and families on income assistance, including residential facilities, medical supplies and equipment and dental services provided under the Healthy Kids Program.
Budget 2008 provides $6 million to establish a provincial 211 service. This service will offer one-stop access to a wide range of community and social services and will provide families and individuals with referrals to basic human needs resources, such as income assistance, housing, and shelter support as well as connections to child care, literacy, and employment services.
Budget 2008 provides $23 million over three years to support the Positive Aging BC Action Plan. This plan is intended to provide a framework for action over the coming decade to support building systems of support for seniors.
Budget 2008 provides $17 million over three years for victims service programs to address caseload issues and introduce the Help Starts Here strategy, which addresses critical demand pressures in existing services for victims of crime and trauma and provides new service delivery approaches to address the unique needs of Aboriginal peoples, women, children, and at-risk populations. This funding will:
support service transformation following best practice models to increase program effectiveness;
increase services such as outreach programs for victims and support of victims of violent crime during court cases; and
develop and implement strategies to address human trafficking into and within BC.
Justice and Public Safety
Budget 2008 invests $329 million over four years including $165 million to improve safety and maintain critical services in the justice sector and $164 million to increase physical capacity in BC correctional centres.

With the Downtown Vancouver Community Court scheduled to begin operations in 2008, Budget 2008 provides $13 million to fund this innovative pilot project for a three year period. The project will coordinate justice, health and social services as part of an integrated solution to address the underlying causes of crime in downtown Vancouver.
Budget 2008 provides $20 million over three years to maintain courthouses, develop key information technology systems to support ministry operations, and provide administrative support to the Superior Courts Judiciary.
Budget 2008 provides $47 million over four years to fund compensation increases recommended by two independent judicial compensation commissions for judges, masters and judicial justices of the peace and to fund compensation increases contained in the 2007 Crown Counsel Association Agreement for Crown counsel, legal counsel and officers.
An additional $63 million is provided for enhanced safety initiatives within correctional centres and new transitional accommodation options for Aboriginal offenders. This funding will provide for:
over 120 additional staff in provincial correctional centres to reduce isolation, increase training, increase supervisory interaction with living unit correctional officers and increase staffing for off-site inmate escorts; and
contracted accommodation and specialized resources, including staffing, meals, facilities and programs, to facilitate reintegration of Aboriginal offenders into their communities.
Budget 2008 also provides an additional $16 million for Traffic Fine Revenue Sharing, reflecting the government's commitment to help local communities improve policing and public safety, and the Peace River Fair Share Agreement.
In response to the provincial Ombudsman's recommendations on lottery retailers, Budget 2008 invests $6 million to implement all 27 of the recommendations for regulation and oversight of the BC Lottery Corporation's activities to enhance registration, equipment and ticket certifications, audit and compliance functions and investigations.
In addition, Budget 2008 includes $20 million for service improvements and security enhancements to BC driver licences including improved processes, card security and facial recognition biometrics. These changes will be funded by the Insurance Corporation of BC to support both the implementation of the Canadian Driver Licensing Agreement, a cross-Canada agreement to enable the exchange of licencing and driver record information between provinces, and the enhanced driver licence pilot to test the drivers licence as an alternative to the passport for over land travel between BC and Washington.