Part Two: Three-Year Fiscal Plan

Introduction
Budget 2008 continues government's legislated commitment to balanced budgets – the fifth consecutive balanced budget. In the current environment of economic uncertainty, Budget 2008 maintains government's prudent approach to fiscal management to ensure the budget remains balanced while making major investments toward meeting its climate change goals; maintaining a competitive economic environment and strengthening health care and other government services.
As shown in Table 2.2, Budget 2008 provides for government's plan to address climate change, for initiatives to promote economic growth, to strengthen and sustain government services while continuing to ensure a strong, vibrant and competitive economy.
In addition to the $3.1 billion available revenues identified in the Budget 2008 Consultation Paper, forecasted revenues have increased over the next three years by a further $891 million. Combined, these revenues and updates to the forecast allowance of $1.0 billion, result in a total available fiscal room that provides the basis for expanded service levels and lower taxes. Budget 2008 reflects tax reductions totaling $481 million over the next three years (in addition carbon taxes of $1.8 billion are being implemented and are fully offset by personal and corporate income tax reductions of $1.8 billion), and spending commitments totaling $4.6 billion.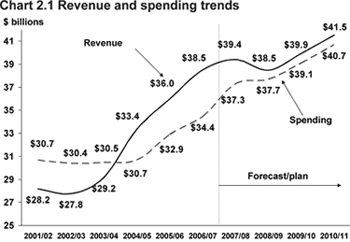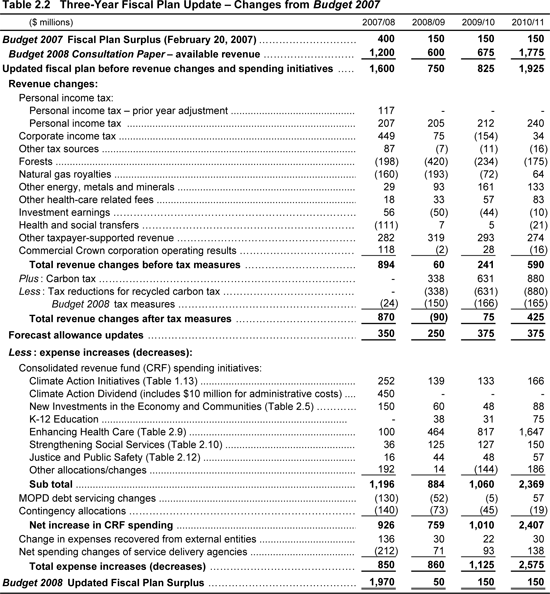 The fiscal plan is based on the Ministry of Finance's economic forecast that projects real economic growth of 2.4 per cent for 2008, 2.8 per cent in 2009 and 2.9 per cent in 2010. Consistent with its prudent forecasting practices, the Ministry of Finance outlook is lower than the Economic Forecast Council average. The economic outlook is lower than expected at the time of the 2007/08 first Quarterly Report, particularly in 2008. This reflects deteriorating conditions in the US economy, its housing sector and related effects on BC's forest sector. Full details of the economic forecast are found in Part 4: British Columbia Economic Review and Outlook.
Overall revenues are forecast to increase to $41.5 billion by 2010/11, an average annual increase of 1.8 per cent over the next three years. Excluding the impacts of one time revenues in 2007/08 and the impact of tax reduction measures, total revenues would increase by an average of 3.0 per cent annually over the same period.
In 2007/08, strong revenues have enabled government to allocate $1.05 billion to priority initiatives, primarily for climate action. Government intends to introduce Supplementary Estimates to obtain the necessary legislative appropriations to fund these initiatives.
Compared to the 2007/08 updated forecast, overall spending is forecast to increase by an average of 3.0 per cent annually over the next three years to total $40.7 billion by 2009/10, reflecting increases in most ministry budgets, including significant investments in health care.
Budget 2008 continues government's commitment to an infrastructure spending plan that is affordable. Infrastructure spending on transit, roads, schools, hospitals, post secondary facilities, electrical generation, transmission and distribution projects and other capital assets totals $5.8 billion in 2008/09, $5.5 billion in 2009/10 and $5.4 billion in 2010/11. The capital plan includes a 5 per cent contingency for taxpayer-supported projects as a prudent planning measure to cover risks from higher than expected cost inflation on projects and to provide for new priority projects that may be identified and approved during the year. More information on the three-year capital spending plan is found on page 72.
Taxpayer-supported debt is forecast to increase by an average of 3.9 per cent annually over the next three years to $30.0 billion by 2010/11, reflecting planned infrastructure spending in the health, education and transportation sectors, offset by expected operating surpluses. Total provincial debt, which includes commercial Crown debt and borrowing forecast allowances, is forecast to increase by an average of 6.7 per cent annually over the next three years to $42.5 billion by 2010/11.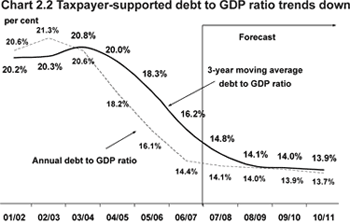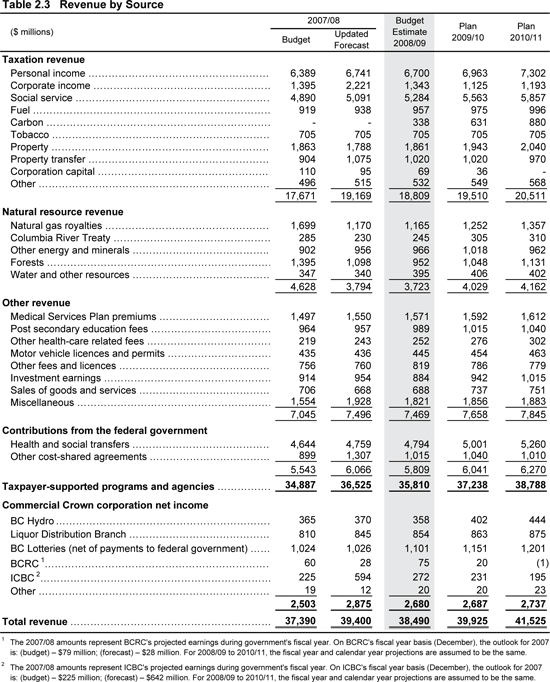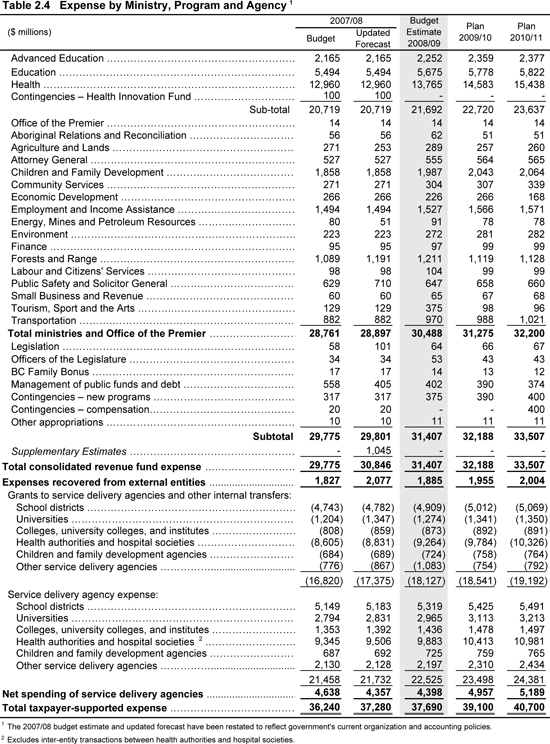 To ensure the debt remains affordable for future generations of British Columbians, the government remains committed to a declining trend in the taxpayer-supported debt to GDP ratio. Consistent with this commitment the taxpayer-supported debt to GDP ratio is expected to fall from 14.1 per cent in 2007/08 to 13.7 per cent by 2010/11. Additional information on the debt outlook is found starting on page 78.
The main risks to the government fiscal plan include economic fluctuations such as US economic growth rates, exchange rate movements or changes in natural gas, lumber or other commodity markets, as well as service demand pressures on the expenditure side. These and other risks are more fully described starting on page 81.
The fiscal plan includes forecast allowances of $750 million in 2008/09, and $675 million in 2009/10 and 2010/11 to help ensure government meets its surplus targets. In addition, the budget includes contingencies of $375 million in 2008/09, $390 million in 2009/10 and $400 million in 2010/11 representing roughly 1 per cent of total spending. The budget includes a further $400 million contingency in 2010/11 for the next round of wage and benefit contract negotiations.
The three-year fiscal plan conforms to the standards set by the accounting profession for senior governments in Canada referred to as generally accepted accounting principles or "GAAP".