Message from the Minister and
Accountability Statement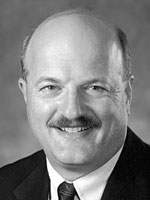 My goal, as the new Minister of Agriculture and Lands, is to enhance the economic development and environmental sustainability of the agriculture and food sectors while delivering safe, high-quality food. My mandate includes the management of Crown land resources.
Premier Campbell has laid out a very aggressive agenda for the next four years in setting out Five Great Goals for B.C. as we create a Golden Decade for all citizens. My first priority in preparing to deliver on this important commitment is the reorganization of this exciting new ministry and the formation of a new agency, the Integrated Land Management Bureau (ILMB).
I look forward to the challenge of supporting an expanding agriculture sector, working closely with the aquaculture industry and leading the development of a responsive and strategic Crown land tenuring framework.
I believe there is opportunity to continue to grow the agricultural food products and food processing sectors. To this end, my ministry will work to prepare an agriculture plan by December 2006, building on contributions from Parliamentary Secretary Roddick and supported by an MLA Committee.
The aquaculture file is very complex. The future is about balance. We will review our aquaculture strategy to ensure the industry performs to high environmental standards. We will explore opportunities to promote innovation and technological advancements in the sector.
We will work in partnership with other ministries to implement a successful noxious weed eradication program to meet good stewardship of our Crown range resources.
Former Land and Water BC (LWBC) office locations will be converted to Front Counter BC – Natural Resource Opportunity Centres (NROC) to support government's new single point of access initiative for managing Crown resources. Kamloops is the first of several locations for NROC and we expect to establish centres in Nanaimo and Prince George before fiscal year-end.
Clients will have efficient access to a government "one-stop shop" that supports timely and coordinated responses to their business needs that are related to responsible access to provincial resources. Crown land tenuring decisions will be delivered in co-operation with the new ILMB.
The creation of the ILMB, the NROC project and the integration of LWBC functions is all about keeping clients satisfied and seamlessly supporting their projects from start to finish.
The bureau will also work to complete and implement strategic and other land-use plans that achieve the important social, environmental and economic balance. It will work closely with the Ministry of Aboriginal Relations and Reconciliation to achieve greater participation of First Nations in land-use planning.
Further, the bureau will be providing strategic leadership and coordination aimed at the management and recovery of species-at-risk. It will also be working to develop better resource information management policies and supporting access to resource data.
These activities will contribute greatly to our goals of B.C. leading the world in sustainable environmental management and creating more jobs per capita than anywhere else in Canada.
The bureau provides service to five ministries, supporting both their internal operations and acting as a service centre to the public. Direction will come from the five Deputy Ministers who will act essentially as a board of directors. The five ministries are: Agriculture and Lands; Energy, Mines and Petroleum Resources; Environment; Forests and Range, and Tourism, Sport and the Arts.
The Ministry of Agriculture and Lands 2005/06 – 2007/08 Service Plan Update September 2005 was prepared under my direction in accordance with the Budget Transparency and Accountability Act. I am accountable for the basis on which the plan has been prepared. All material fiscal assumptions and policy decisions as of August 31, 2005 have been considered in preparing the plan and I am accountable for achieving the specific objectives of the plan.
Honourable Pat Bell
Minister of Agriculture and Lands
September 14, 2005