Message from the Minister and
Accountability Statement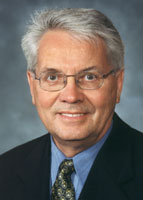 British Columbia has remarkable energy resources. We are a world leader in developing clean energy such as hydro electricity and new hydrogen fuel technology. We are Canada's second largest natural gas producer, exporting over two-thirds outside British Columbia. We are seeing results on our commitment to revitalize the mining sector, while continuing to support the growth of our very successful oil and gas industry in an environmentally responsible manner.
In all areas of the Ministry, our work is paying off. We have completed or begun work on all of the objectives of our November 2002 Energy Plan — Energy for our Future: A Plan for British Columbia. This work will continue through the coming year. We remain committed to ensuring power assets are publicly owned, while promoting independent power production (IPP) to ensure energy security for our province. In the past four years, 20 IPP projects have begun operations and another 25 have been offered electricity purchase agreements with BC Hydro. We strongly support investment in sources of BC Clean energy such as hydroelectricity, hydrogen fuel, wind, biomass, geothermal and tidal. We look forward to a science-based, environmentally responsible offshore oil and gas industry underway by 2010, creating jobs and opportunities in communities throughout our province.
The Government of British Columbia continues to aggressively stimulate investment in the mining and oil and gas sectors through initiatives that are responsive to the needs of British Columbians and industry. Working cooperatively with communities, First Nations and industry, mining exploration activity has doubled since 2001. Industry expenditures for 2004 are expected to be over $130 million. Increased mining activity means high-paying family-supporting jobs in all areas of the province. Summer oil and gas drilling is up 109 per cent in 2004 over 2002, the year before we introduced the Oil and Gas Development Strategy for the Heartlands — and oil and gas industry investment has more than doubled since 2001. The mining and oil and gas industries provide approximately $2.1 billion — or roughly eight per cent of our total revenue — to government. This revenue stream is increasingly important in order to support vital public services such as health care and education. This Service Plan describes actions that will be implemented to ensure British Columbians realize the benefits of the growing energy and mining sectors. Our vision is to create thriving, competitive and environmentally responsible energy and mining sectors significantly benefiting all British Columbians.
The 2005/06–2007/08 Ministry of Energy and Mines Service Plan was prepared under my direction in accordance with the Budget Transparency and Accountability Act. I am accountable for the basis on which the plan has been prepared. All material fiscal assumptions and policy decisions as of January 31, 2005 have been considered in preparing the plan and I am accountable for achieving the specific objectives in the plan.
Honourable Richard Neufeld
Minister of Energy and Mines
February 3, 2005