2003/04 – 2005/06 SERVICE PLAN
Ministry of Finance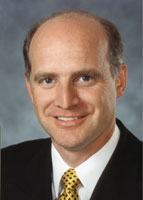 I have the honour of submitting the Ministry of Finance Service Plan for the period April 1, 2003, to March 31, 2006. This plan is presented in accordance with section 13 of the Budget Transparency and Accountability Act.
As a rolling plan, this document reflects and builds upon the ministry's efforts in 2002/03, many of which support the government's top-priority commitments. These include restoring sound fiscal management across government, revitalizing British Columbia's economy and putting the needs of patients, students and people-in-need first.
The Ministry of Finance supports the achievement of these goals through its many roles: banker, expenditure approver, financial and economic advisor and manager to government, financial and management regulator, and reporter to taxpayers on all aspects of B.C.'s finances and economy. Restoring sound fiscal management while meeting the priority needs of British Columbians will require diligent adherence to the fiscal targets laid out in the government's three-year Strategic Plan and the three-year service plans of individual ministries. The Ministry of Finance plays a vital role in keeping these plans on track.
Readers of last year's Ministry Service Plan will find a great deal of consistency between last year's plan and this updated plan. This consistency is intentional. The ministry has achieved many of the primary initiatives identified last year, including introducing a new Capital Asset Management Framework for all ministries and government agencies and creating Partnerships British Columbia, to identify and facilitate public/private partnership opportunities in the delivery of public services and infrastructure. The Ministry continues to implement several major initiatives, including the delivery of business registration services online, realigning governance and advisory resources to focus on key risks and opportunities, consolidating and streamlining reporting and administrative functions, designing a proactive collective bargaining mandate, and expanding the government's risk-management programs.
Our strategy to meet these and other commitments follows. I am certain that the dedication and expertise the ministry staff have demonstrated will remain cornerstones of our success in helping to fulfill the government's New Era commitments.
Honourable Gary Collins
Minister of Finance
February 5, 2003